More Paleo Diet Recipes: ICE CREAM!!! Guilt Free!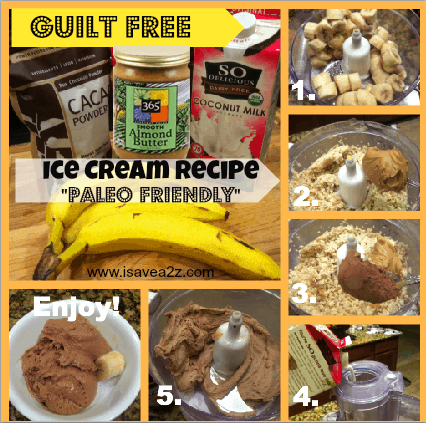 Even more Paleo Diet Recipes!  Ice Cream!
I've got a treat for all of my Paleo Diet friends!  I just tried to make a Paleo Friendly recipe for Ice Cream and Guess What?!!!  It's delicious!!  This is a must try!!!
This Paleo Dessert Recipe consists of only four ingredients!  Cocoa, Peanut Butter (or Almond Butter), Coconut Milk and Bananas!
Instructions:
Cut up bananas and freeze them (about 4 or 5)
Put the frozen bananas into your food processor and mix until you see finely shredded banana pieces.
Add Peanut Butter or Almond Butter (about a tablespoon)
Add Cocoa (about a tablespoon)
Add about a tablespoon or more of Coconut milk depending on the consistency you see.  Keep adding more milk if it's too thick.
If you are looking for more Paleo Meal recipes —->>>Click here for all the other Paleo Friendly recipes I've posted!
Serve and Enjoy!