Omelet Muffins Recipe! EASY and Super Yummy!

Omelet Muffins Recipe = Low Carb Muffins!
You've gotta try these omelet muffins recipe if you are looking for a low carb breakfast solution!  These are fun and easy to make too!  Tip:  If you need extra protein you can toss a little extra protein powder in this recipe too!  If you like low calorie recipes, be sure to check out our very popular Watermelon Cake too!  Or better yet, be sure to look at our Top 50 "really good" Weight Watchers recipes post too!
Ingredients
1 package Sausage, Ham or Bacon (cut into small pieces)
1 cup onions (Optional -I love the flavor of the green scalloped onions so this is what I use)
8 large eggs
1/4 cup milk
1/2 tsp baking powder
1 1/2 cups cheese (mozzarella, cheddar, parmesan or any other you prefer)
handful of Cilantro shredded (optional)
1 cup cherry tomatoes (optional)
1 cup mushrooms (optional)
Tip: there are tons of different options you can use with this recipe… Green Peppers, Red Peppers, Banana Peppers, Fresh spinach, hash browns and top with Avocado! The possibilities are endless!
Directions
1. Preheat oven to 350 F.
2. In a large saute pan, over medium high heat, brown the meat.
3. In a Large bowl, whisk together all the ingredients: eggs, milk,
baking powder
, meat (browned), cheese, cilantro, tomatoes & mushrooms.
4. Lightly spray a 12 count muffin/cupcake pan with spray oil. Ladle the mixture into muffin pan.
5. Bake for 15-20 minutes.
Voila! Yumminess in a muffin! Theses are perfect to take on the go too! I usually make a lot of these on the weekend and serve them during the week. You can freeze leftovers too but in my home, there usually aren't any leftovers. 😉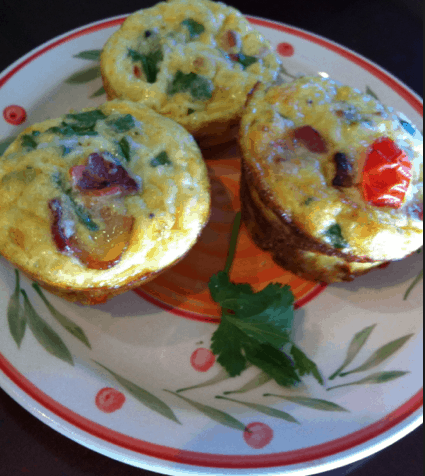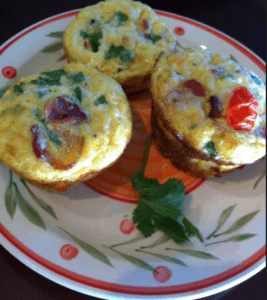 Be sure to checkout all the iSaveA2Z Recipes HERE!