Sugar Free Sweetened Condensed Milk Recipe (only 3 Ingredients). If you are looking for a substitute for sweetened condensed milk, you came to the right place. A sugar free condensed milk that can replace regular sweetened condensed milk in recipes.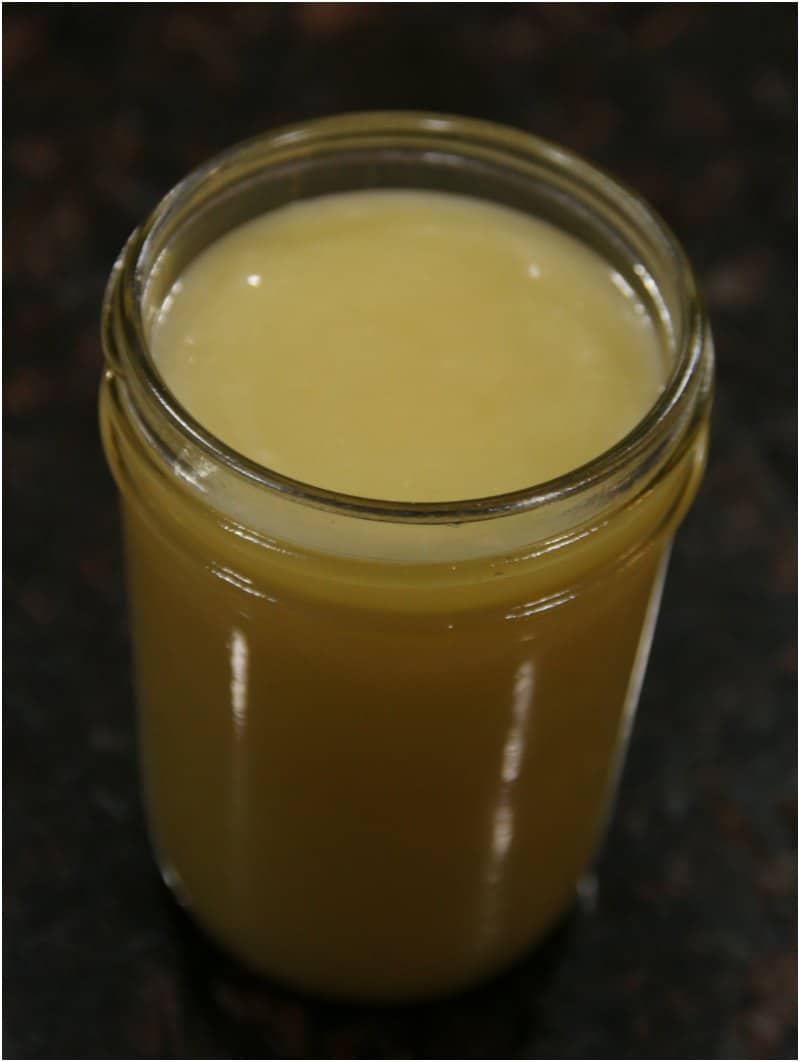 Sugar Free Condensed Milk
This Sugar Free Sweetened Condensed Milk Recipe requires only 3 ingredients and takes only about 20 minutes to make! It's totally worth the effort. I will warn you ahead of time though… It's so good that it's addicting! I mean really good!
I did some experimenting with sugar substitutes. Let me tell you why. I almost always use stevia, monk fruit or erythritol as my subs but it all depends on the recipe I make as to which one I use.
What Sweetener Did You Use For Keto Sweetened Condensed Milk
I made this recipe with erythritol at first and it tastes amazing. It's smooth and creamy. It has a beautiful color and immediately it tastes just like the regular sweetened condensed milk that's made with regular sugar as I remember it. However, quickly after consuming a small spoonful, I immediately notice a cooling sensation in my mouth. This could be a good and bad thing. It's bad because I didn't care for it, but it's good because it kept me from devouring all of it! Lol!
I had never really done any experimenting with the sugar alcohol called Isomalt. It is a sugar alcohol so if consumed in large quantities, I imagine you could get some gastric distress.  I always watch the Glycemic Index (GI rating that is a measure of how quickly a food will raise your blood sugar).
Substitute For Sweetened Condensed Milk
I am very careful to keep any sugar substitute or sugar alcohol I try under a GI rating of 5. Stevia is natural and has a GI rating of 0, Erythritol has a GI rating of 1 and Isomalt has a GI rating of 2. These are the items I had in my pantry to experiment with.  (Grab the printable version of the Glycemic Index chart at the very bottom of this post)
Here are more sugar free recipes to make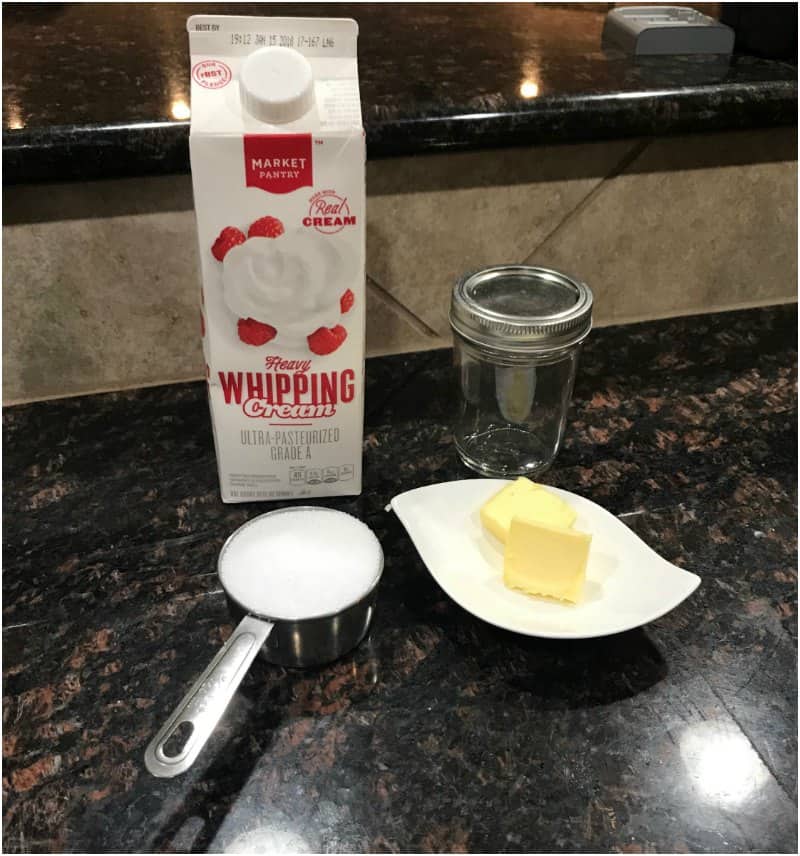 Sugar Free Condensed Milk Ingredients
2 cups of heavy cream
2 tbs butter
1/3 cup of erythritol or 3/4 cup isomalt
Note:  Erythritol is about 70% as sweet as sugar whereas Isomalt is about 40% sweet as sugar.
How To Make Sugar Free Condensed Milk
Start with a large frying pan on medium heat.
Set a timer for 15 minutes right when you start.
Place the 2 cups of heavy cream, the butter, and your sugar substitute in the pan.  Stir it occasionally so it doesn't burn but you don't have to mix it all the time.  I used a whisk.
When the mixture starts to bubble up, I reduced the heat to low and let it simmer until the 15-minute timer is up.
Note:  You will notice the mixture is thick and creamy when it's done.  It has almost reduced to about half the amount as before you started.
Here are a few photos we took of this process: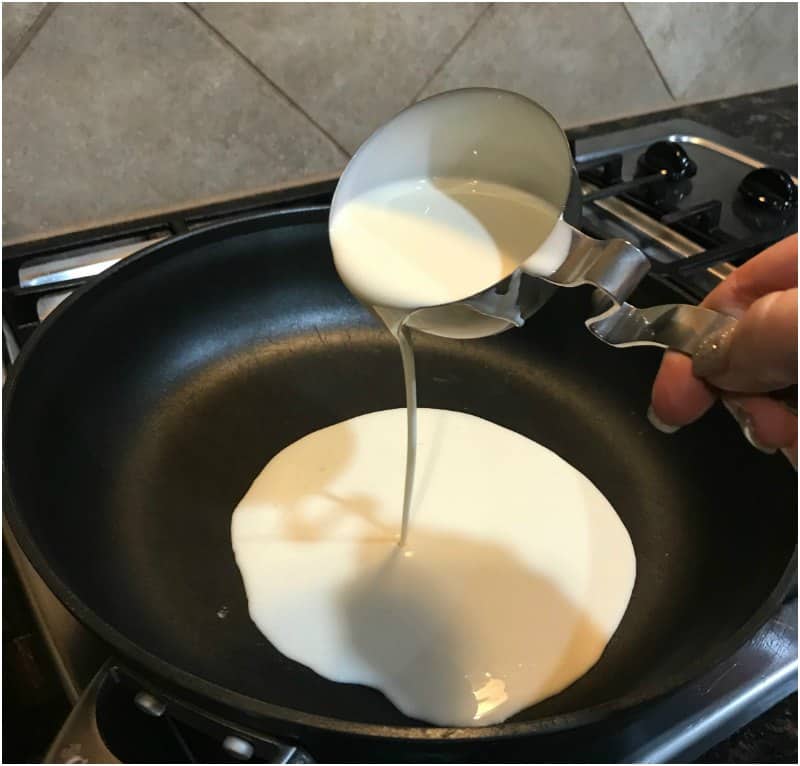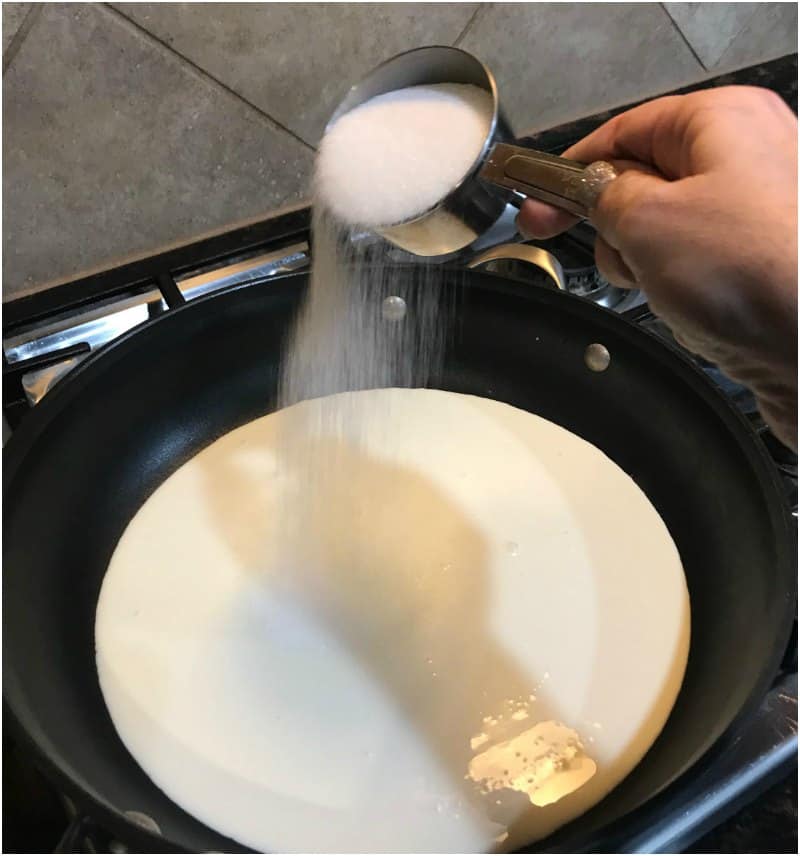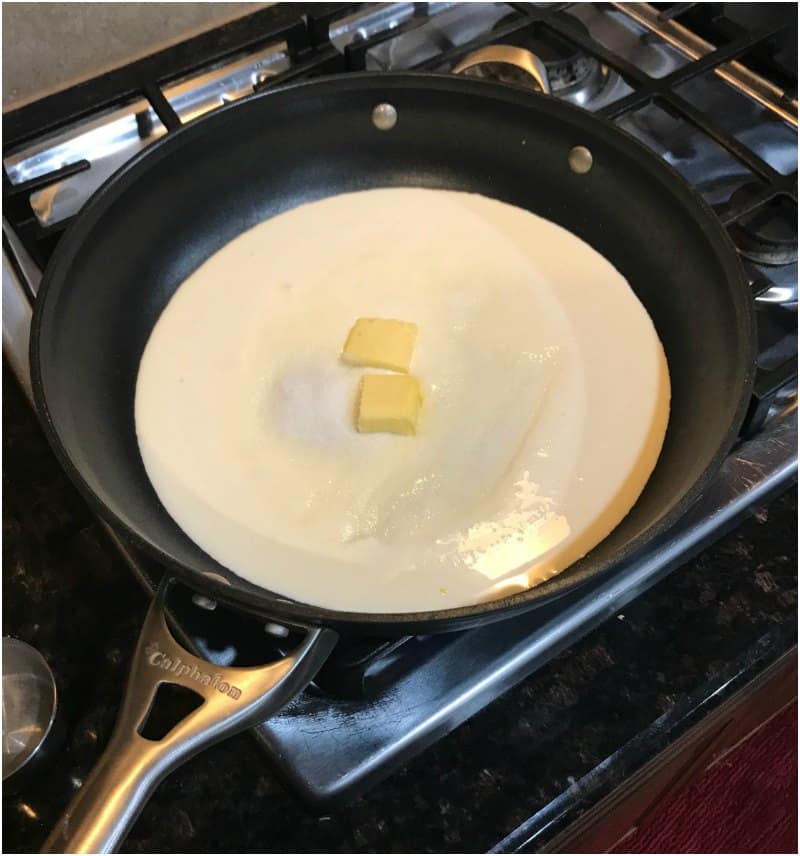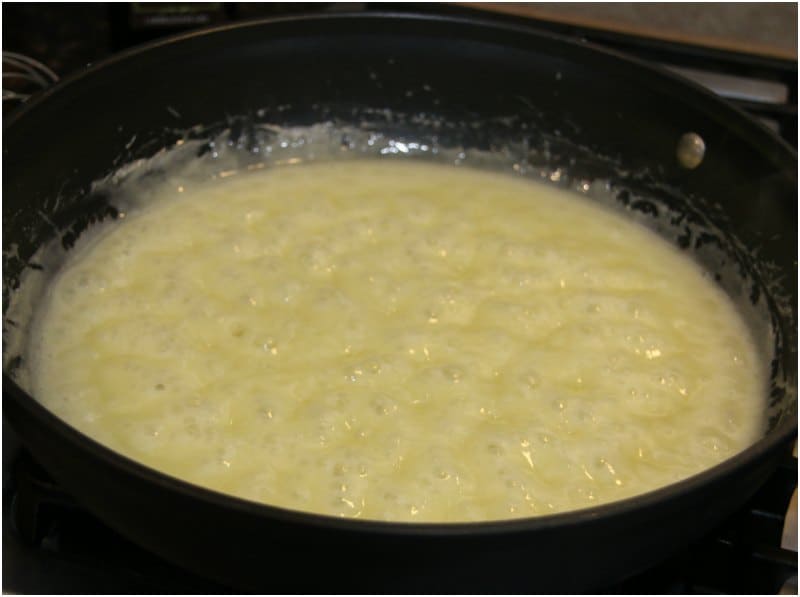 Erythritol and Isomalt Differences
There are a few differences I noticed.  I already mentioned the cooling aftertaste from the erythritol.  I imagine using this sugar free sweetened condensed milk in a recipe would make this aftertaste much less noticeable.   There was absolutely no after whatsoever with the isomalt.
I did notice a slight color difference between both.  The isomalt recipe was a slightly more vibrant yellow color.  The erythritol was a tad duller.
The biggest difference was in the texture.  The isomalt had a smooth creamer texture even when the sugar free sweetened condensed milk was refrigerated overnight.  I dipped my spoon in the mixture and smoothly scooped out a small amount with little effort.  The erythritol sugar free sweetened condensed milk was much thicker and not so easy to scoop.  It was still creamy but not nearly as creamy as the other.  Plus, after the mixture was cooled, it had a bit of a grainy taste to it.  It still tastes great though!
Both sugar substitutes have their differences but both tastes great.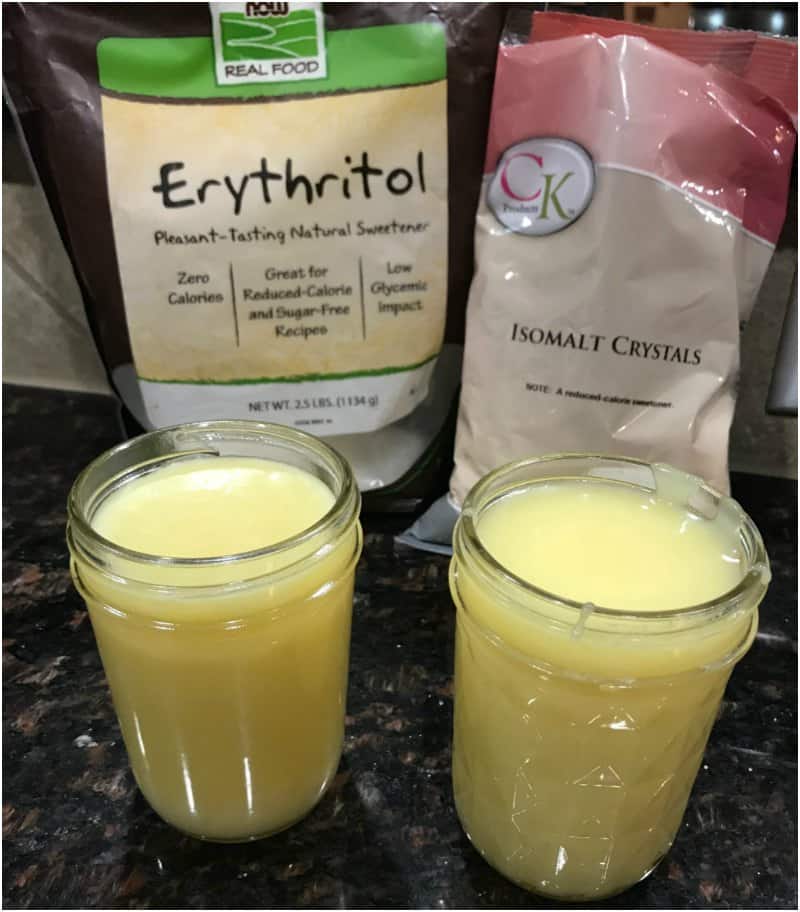 Final Thoughts
I do notice when I consume sugar substitutes of any kind, they do tend to stall my weight loss efforts.  I am sure to make this a rare or special occasion when I use them.  Remember my Keto Beef and Butter Fast experiment?  That's how I always get back on track!
Right now I'm thinking of different ways to stay Low Carb or Keto during the holidays with a few special treats I want to make!  I have a few dessert recipes that require sweetened condensed milk that I plan on converting to a sugar free, low carb recipe.  What recipe do you have in mind?  I would love to hear about it.
Don't forget to Pin It on Pinterest for later!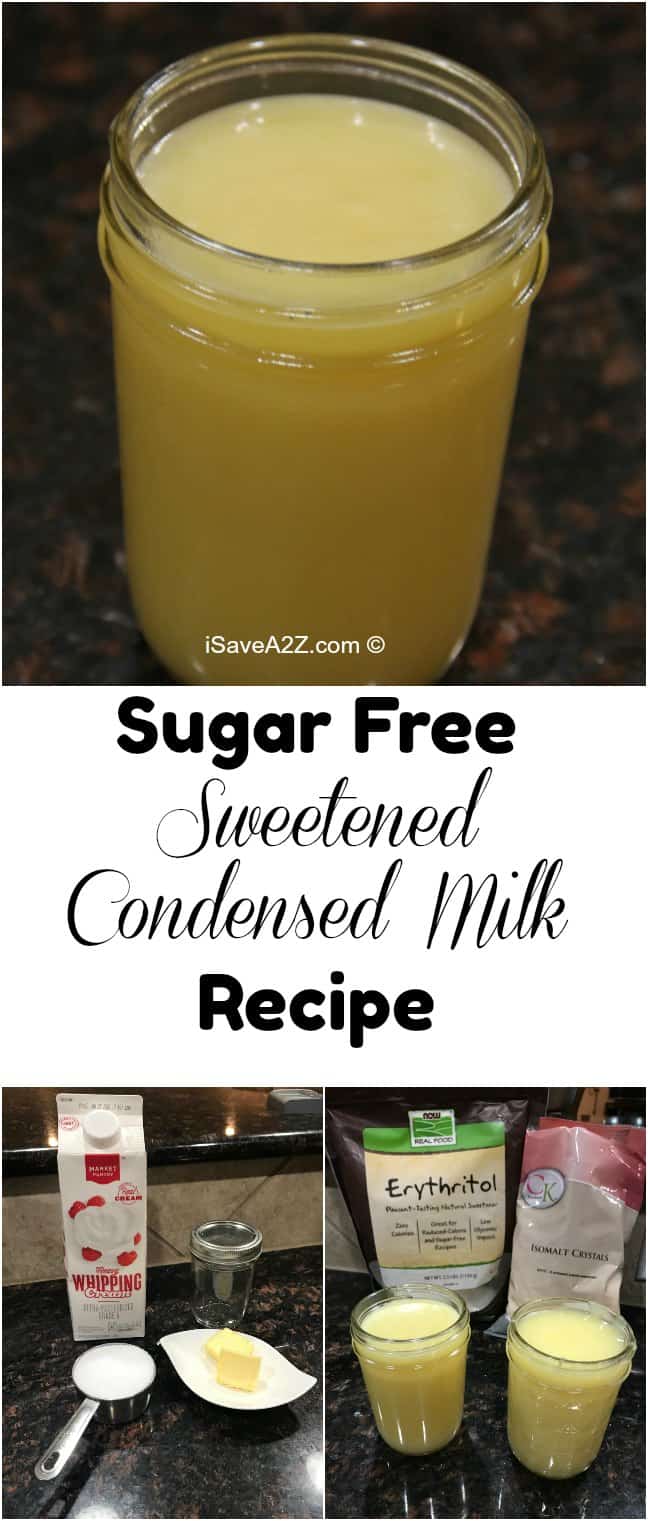 Glycemic Index Chart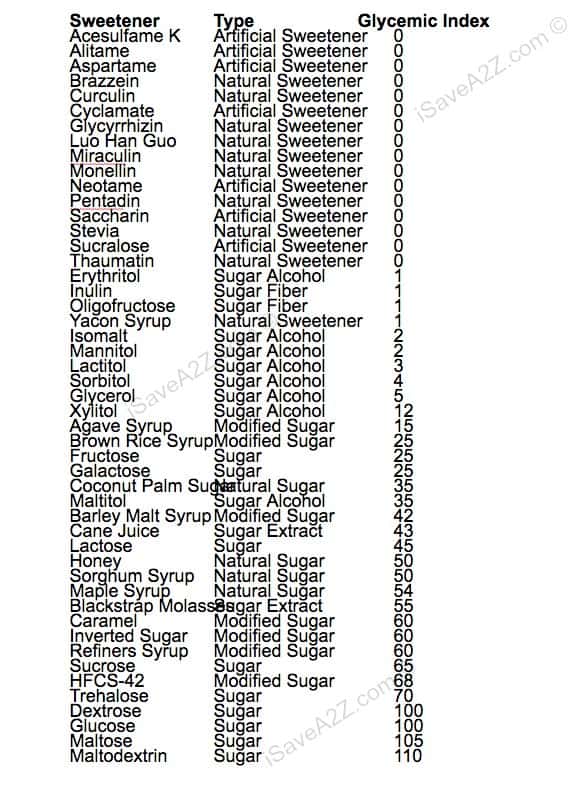 You can print this chart here:   Printable Glycemic Index List