Fun Flower Craft Kids Will Love
Fun Flower Craft Kids Will Love
Check out this super cute and Fun Flower Craft Kids Will Love! This is a really easy craft that kids of almost any age can do or at least participate in. Now, if I'm being honest, my 10 year old son was not a big fan. But….my little girl loved these! And since her mommy DOES NOT have a green thumb, we can actually keep these alive! It's mid summer and HOT. Some days you just can't be outside too much. This Fun Flower Craft Kids Will Love is a great alternative for when you need a little inside time. You can find all the supplies you need at your local craft store and you may even have most of it lying around if you are crafty anyway. We used glitter craft foam sheets just to make them a little thicker and more durable, but any pretty paper will work too.
Fun Flower Craft Kids Will Love Supplies:
Glittered craft foam sheets: light pink, bright pink, green, and yellow (any color you like). Also, pretty card stock or squares of felt work too.
Green pipe cleaners – sparkly or regular
Hot glue sticks and a hot glue gun
Fun Flower Craft Kids Will Love Instructions:
1. Trace a circle shaped bowl onto your glittered craft sheets and cut out the circles with regular scissors.
2. Cut a scalloped edge all the way around each circle, or cut any design you like using craft scissors.
3. Then cut the scalloped circle into a spiral, starting anywhere on the outside edge and work your way to the inside cutting in a scalloped pattern.
4. Starting with the center piece of the scalloped spiral, begin wrapping and gluing the spiral around the outside of the center until you reach the outside end. Secure the end with glue. You will need to help with this since it is using hot glue. It may also help to cut the spiral into a couple of sections just to make it easier to work with. Felt will actually stay in place really well and doesn't need to be glued together until the end.
5. Cut your pipe cleaners in half and wrap them around your finger to make them curl.
6. Glue one pipe cleaner to the back of each flower.
7. Cut small circles the size of a dime from your leftover glittered craft foam and glue to the center of each flower.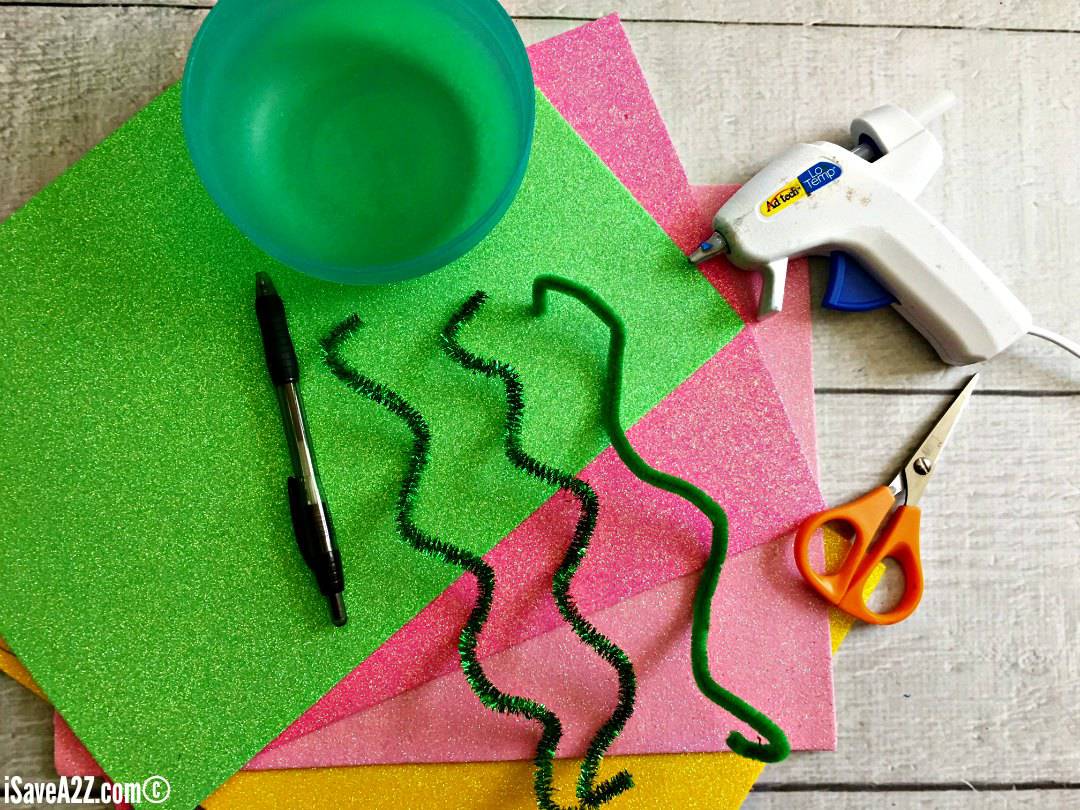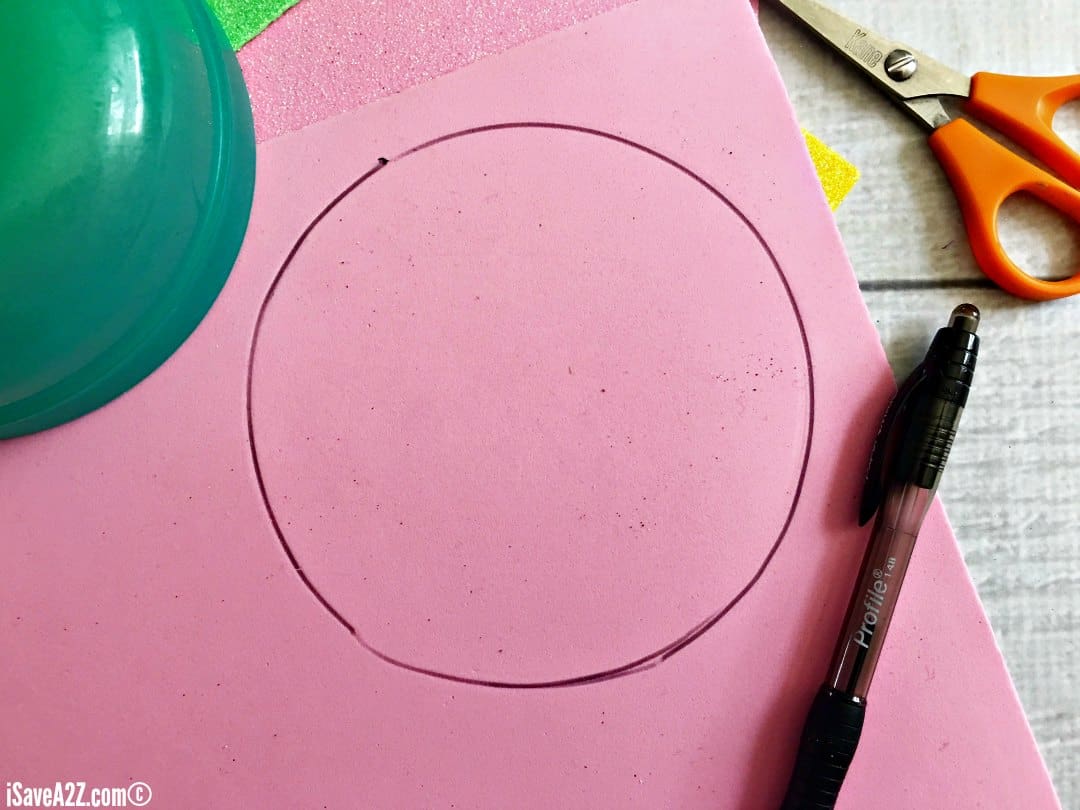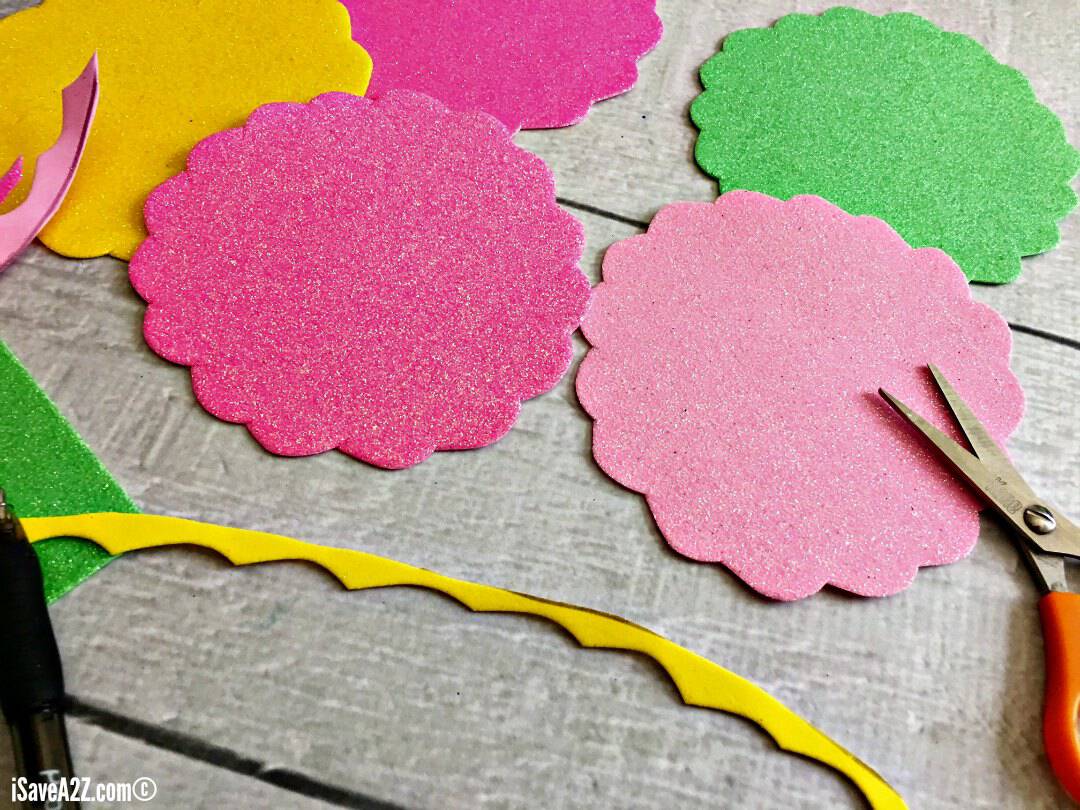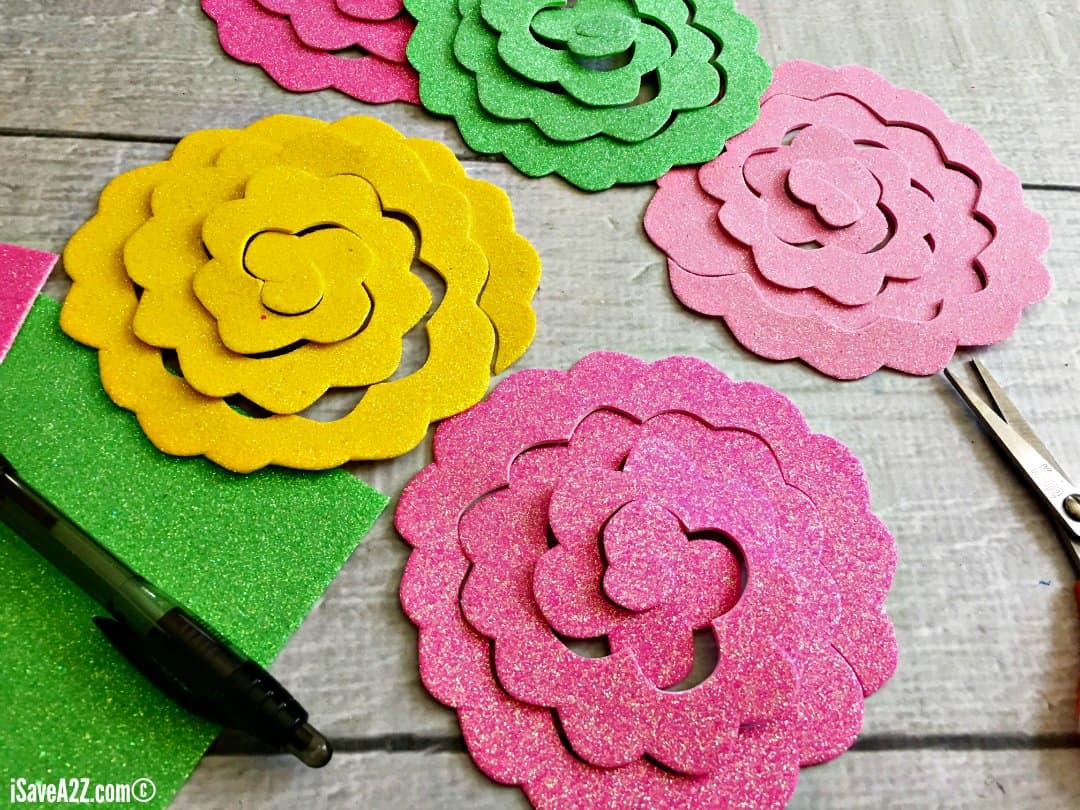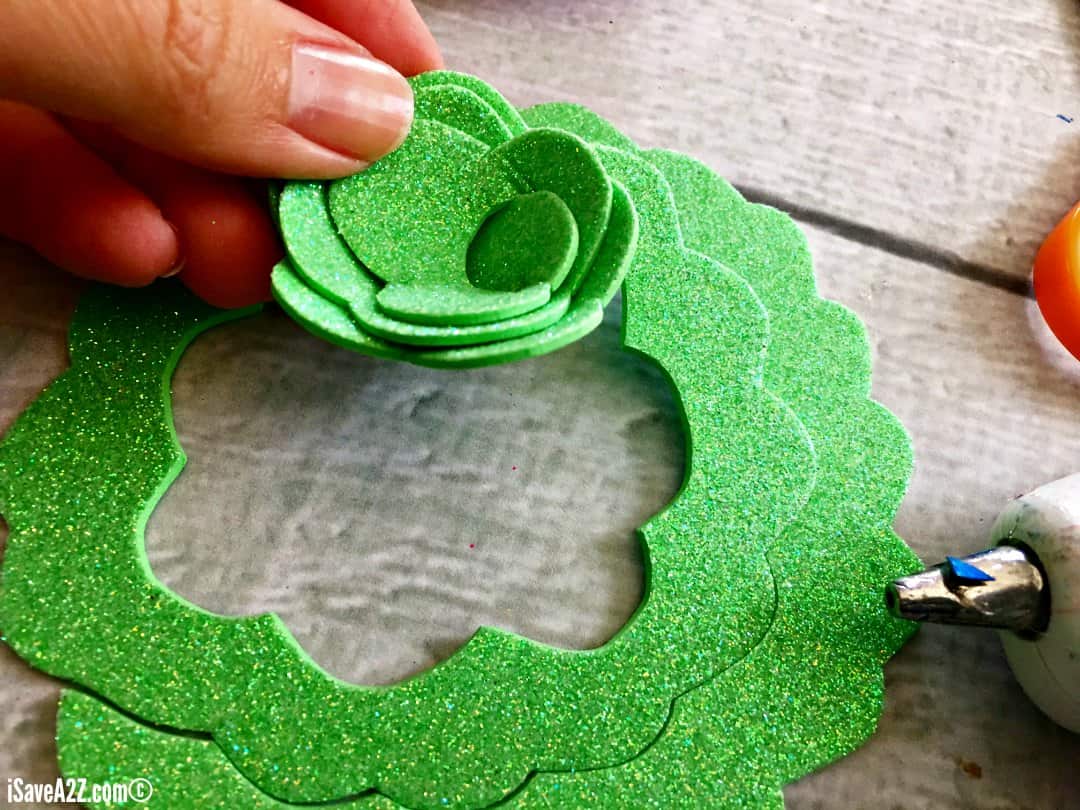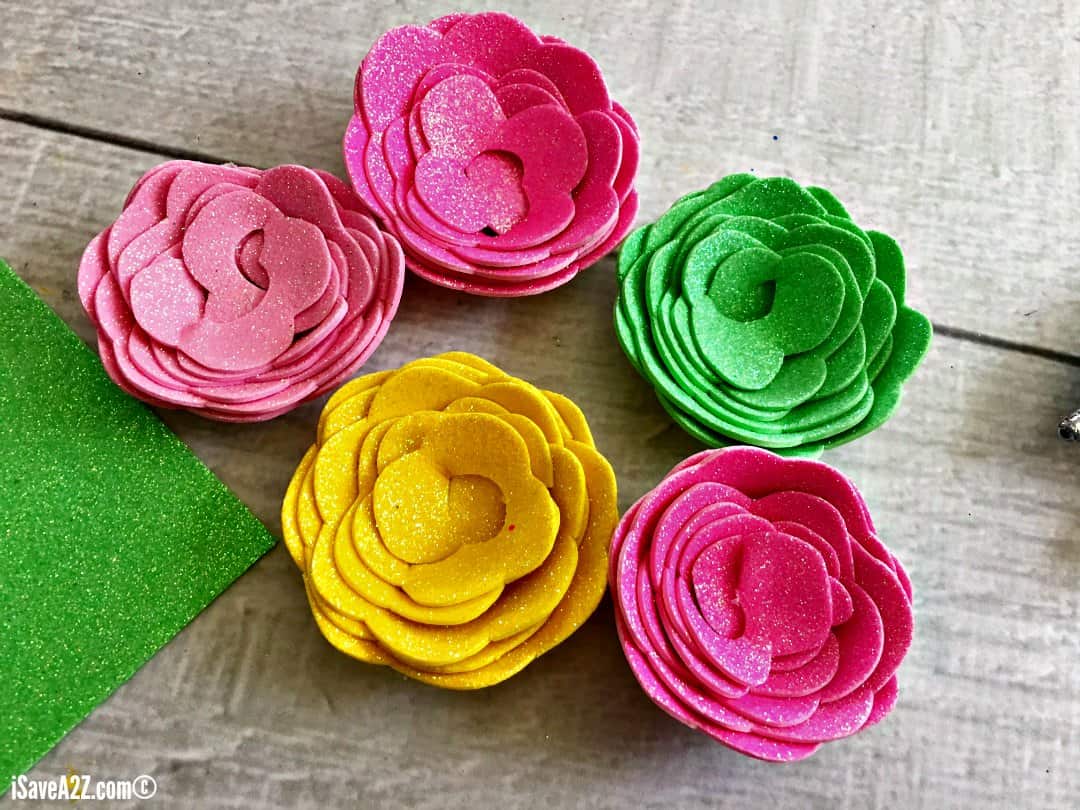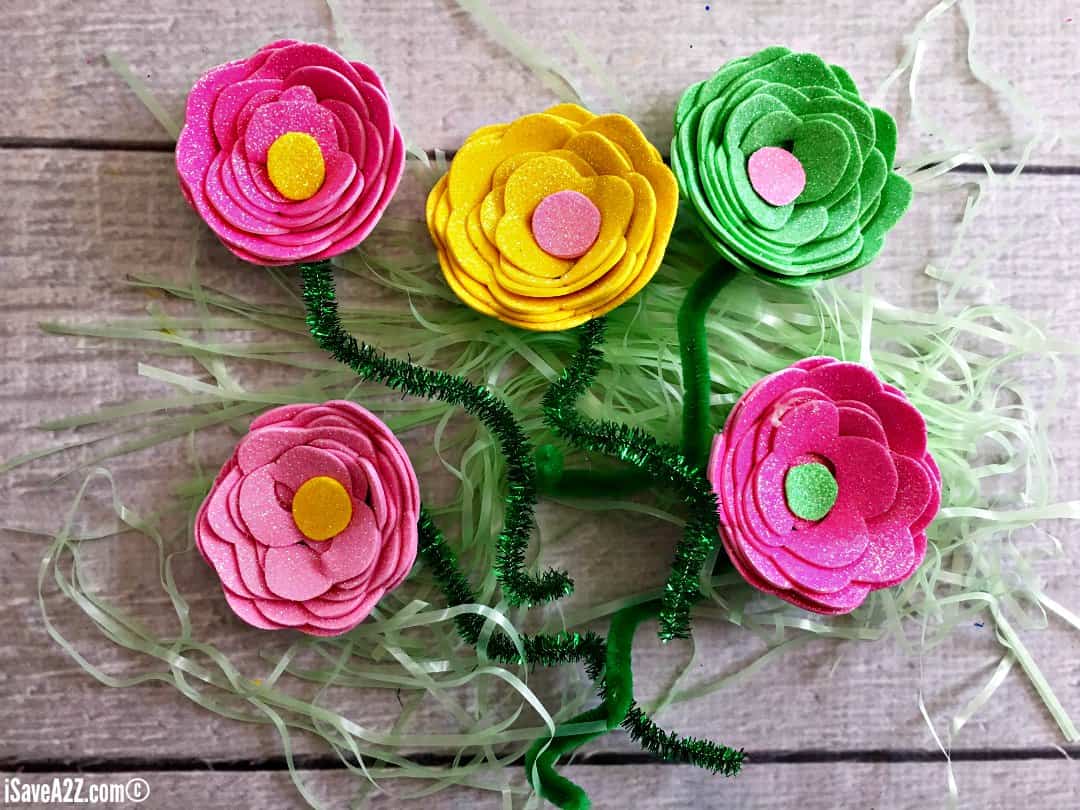 Don't forget to Pin this to Pinterest for later!