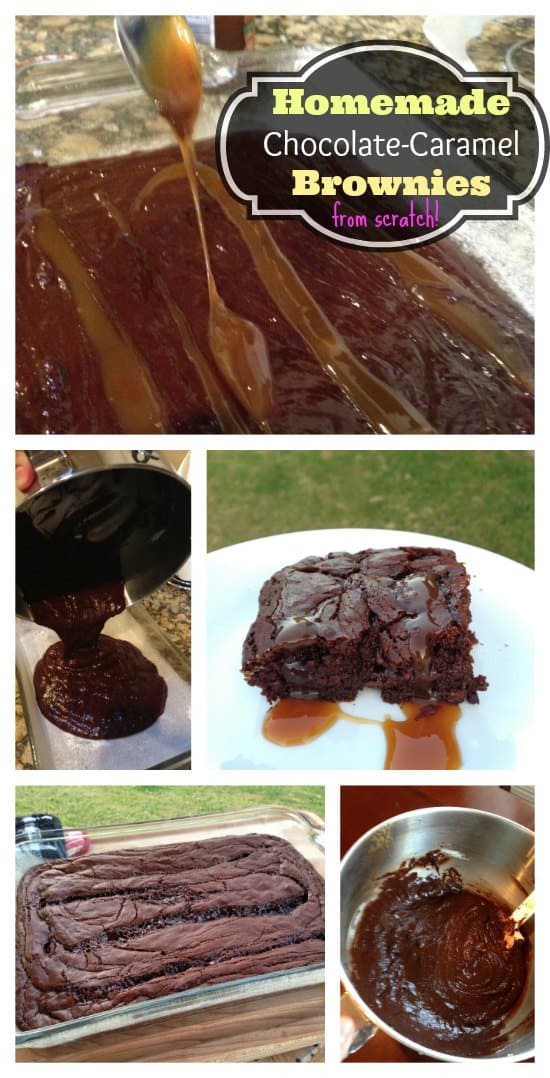 Homemade Chocolate Caramel Brownies Recipe made from Scratch
By Jennifer Garza, iSaveA2Z.com,
Look what I made yesterday! I made this Homemade Chocolate Caramel Brownies Recipe made from Scratch!!! These brownies came out so moist and rich! They were enjoyed by the whole family!! I was a little worried about the caramel since I've never attempted to bake brownies with caramel in it but it gave it a nice extra chewy texture with the rich chewy taste of caramel that we all really enjoyed! I only wished I would have added MORE!
Ingredients:
– 2 sticks unsalted butter
– 8 ounces plus 6 ounces semisweet chocolate chips
– 3 ounces unsweetened chocolate
– 3 extra-large eggs
– 1 1/2 tablespoons instant coffee granules
– 1 tablespoon pure vanilla extract
– 1 cup plus 2 tablespoons sugar
– 1/2 cup plus 2 tablespoons all-purpose flour, divided
– 1 1/2 teaspoons baking powder
– 1/2 teaspoon kosher salt
– 5 to 6 ounces caramel sauce (here's what I used in my recipe)
– 2 to 3 teaspoons flaked sea salt (this kind works best)
Prep Time: 25 minutes
Cook time: 35 minutes
Yield: 12 large brownies
Instructions for the Best Homemade Chocolate Caramel Brownies Recipe made from scratch:
Preheat the oven to 350 degrees. Grease and flour a 9×12 baking pan. First combine the butter, 8 ounces of chocolate chips and unsweetened chocolate together and melt it. Allow it to cool to room temperature. In a separate bowl combine the eggs, coffee, vanilla and sugar. Mix it but don't beat it. Stir the chocolate mixture into the egg mixture. Add a 1/2 cup sifted flour, baking powder and salt to the chocolate mixture. Finally, right before you bake it add the remaining 6 ounces of chocolate chips to the mixture. It was important for you to cool the mixture because if you don't these chocolate chips will melt. Drizzle the top with caramel. You can add your caramel topping before you bake it for an extra bit of chewy goodness and you can also add some after it's been baked too. Spread it evening in the greased and floured pan. Bake it for about 35 minutes or until it comes out clean with a knife or toothpick. Be very careful not to over bake it.