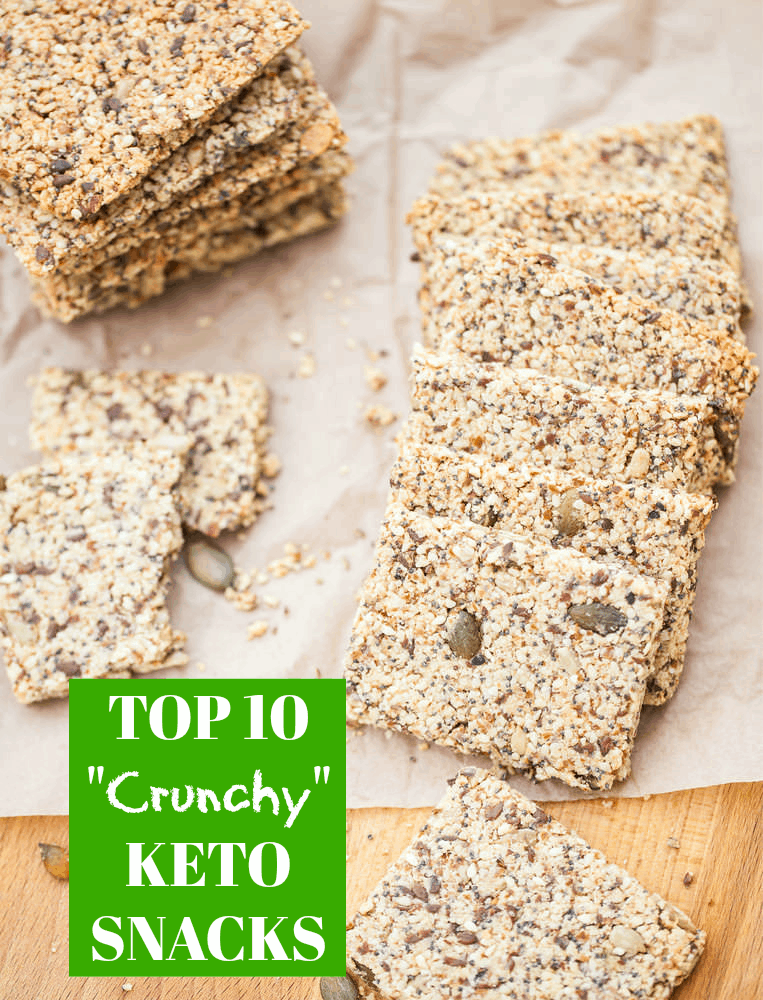 I'm not sure there is anything quite like having a crunchy snack. Everyone gets that crunchy snack craving too. You just want to eat and hear that crunch as you much down something salt and very tasty. Those of us on the Keto diet want the crunch too.  It wasn't that long ago that we gave you a list of the TOP 10 Keto Snacks of all time here but this time we are focusing on crunchy snacks!
Here are the top crunchy Keto snacks:
#1. Handful of nuts – You don't want to go crazy with nuts, on the Keto Diet, but pairing a handful of nuts with a hard-boiled egg or string cheese can really hit the spot. Cashews, almonds, or even pecans are excellent choices for nuts.
#2. Celery – Now, when you want to hear that crunch, but want to stay on target, celery is a HUGE help. You can even find some Keto friendly dips to enjoy your celery with!
#3. Cut up small bell peppers – When on the Keto diet and in the mood for something crunchy, hit up the small bell peppers. You can easy cut these up, put them in a bag, and have them when you want/need them most.
#4. Pork rinds – A low carb crunchy snack that you can fall in love with are pork rinds! You may surprise yourself as to how delicious they are. You can also make pork rinds into a variety of dishes (nachos anyone?).
#5. Whisps – If you're in a hurry and need something crunchy on the go, then give Whisps crackers a try. They are baked cheese that you can find at your local grocery store.
#6. Kale chips – These aren't anything new, but they are delicious. You can find a great recipe for Kale Chips right here.
#7. Dill pickles – In the mood for something delicious, yet crunchy? Get the dill pickles out and enjoy that crunch. Pickles are a great snack to enjoy on the Keto diet. Pickles make a great side with meat and cheese
#8. Pumpkin seeds – Roast pumpkin seeds make a great crunchy snack. You can add different flavorings to make it even more delicious. Ranch pumpkin seeds anyone?
#9. Olives – Love olives and looking for a crunch? Keep olives in your fridge and grab them when you need a crunchy snack. You can't go wrong with these, you can even switch it up between green and black olives.
#10. Cucumbers – Another excellent source of crunchiness is cucumbers. You can easily dip cucumbers in your favorite dip too. Plus, cucumbers are so easy to prepare!
Oops!  Sorry, we have got to add one more!  We are in love with the crunchiness of Moon cheese!  OMGosh!  It's good and crunchy!  Totally hits the stop when you need a little crunch!
You can make your very own nut seed crackers too!
1⁄3 cup almond flour

1 1/2 

cups of your favorite seed combinations (such as sunflower seeds, 

pumpkin seeds, 

flaxseed, chia seeds, 

sesame seeds, hemp seeds, Pecans, 

Brazil nuts, Macadamia nuts, Walnuts, Hazelnuts) but here's a tip:  I would always add at least a 1/4 cup of chia seeds.  The hot water mixed with these seeds gives it the sticky glue it needs to hold these crackers together.

1 tablespoon

 ground psyllium husk powder

1 teaspoon

 pink salt

4 tablespoons

 melted coconut oil

1 cup

 boiling water
Mix all the ingredients together.
Spread the dough out on a piece of parchment paper on a baking sheet and bake it on 300 degrees for about 40 to 45 minutes (careful carefully because some seeds cook faster than others).
You can use a pizza wheel to cut squares in the dough before you bake it or you can break off pieces when it's done.
All the crackers to completely cool before serving them.
What's your go-to favorite crunchy snack on the Keto diet?
Be sure to check out our other Keto snacks too!  There are some tasty ones!  There's another list of Top 10 Keto Snacks found here.
And…  Have you seen the latest Smart Coffee review??  OMGosh!  This coffee is amazing!  It's may latest daily addiction!