My Experience with Smart Coffee for Weight Loss

What is Smart Coffee?
Smart Coffee Elevate Brew is a delicious dark Colombian roasted coffee infused with espresso. The Nootropics in Elevate Brew are all-natural amino acids typically found in protein-rich foods but not always easy to get from diet alone.
All the ingredients in the coffee combine to help you control cravings and appetite without a feeling of being deprived. Then the thermogenic components and appetite suppressants work to help with fat burning. Nootropics are also powerful cognitive enhancers that improve some aspects of mental function.
So basically, it's a smart coffee that helps you control cravings, curb your appetite and gives you energy. It's a winning combination and perfect for those trying to lose weight.
My Experience with Smart Coffee for Weight Loss
First off, I'm writing this because I cannot believe that THIS coffee has helped me to overcome a stall on my own weight loss journey! It has given me focus and energy but most importantly it has changed my overall mood too!
I am not usually so open and honest with my weight loss journey. It's been a long and frustrating one until now. I've learned so much! If you struggle with your own weight loss journey, I just know you will be able to relate to my journey. If you are in the Low Carb Inspirations group on Facebook, you already know my journey because that's the group where I openly share my experience with everyone. It's such a supportive group and I'm so happy to be a part of it.
I am a year and 3 months into my Keto journey. This is the first diet that I have been committed to for over a 3-month time frame. In fact, I hate to call it a diet because I already know I will eat this way for the rest of my life. Well, I should say that I will eat low carb in some way for the rest of my life. I know once I hit my goal weight I might ease up a bit on the carb limit and eat more vegetables because I love them.
My Weight Loss Stall
You guys remember when I wrote about my experience on How to Break a Weight Loss Stall on the Ketogenic Diet with the now famous Beef and Butter Fast Experiment right? This definitely helped my stall and I would do it again if I had too. I've learned through that process that even though we incorporate keto friendly ingredients in our diets, they can still cause a weight loss stall. It's very important to make sure you are well within your macros when you are trying to lose weight. You can do any form of protein and fat to achieve this fast technique. You can do the egg fast or even the bacon fast. The key to success is to limit the carbs and other keto friendly approved ingredients that are causing you to stall. This process allows you to figure out what those ingredients are. I mention this process only because this is an important part of how I learned about Smart Coffee from a friend of mine and continued my weight loss journey in a positive way.
I met a new friend. Her name is Amy! She is an absolute doll in every sense of the word. She too had a weight loss journey story. Gosh, I just love meeting new people who have gone through the struggles that you have, don't you? Amy is very helpful. We live states apart but instantly became good friends. She has lost 90 lbs on her journey! AMAZING! Freakin' amazing!
My Endocrinologist Follow Up Appointment
I had a follow-up appointment with my endocrinologist. The doctor was extremely pleased with my blood work and my weight loss. She was so excited for me. I wasn't as excited because I was down 55 lbs in a year and 3 months. I calculated my goal weight and time when I started and it was very reasonable, with lots of hard work, I could achieve my goal within a year. But I didn't. I will have some weight to lose. Not much but some. The closer you get to your ideal weight, the harder it is to lose. Or so that's how it seems to be for me anyway. I am 46 years old and losing weight has become a struggle the older I am. It's okay though because I won't ever give up! My doctor gave me an option to take a prescription dose of Phentermine. She explained when you have lost a good amount of weight such as I have, the body will rebel in sorts and take longer to lose. She told me that Phentermine would give me the kick I needed to not feel hungry so I have eaten fewer calories and lose weight. Besides, I was doing everything else right. I accepted the prescription at the moment that I was feeling desperate. I filled the prescription and took it for a week. Oh my word, I will never do that again. I did not like the feeling I had on phentermine. I promised never to do that again. It took me a week after stopping that medicine to finally feel somewhat normal again. A whole week!
How I Learned About Smart Coffee
I was telling Amy about my journey. She insisted that I learn about Smart Coffee. My guard was up. I was not ready to take another pill or powder to help me with my journey. After much talk, she convinced me to give it a try. Just try it! She promised it would help me with my mood and she just knew it would help me in my weight loss journey. She knew because this is what helped her finally get past her plateau too!
I trusted Amy so I gave it a try. But this time, I had my husband try it with me. I noticed immediately when I drank my first cup that my mood was really good, my focus was spot on and my energy was high but without the side effects of my previous phentermine experience. I love coffee and drink it every morning. This coffee was delicious and helpful! There was nothing different about my morning routine other than I only need one cup now to feel this amazing feeling! Do you wanna hear the best part? The formula of this Smart Coffee has an appetite suppressant in it! It allows me to do a fast without feeling hungry at all!! All of a sudden I want to buy stock in the Elevate company that carries this Smart Coffee because I am the hardest person to convince that anything works unless I try it myself and find success. My husband suffers from bad knee pain. He noticed immediately that his mood was positive and this coffee helped him with his knee pain! Unbelievable! My husband immediately wanted me to order more of this Smart Coffee.
I am happy to report that my weight loss has seen a big impact in such a short amount of time! More so than the beef and butter fast I was doing. I'm not even hungry! I don't have thoughts of food and my energy is amazing! My focus is top notch too! I stopped taking it for a few days just to see if there are any kind of crazy side effects when you stop it, and I did not experience any. That was a relief because I was fearful.
For those that don't drink coffee but want similar benefits, there's a product called Choclevate. I have not tried this product yet. I do have plans to try it in the near future though. I have other friends that tell me they love it.
This product may not be for everybody but I'm glad I found it. Seriously glad!
Smart Coffee Benefits
All the ingredients in the Smart Coffee combine to help you control cravings and appetite without a feeling of being deprived. Then the thermogenic components and appetite suppressants work to help with fat burning. Nootropics are also powerful cognitive enhancers that improve some aspects of mental function.
I've never been one that believes we need products, powders or pills to help us achieve our goals. I am in support of natural products such as this and I am in love with this Smart Coffee. I have not tried their other products yet but I do have plans to try the Xanthomax. Stay tuned for my experience with that too.
How to Order Smart Coffee
I'm glad I tried this product. It's hard to sell me on any product and that says a lot for this. If you find yourself stuck in your own weight loss journey, I would highly suggest you give it a try. I'm really glad I did. You guys know I don't give my recommendation away very often unless I truly believe in something too.
OH! And, it has a 30-day money back guarantee. That's the part that got me to try it.
If you want to order some Smart Coffee for yourself you can order it here on the Elavacity website.
IMPORTANT! You will need to copy and paste this link into your browser. It won't let you order if you just click the link for some reason.
If you are having trouble ordering from a mobile device you will have to COPY AND PASTE THIS LINK: https://elevacity.com/ketosteps/
The price is about the same as if you were to purchase Starbucks twice a week for a month. That's how I see it anyway. There's a big difference though because unlike Starbucks, I actually lose weight and feel so much better drinking this Smart Coffee!
I started to connect with lots of other people who all feel the same way. This is such a new product that there's hardly any Smart Coffee Reviews out there so I couldn't make my decision that way.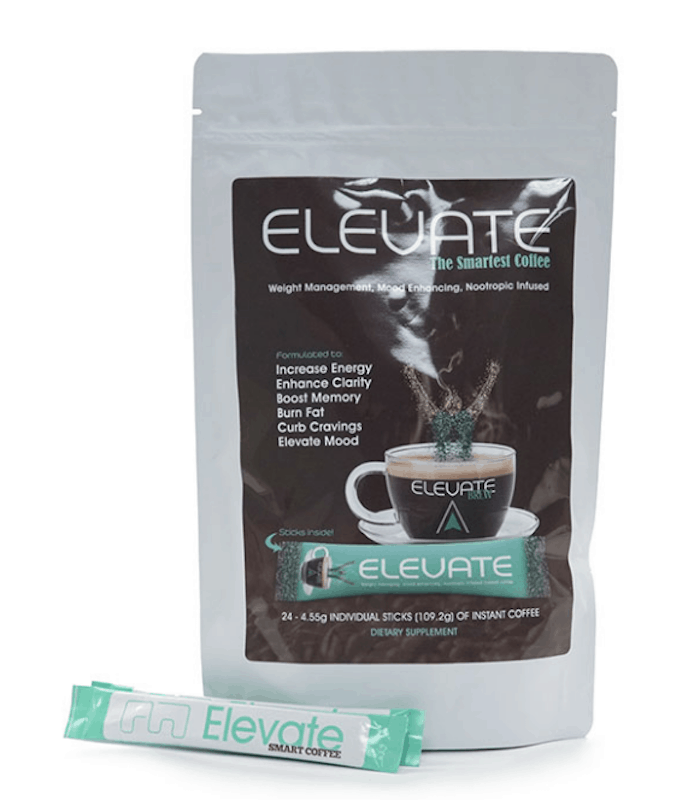 I did have one concern about the brown rice syrup ingredient on the label. This is an inactive ingredient. I tested and did not see a rise in my blood sugar when it was consumed.