Pizza Margherita Recipe
Check out this great Pizza Margherita Recipe! This recipe will take you step by step through making your very own Pizza Margherita from your very home! This pizza recipe is so good, out the outcome turns out so delicious, that it's hard to pass up! If you have the time to cook your own, you won't be disappointed in this one! Try some of our other great main dishes, like our Weight Watchers Lasagna, or even our Easy Calzone Recipe!
Here's some other great Pizzas and Flatbreads too!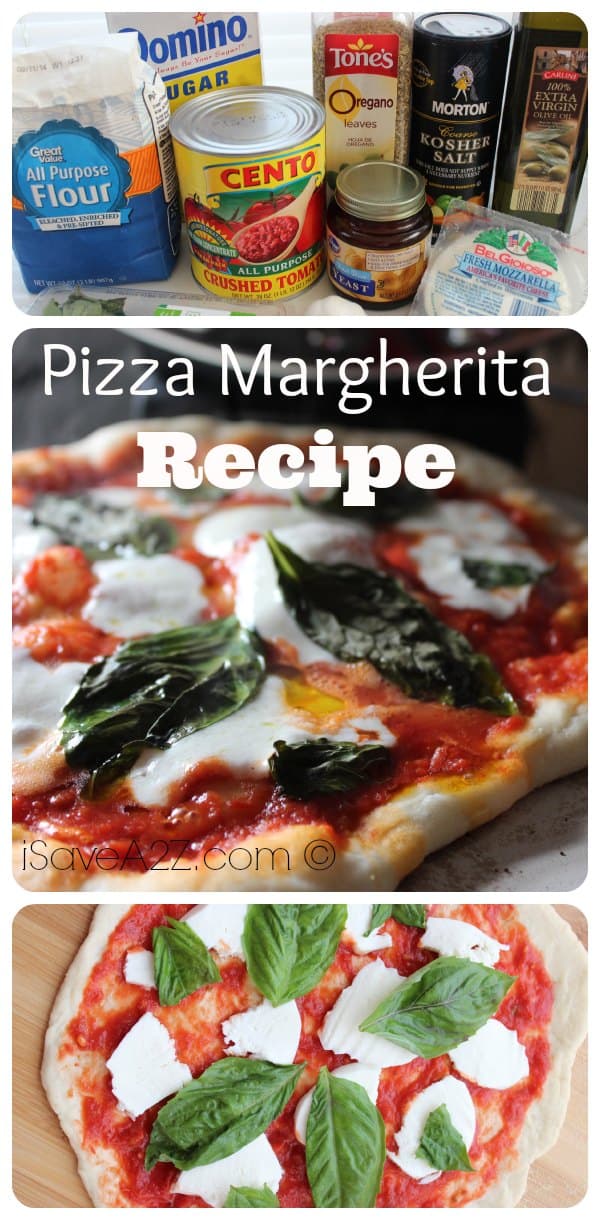 Pizza Margherita Recipe
Instructions
Place flour into a large mixing bowl and make a well in the center.

Add yeast, sugar, salt, olive oil and water and stir until combined.

Turn out onto a lightly floured surface and knead for 5–10 minutes or until a smooth ball forms.

Place dough ball into a lightly oiled bowl, cover with plastic wrap or clean cloth. Set in a warm place for 30 minutes or until dough has doubled.

Turn dough out on a floured surface and punch the dough to remove excess air, knead lightly.

Divide dough into 4 balls.

Place 3 in bag in refrigerator, set one to side.

If you have a high temp pizza oven, begin preheating now. If not, put your pizza stone in 400 degree oven now to get it hot.

In a medium saucepan heat oil on medium.

Cook garlic in pan for several minutes.

Add crushed tomatoes, juices, salt, and oregano to pan and bring to a boil.

Reduce heat and simmer 30 minutes.

Dust pizza peel with cornmeal.

Stretch pizza dough on peel until size is about 10-12 inches.

Cover dough with about 1/4 cup of sauce.

cover sauce with about 3 oz of mozzarella cheese.

Top with basil either now of after you pull pizza from oven.

Drizzle with extra virgin olive oil.

Place pizza in oven and watch for cheese to melt and get bubbly and crust to brown.
Nutrition facts are provided as a courtesy.
Hope you enjoy! If you like this recipe be sure to PIN IT here!  Follow us on Pinterest too so you don't miss anything!