Southwestern Style Shepherd's Pie
Southwestern Style Shepherd's Pie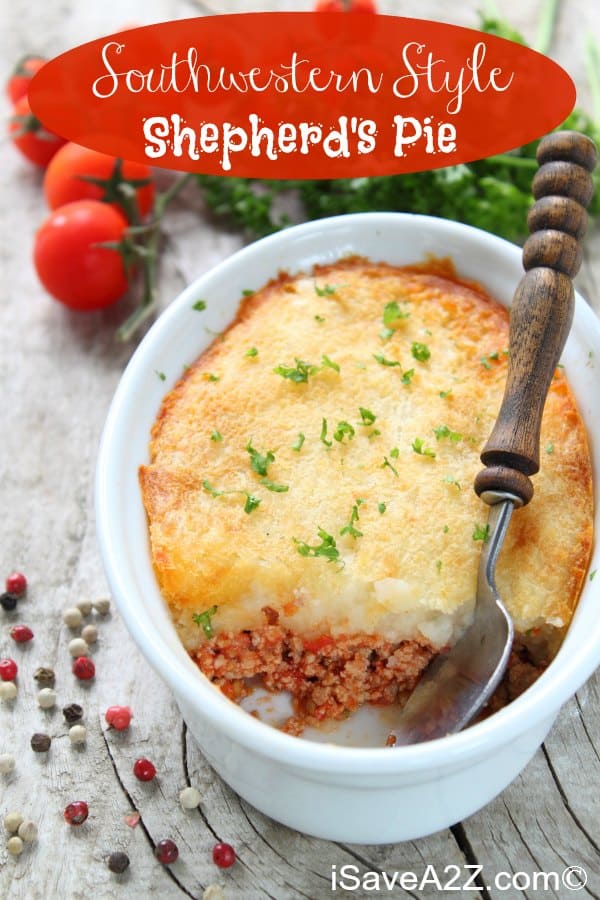 Well, I thought we were in full spring mode here in Texas but today was a yucky, windy, rainy day! On days like these I want comfort food and this Southwestern Style Shepherd's Pie is just the ticket. You really can't go wrong with meat and potatoes, right? I didn't realize there were so many ways to make shepherd's pie. I'm going to assume that this is Southwestern Style because of the extra spices and taco seasoning. But feel free to correct me if I'm wrong. Either way, it is a delicious dish that hit the spot!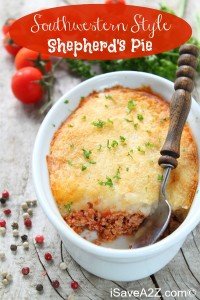 Southwestern Style Shepherd's Pie
Ingredients
2

pounds

of russet potatoes

1

cup

of milk

4

tablespoons

of butter

1/4

cup

of sour cream

salt and pepper to taste

2

tablespoons

of vegetable oil

1

medium onion

chopped

1

jalapeno

seeds removed and minced

1

pound

of ground beef

2

cloves

of garlic

minced

1/2

cup

of vegetable or beef stock

4

small tomatoes

diced (I use a regular size can of diced tomatoes)

1

cup

of corn

frozen or canned

1

cup

of shredded cheddar cheese

optional

2

green onions

diced (optional)
Instructions
Preheat oven to 400 degrees F.

Wash, peel and cut the potatoes into 1 inch cubes. Put potatoes in a large pot and add water until potatoes are just covered. Bring to a boil, reduce the heat and simmer until potatoes are tender. Drain well.

Add the butter, sour cream and half of the milk. Using a hand mixer, whip the potatoes until smooth. Continue to add milk, little by little, until potatoes are creamy.

While the potatoes are cooking, add the oil to a large skillet and place on medium high heat. Saute the onion and jalapeno until onions are golden brown (2 to 4 minutes).

Add the ground beef, season with salt and pepper to taste and continue to cook until beef is browned. Just before the beef is done, add the minced garlic and mix well.

Sprinkle in the taco seasoning and add the beef stock. Bring to a boil, then reduce to a simmer. Continue to cook until the liquid is reduced.

Add the tomatoes and corn and saute until all vegetables are softened.

Spread the meat mixture into a 10 inch pie plate or a 2 quart baking dish. Top with the mashed potatoes and bake for 25 to 30 minutes or until the potatoes start to brown.

If you are topping with the cheese, add it just before you remove the pie from the oven to allow time for the cheese to melt.

Let the dish cool slightly before serving and top with green onions if desired.
Notes
You could also use instant potatoes to cut some of the prep time in this recipe.
Nutrition facts are provided as a courtesy.
You can see all of our other amazing recipes HERE!
Looking for quick but homemade dinner ideas? Check out the 5 Ingredients One Pot Meals Cookbook! You can get the Kindle version for just $2.99!
Enjoy!