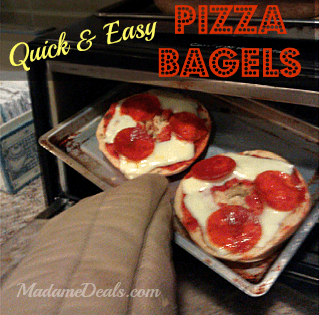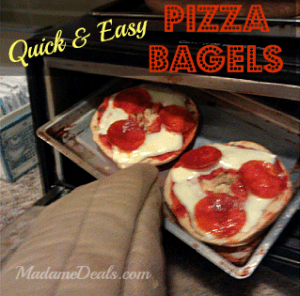 Pizza Bagels Recipe
I just found a Pizza Bagels recipe that is so easy even your kids could make it!  Seriously!  I'm not even kidding!
I've posted about easy pizza recipes before but this one is super fast!  No waiting for the pizza dough to thaw or rise because you make the pizza with bagels!  Who would have thought of that?!  Genius!  Special thanks to Madame Deals for sharing this recipe with us!
Now if you do have a little bit of time to thaw some dough, this recipe is the best tasting Pizza recipe I've ever tried!  It's not as fast as this recipe but it makes my top tasting recipe list for pizza!  Take a peek!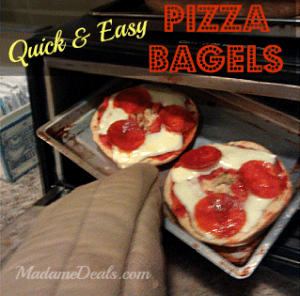 Pizza Bagels Recipe
Ingredients
bagels

mozzarella cheese

toppings

pepperoni, veggies etc Optional
Instructions
Slice the bagel in half

Spread spaghetti sauce on each half

Cover with cheese (extra cheese for mine please! HA!)

Pop it in the toaster oven (or the regular oven) on 350 degrees for about 5 minutes or until golden brown.

Cool down and enjoy!
Nutrition facts are provided as a courtesy.