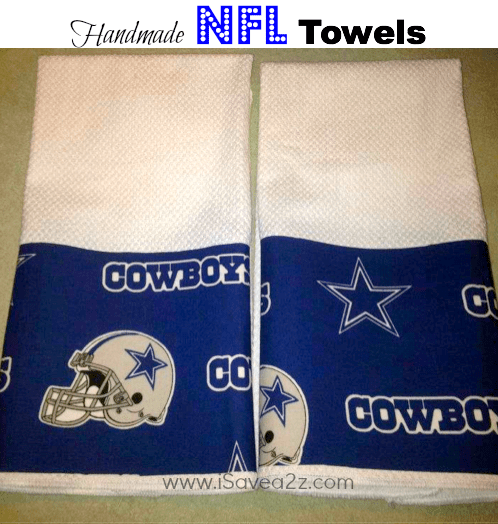 Handmade NFL Towels
How about some handmade NFL towels?!!  I was looking for the perfect gift for a friend and couldnt' find anything I wanted so I decided to make my friend a set of custom made NFL towels!  Perfect for those sports fanatics!
(UPDATE:  ATTN Sports Fans!  There's a really good deal on the NFL Sunday Ticket found on Amazon!  This is an Amazon Exclusive deal on DirectTV is NOT Req'd)  Read more about it here!  It's TOO GOOD TO PASS UP!  $400 Value)
There are all kinds of NFL fabrics to choose from!  Grab a 1/2 yard of your favorite football team and create a set for yourself!
Here's what you need:
1 set of dish towels (the ones I choose have a small texture to it but I wouldn't suggest using the really fluffy towels with lots of fibers.  For example, don't use these.  I found Aunt Martha's dish towels on Amazon that would work perfectly)
1/2 yard of team fabric
1/2 yard of Heat'n Bond Ultra Hold Iron on adhesive (just like this one I found on Amazon)
1/2 yard of Ribbon to match your fabric
Directions:
First, very important…  Wash the material.  I wouldn't want your material colors to bleed into the nice white cloth you are adhering it to.
Next, measure your towel and cut out a piece of material to fit that exact measurement.  I choose not to have mine go all the way to the end of the seam as show in this photo below: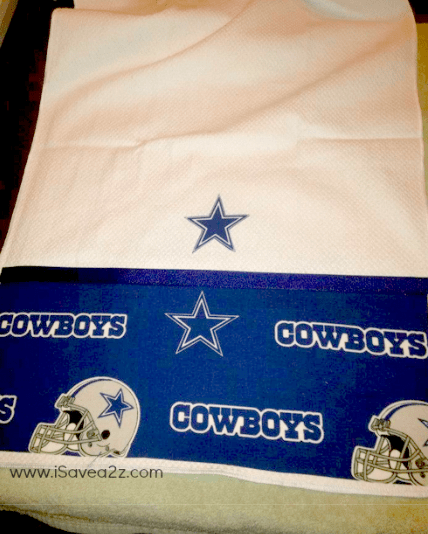 Follow the instructions on the Heatn' Bond Adheasive to adhere it to your game material.
Then iron the game material onto your towel.
Finally, use your hot glue gun and adhere the ribbon to give it a final touch.  I also cut out on of the Cowboys Football Stars to add a little something extra too.
Voila!  That's it!  You just make a custom NFL game towel!!!