Butternut Squash Lasagna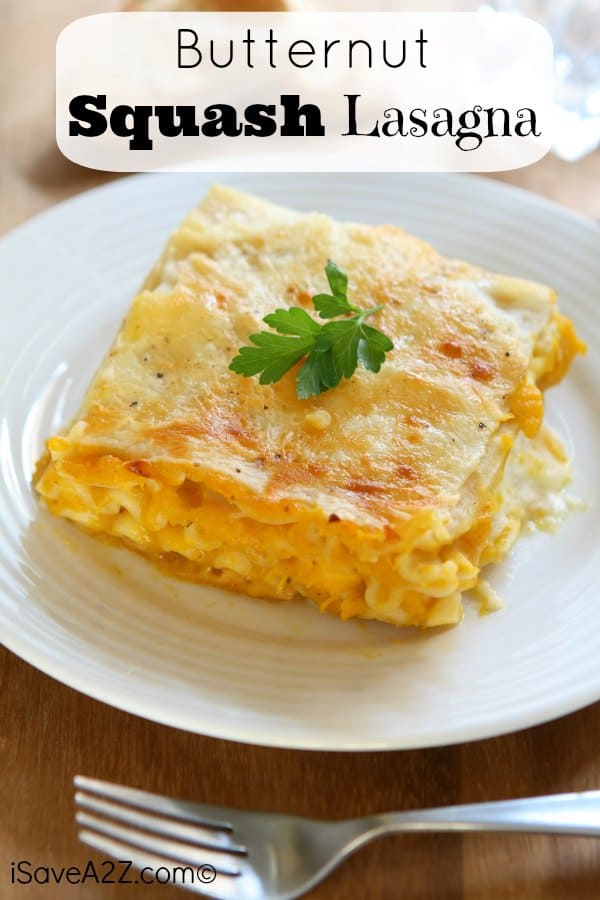 A couple of days ago we told you how much we LOVE butternut squash. So I wanted to share this Butternut Squash Lasagna Recipe with you to add to your recipe box! It's so delicious and I hope your family loves it as much as mine does.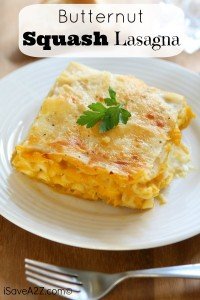 Butternut Squash Lasagna
Ingredients
3

pounds

of butternut squash: peeled

seeded and cut into slices about 1/4 to 1/2 inch thick

3

tablespoons

of olive oil

1/2

teaspoon

salt
For the sauce:

1/4

cup

of butter

6

cloves

of garlic

minced

1/4

cup

all purpose flour

1/2

teaspoon

salt

4

cups

of milk

1

tablespoon

of fresh rosemary
To assemble dish:

1 1/3

cups

of finely shredded Parmesan cheese

1

cup

of whipping cream
Instructions
Preheat oven to 425 degrees F and lightly spray a 15x10 baking dish with cooking spray.

Place slices of squash in the baking dish, add the oil and 1/2 teaspoon of salt. Stir to coat. Spread squash out into an even layer and roast, uncovered, for 25 to 30 minutes, stirring once. Squash should be tender when done. Remove from oven and reduce temperature to 375 degrees F.

About 10 minutes before squash is done, go ahead and prepare the sauce.

In a large saucepan, over medium heat, melt the butter. Add garlic and stir for about 1 minute.

Stir in the flour and 1/2 teaspoon of salt until well mixed. Gradually add the milk and continue to cook until thickened. Once squash is done, stir in squash and rosemary.

Spray a 9x13 baking dish with cooking spray and then pour and spread 1 cup of the sauce on the bottom.

Lay 3 of the lasagna noodles on top to cover and pour 1/3 of the remaining sauce on top. Sprinkle with 1/3 cup of Parmesan cheese. Form 2 more layers, starting with noodles, then sauce and topping with Parmesan cheese.

Pour the whipping cream evenly over the entire dish and top with the remaining Parmesan cheese.

Cover lasagna with foil and bake for 40 minutes. Remove foil and bake for an additional 10 minutes or until top is lightly browned and edges are bubbly. Let stand for 10 minutes before serving.
Nutrition facts are provided as a courtesy.
For this Butternut Squash Lasagna Recipe, you do have to peel, seed and slice the squash. So don't forget about our favorite peeler, the OXO Good Grips Pro Y-Peeler! It will really make things a lot easier. If you haven't cooked with butternut squash very much, check out how we like to season and prepare it HERE.
Enjoy!