50 Dessert In A Jar Recipes
50 Dessert In A Jar Recipes
I am crazy for anything to do with a Mason jar. They are all over my house and we use them for many different things, not just canning. Being that the holidays are here, I LOVE to do Dessert In A Jar Recipes and give them out as gifts. They make the perfect little gift for co-workers, teachers and everyday service workers that probably don't get told "Thank You" enough. It blows my mind how many different recipes can be done in these little jars. But the part I really like is that some can be cooked ahead of time or you can layer the ingredients for the other person to make when they choose to. So here is a list of 50 Dessert In A Jar Recipes to get your creative juices flowing.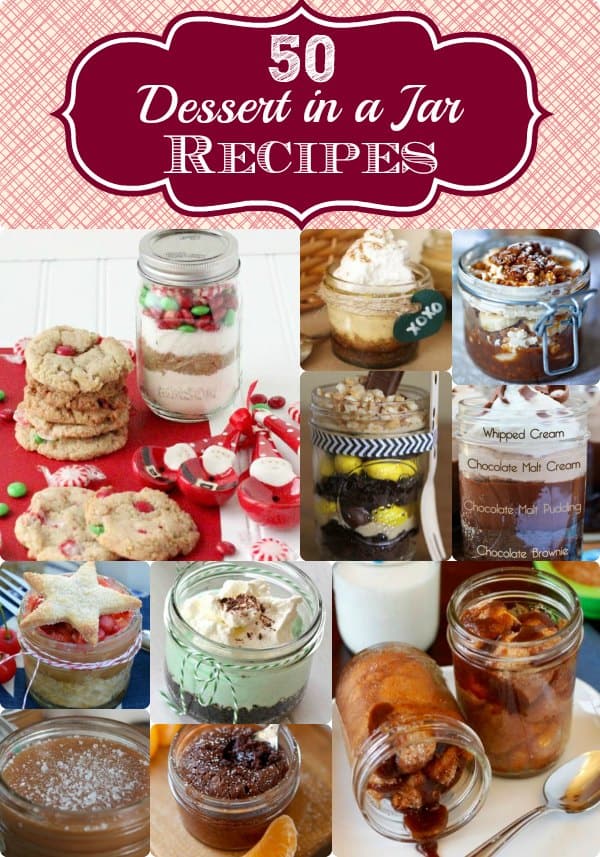 Cranberry White Chocolate Oatmeal Cookies – Absolutely Delicious!! And you don't do any of the cooking!
Salted Caramel Candy – perfect little gift in a jar  (Our most POPULAR Gift yet!)
Easy "Kiss 'mas Gifts in a jar!  (free printables to make this project super easy and cute too!)
Molten Orange Chocolate Lava Cake – HELLO!!
Holiday Chocolate Chip Oatmeal Cookies – We call These….Cookies for Santa! This is one of my FAVORITE Dessert In A Jar Recipes!
Shortbread and Eggnog Pudding Trifles – Oh My Word!
Monkey Bread in a Jar – This is a really cute idea.
S'mores Cake in a Jar – Another favorite Dessert in a Jar Recipes!
Peppermint Hot Cocoa Cookies in a Jar – I can't wait to try these!
Gingerbread Cookies – plus printable instructions
No Bake Chocolate Chip Cookie Cheesecake Parfaits – It has a long name, but looks DELICIOUS!!
Bacon-Peanut Caramel Corn – I must try this!
Boozy Hot Chocolate Kit – Adults Only 🙂
If you aren't in the mood to bake or have someone who doesn't care for sweets, check out all of our Sugar Scrub Recipes! It's really cute when you package it in a mason jar and make really great gifts too.
Mary Kay's Satin Hands Copy Cat Recipe