Apple Cinnamon Rolls
Check out our neat and amazing recipes for our absolutely delicious Apple Cinnamon Rolls! If you have been looking for some great dessert and sweet recipes, then you can look no further! The recipe below will bring you through all of the steps that you will need to make in order to make these delicious Apple Cinnamon Rolls from your very own kitchen! If you happened to like this recipe, then you should be sure to check our our other great recipes! Such as our Coconut Cream Cheese Pound Cake, our Baked Apple Chimichangas, and plenty of others!
If you happened to like any of the recipes I have listed here, then you should definitely try out this neat cookbook for everything sweet and wonderful! You will be sure to find the best dessert recipes with this! Even if you are looking for the perfect dessert to compliment your dinner, be it with friends, families, or special guests, you should be able to find what you are looking for with this cookbook!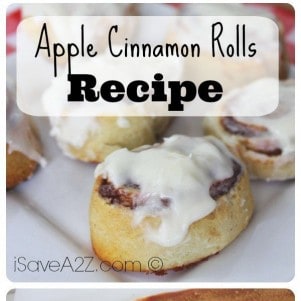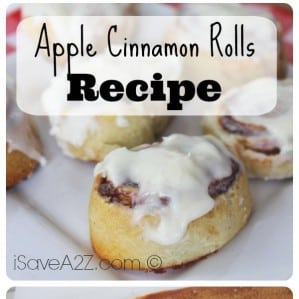 Apple Cinnamon Rolls
Instructions
Preheat oven to 375.

Mix together brown sugar, cinnamon and nutmeg until well blended.

Unroll dough into one large rectangle.

Spread apple butter evenly over the dough.

Sprinkle brown sugar mixture over the apple butter.

Roll up like a jelly roll.

Wrap and refrigerate for 15 minutes to firm.

Spray 8x8 pan with non stick spray.

Cut roll into 10 slices and place in prepared pan.

Bake 18-20 minutes or until golden brown.

Let cinnamon rolls cool in pan for 5 minutes.

In a large bowl, beat together the butter and cream cheese until blended and smooth.

Gradually add the powdered sugar, beating at low speed, until smooth and creamy.

Add the vanilla extract and beat until blended.

Ice cinnamon rolls.
Nutrition facts are provided as a courtesy.