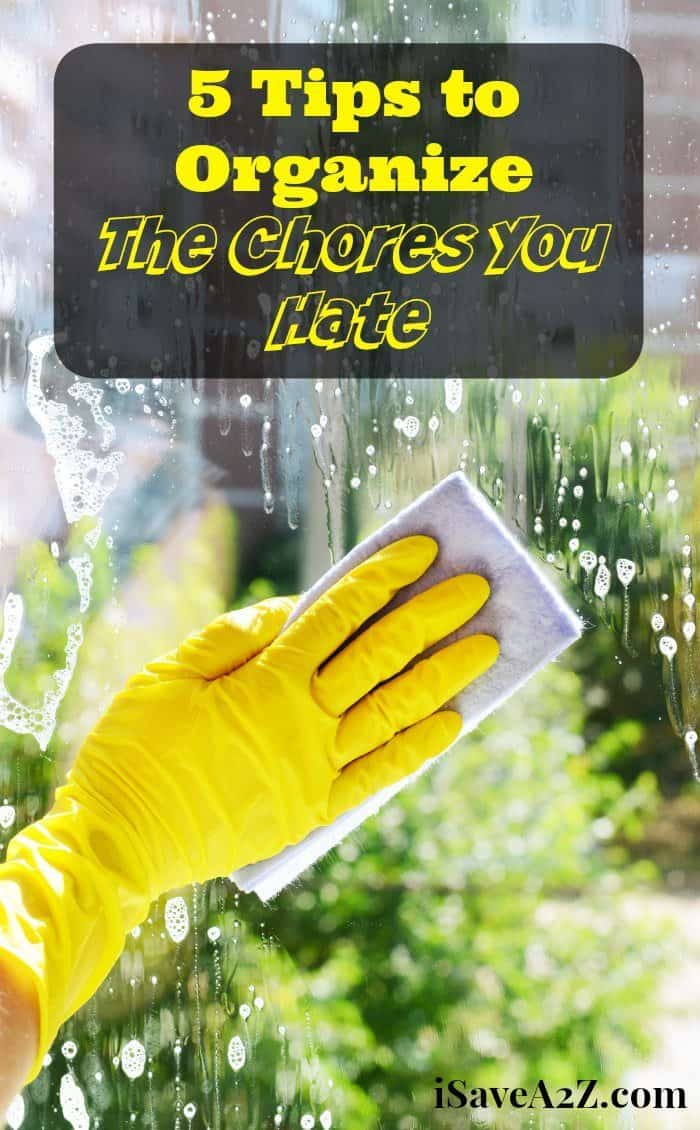 5 Tips to Organize The Chores You Hate
Most everyone has chores that they love to hate. Washing windows, cleaning out the garage and cleaning out the litter box will never be something you look forward to doing. The good news is that it doesn't have to be as big of a pain in the neck as it usually is. There are ways to ease the pain of doing the chores you hate.
Getting organized is the key!  Here are 5 tips for dealing with those chores you hate!
Always schedule them on a stress free day
If you are planning a divorce hearing, school play or a birthday party for your six year old, it is probably not the day to wash those windows. Use common sense and pick out a lazy, easy going day to knock out a nasty chore. The more relaxed your schedule the better. When you have extra time like that and nothing pushing you, the chore is much more laid back and easy. Plan ahead and make sure you have nothing in your way.
Never make a chore you hate your final chore for the day
Some people like to save the worst for last but that is not a way to be productive. You need to knock out the tough chores first and then finish with the easier stuff. If you must start with something easy to get the juices flowing, so be it. Jump right into the tough chores once your energy level is up. The last thing you want to do is save the worst for last. Trust me.
Make it a fun thing and involve the family
Any tough and difficult task can be made easier by getting some help. Kids are great about helping out if you make it fun and disguise it well enough. (Cue evil laugh) Throw on some silly clothes for that bathroom clean up and pretend that you are English butlers and maids. Anything you can do to make it fun will help. Don't forget to involve your spouse in the fun as well!
Plan a special related treat as a reward
Related treats are great motivators for doing chores you hate. Then again, if you are cleaning out the litter box there are not a lot of good options out there. Find a way to reward yourself and go out and have a good time together. Doing those tough jobs are well worth the occasional special reward. Splurge a little! You deserve it!
Add music to the mix
When you are really down and out and unable to get motivated, you need to throw on some music. Music has a way of boosting our mood and helping us through the tough times. Find a good, motivating tune that you love to sing along to and get to work. You might look up and realize you are done before you even noticed you were working. Music has that effect.
What other tips and ideas do you use to get those horrible chores over with?
If you are in need of better organization skills in general, then we have some things here that will be sure yo help you out! Check out our guide to Getting Organized! If you find that you are still having organization problems, then you might want to try this book on organizing inside and out!