Estroven Reviews: Estroven Weight Management
ESTROVEN Reviews: Estroven Weight Management

I've been curious about Estroven Reviews and the Estroven Weight Management. Almost everyone has a flat stomach…in the 20s that is! However, age does wonders to the shape of your body. Controlling the bulges in the stomach and around your body is no longer easy and doing exercises to get back the curves is even more tiresome. So what do you do next? Go for the obvious capsule treatment. But even then, are you choosing the right one? There are a number of tablets out there that aid you slim down. The question one has to ask is, is it safe? Does it have any side-effects and more often than not they do have some serious side effects. However, there are some other capsules that guarantee a good output and are made with natural ingredients that have a positive effect on your body. One such capsule is the Estroven Weight Management. Let us see the pros and cons of this popularly talked about life-changer.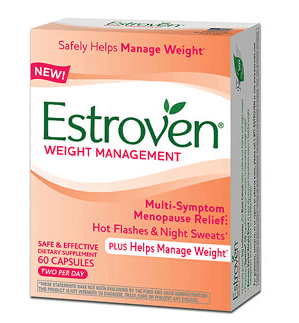 Advantages:
Absence of Estrogen or hormones is its biggest advantage.
Made with 100% natural ingredients that is good for the body as well as health.
It has a detailed list of ingredients that are used to make it, which is reassuring as you know exactly what is entering your stomach.
Ingredients that are dedicated for Black Cohosh and menopausal symptoms are used.
Purchasing this product is easy as you can find a list of stores online that offer the product.
No adverse side effects that have serious or prolonged effects known.
It reduces anxiety and gives you a good night's sleep.
The customer reviews are positive and encouraging.
The Estroven claims to be tested and have instant effect, within a week or two.
Disadvantages:
Though testing clinically has been cited on the website, there are no further details on the same.
Side effects though minor include diarrhea, headache, joint pains etc
Those who have kidney or liver disease must avoid it.
Though it speaks highly of its effects, it doesn't have a money back guarantee.
The FDA is yet to officially evaluate the product.
Estroven Weight Management has gained popularity quickly in America, becoming one of the top products sold. The clear and descriptive information found on the website contributes much to the secure feeling it gives to those who purchase the product. Menopause symptoms like night sweats and hot flashes are reduced.
Note: You may want to check out the Estroven online community if you need other stories to help you decide.
Estroven is to be taken once every night before sleeping. The University of Maryland Medical Center advises that it has to be taken for a minimum of six months in order to have an impact on hot flashes. It should be avoided by those who are pregnant or likely to get pregnant. However, it is always wise to consult a doctor before taking a new dietary medication to prevent any harmful effects depending on your health condition. Getting back the shape of a twenty year old is everyone's desire and Estroven weight management manages to do just that!
Not only does Estroven have a Weight Management but you will also find Estroven Maximum Strength which helps relieve hot flashes and night sweats plus irritability. Plus there's a new and improved Estroven Nightime which includes the natural melatonin and soy isoflavones to help relieve hot flashes and night sweats plus occasional sleeplessness so you can fall asleep easier. Estroven Mood & Memory helps relieve hot flashes and night sweats but also aids in mood and memory issues too! And finally, Estroven Energy! Estroven Energy helps relieve hot flashes and night sweats but boosts fatigue too!
If you plan to try Estroven, I highly encourage a daily exercise routine (check with your doctor on a start up plan to be safe). In my recent Fat Lose goals, I have noticed a huge difference in my energy, sleep patterns and mood! It really does help!