French Toast Casserole Recipe: Make it Overnight

French Toast Casserole Recipe Make it Overnight
Here's a French Toast Casserole recipe that can be made overnight!  That's right!  Just make it the night before and pop it in the oven right when you wake up.
It's hard to find a breakfast recipe that can serve a lot of people a warm meal at the same time.  My daughter had a sleep over graduation party so I had to come up with something to feed this group.  I decided to try a this French Toast Casserole recipe because I could make it the night before.  Easy enough for me because I really didn't want to deal with a huge prep and mess early in the morning.  It only took about 10 minutes to through all the ingredients together the night before too!  I can definitely handle that.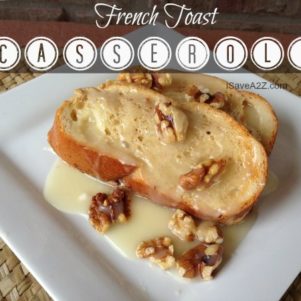 French Toast Casserole Recipe: Make it Overnight
This is a perfect Breakfast or Brunch Recipe to make for a large group of people.
Ingredients
Ingredients for the French Toast Bake

1

loaf French Bread

I had the bakery pre-slice it at 1 inch thick for me

8

large eggs

2

cups

of half and half

1

cup

milk

2

tablespoons

of sugar or splenda

1

teaspoon

of vanilla

1/4

teaspoon

of ground cinnamon

1/4

teaspoon

of ground nutmeg

Ingredients for the Walnut or Praline Topping

2

sticks butter

1

cup

packed brown sugar

1/2

teaspoon

cinnamon

1/2

teaspoon

nutmeg
Instructions
Slice French Bread or Challah Bread into slices that are 1 inch thick

Directions for the French Toast Bake:

Spray your casserole dish with Pam Non sticking spray

Arrange slices in a 9x13 baking dish

In a separate bowl, combine the eggs, milk, half and half, milk, sugar, vanilla, cinnamon, nutmeg, salt and whisk it until it's completely blended.

Pour the mixture over the bread slices. Be sure to cover every piece of bread and in between the slices too.

Cover it with foil and refrigerate it overnite.

Directions for the Walnut or Praline Topping:

Melt the butter and combine the remaining ingredients.

Add the ingredients just before you pop it in the oven.

The next morning pop it in the oven at 350 degrees F.

Be sure to cover it with foil and then remove the foil about 5 to 10 minutes before it's completely done.
Nutrition facts are provided as a courtesy.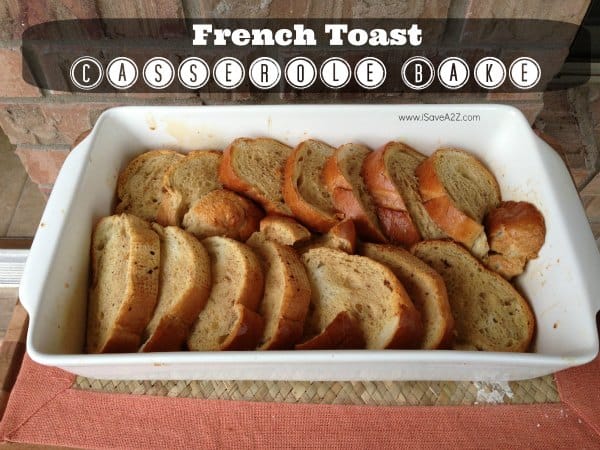 In the above recipe I ended up omitting the Praline or Walnut topping and just baked the French toast alone.  I then gave the option of Maple Syrup, Sugar Free Syrup or a Walnut Glaze topping.  I've made this both ways and they both come out delicious.  One just has more sugar than the other.  So if you are looking for a lower sugar option, try omitting the Praline Glaze and use sugar free syrup.
Enjoy!