Plantar Fasciitis Treatments You Can Do At Home For Heel Pain!
Plantar Fasciitis Treatments You Can Do At Home For Heel Pain
I have been struggling with the pain of Plantar Fasciitis for about a year and I just had a doctor tell me certain Plantar Fasciitis Treatments You Can Do At Home For Heel Pain! I can't even tell you how excited I am that this is actually working!
I went to my first podiatrist appointment about a year and 2 months ago. I started noticing pain when I moved into my new house. The house has ceramic tile throughout and I am certain that was not good for my feet. I walk barefoot around the house all the time.
The first podiatrist I saw suggested I get a shot to help relieve the inflammation. I thought a shot was no big deal but boy, was I wrong. That shot was a mother! It was bad! Really painful! The worst part is that it only helped for about a week. After seeing a second podiatrist, I now understand why.
That painful shot is what kept me away from going back to the podiatrist again. I decided to do some stretches at home and wear supportive shoes all the time. The pain slowly got worse. I found myself in extreme pain from walking just one time around the mall with my youngest. There's no way I should be in that much pain from walking that short distance. Gosh, I was feeling old!
Finally, the pain got so bad that it would wake me up at night. It was unbearable! I found myself asking people to grab me things just so I didn't have to walk the distance in pain. That's when I decided to get a second opinion and go to a different podiatrist. I did my research this time and asked for referrals from people who have experienced what I was going through.
I feel though I learned so much about plantar fasciitis in the last 24 hours. I wished I wouldn't have waited more than a year to figure this out.
If you suffer from Plantar Fasciitis, here's what I've learned from my doctor:
1. It's pretty common and lots of people just deal with it.
2. If you commit to doing the work (stretches, icing etc…) you can fix it.
3. Rarely do you need surgery. He says rarely because most of this time, this can be fixed with the work you do at home!
DISCLAIMER:  I'm going to put in a small disclaimer here and tell you that I am not a trained medical professional. This treatment regimen was given to me for my Plantar Fasciitis problem. I have high arches in my feet. I don't know if this will help with all types of feet types and it's best to consult your own physician for a personalized treatment for you.
Steps to take for Plantar Fasciitis Treatments You Can Do At Home For Heel Pain
There are many different ways to treat this but this is what he is requiring I do to help my situation. I normally wouldn't care to type all this out but it seems a lot of people suffer, so I feel the need to share because I know the struggle.
 Reduce inflammation: This can be done with ice for 20 minutes at the end of each day. (Ibuprofen, steroid packs or shots help too but are not required)
  Stretches: There is a calf stretch you can do. He requires me to do 5 reps at 30 second holds each, for each foot. Even if the other foot doesn't hurt. Photo attached.
Arch support: This topic was huge. There are many different ways to support your feet. Over the counter sole supports but NOT Dr. Scholls! Brands he recommends for inserts are Power Steps or Super Feet.  Super Feet brand can be found on Amazon too!  I ordered mine and they were delivered fast!  I really like them!  So much so, that I ordered a pair for my husband too.
Supportive Shoes: ASICS, Brooks, Vionics etc…  Don't walk around barefoot.  Your feet need support!
Required Stretches for Plantar Fasciitis
This is the handout my doctor gave me with instructions on how to do the Posterior Muscle Group (calf) stretch.  I am required to do this 3 times a day (morning, noon and night) and an extra set after I go for my daily walk.  There's no special equipment to buy and you use a wall and your own body weight to accomplish this.  Easy!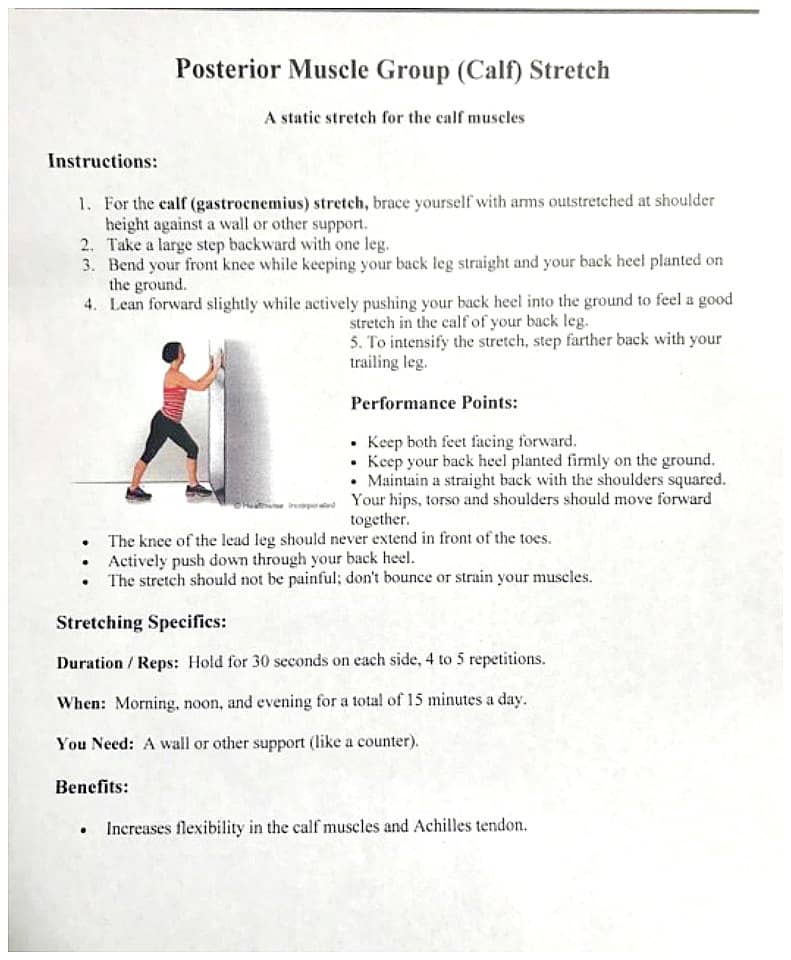 Supportive Shoes For Plantar Fasciitis
Finding support shoes was a huge topic because there are so many different brands that say they support Plantar Fasciitis but they don't always come through on that promise.  I know that I have spent over $700 dollars trying to find the right shoes that relieve the pain.  It's just a plus if they are cute or look nice.  Let me tell you a bit about each brand of shoe I choose to try and love!  I'm not going to give all the shoes I tried.
ASICS Running Shoes
I find my favorite, most supportive shoes, are my ASICS running shoes.  I look at the arch support in the center of the shoe to determine if it's high enough to help with support.  This brand of shoe has never let me down!  I order this brand on Amazon with confidence now.
Brooks Running Shoes
Brooks running shoes come in close to number one if I were to rank them on a scale of helpful and likeability!  I have the Brooks Women's Ghost 9 running shoe and love it!  Very supportive!
VIONICS
Vionics brand is very well known and even sold at the podiatrist office!  There aren't many different options there but I found a ton of different VIONIC shoes from boots to sandals to running shoes here!  I personally don't care for the running shoes but the VIONIC sandals are pretty amazing!  Cute, stylish and supportive!
CROCS
Crocs shoe brand kinda has a bad wrap for being an ugly shoe especially if you are thinking of the classic clog.  I can say this about Crocs though, they sure do support your feet!  Even my doctor recommended them.  I was kinda shocked, to be honest.  I have a few pairs of Crocs sandals that are far from ugly!  I love them!!  Be sure to check out the Crocs website directly for the full selection and latest styles.  Both my husband and I have a pair of dedicated indoor Crocs as our "house shoes" that we use from morning to night.
FitFlops
I was shocked to learn that FitFlops have amazing support.  These are definitely another option if you have a love for sandals like I do!
Arch Support for Any Shoe
My doctor suggested an Aircast which was nice for two reasons. First, it was covered by insurance since I already paid the copay. Second, you can wear it with any shoe! I choose this option of course as the start of my treatment plan. You can order this Aircast on Amazon for fairly inexpensive too!  Heck, the price of the Aircast is cheaper than my copay.  I haven't seen these in my local stores yet.  I have been able to wear them with my winter boots and with sandals.  This is an excellent option for someone like me who has tons of cute shoes that are not very supportive.   I will say, it's not pretty though.  It's a black brace.  When you are in serious pain, you don't care what it looks like.   I do use this for the types of shoes I already have that don't offer much support.   I wouldn't use this as my main option though.  I would still invest in a good pair of running shoes.
Plantar Fasciitis Insert Options
SuperFeet
SuperFeet inserts have a super supportive layout with a nice cushion for the heel.  This sole insert is one of the best feeling inserts I've ever tried.  He highly recommends them too!  They carry all sizes and in men and women fits too.  I ordered these and love the feel!
PowerSteps
This is another brand the doctor recommended.  I don't have experience with this one though because I opted for the SuperFeet brand.
Overall thoughts on Plantar Fasciitis Treatments You Can Do At Home For Heel Pain
So far I am doing very well with the stretches, icing my foot for 20 minutes every night and wearing supportive shoes with arch support.  The doctor tells me that most patients can do all of these things at home!  He also mentions that most people won't do the work though.  He recommended a full 3 weeks of doing this faithfully for me to see real results.  I've already been doing this for a couple days and the results are amazing!  I went from a level 9 pain to a level 2 pain at most after the second day!  Now that's impressive!
I have a follow up in 3 weeks. He thinks I will be able to get back to not needing anything soon and walking barefoot if I choose. WOW!
If I struggle and don't heal as he expects, there are a ton of other things he can do without surgery. Laser therapy, custom orthotics which can cost about $400, Physical Therapy, Night splint, etc…
All in all, 3 months of really stretching, icing and wearing strong support should get me back to normal.  He says that is a typical timeframe.  I really like his treatment plans.
The pain of Plantar Fasciitis is no joke and when I googled this myself, I couldn't find anything this helpful.  If I had this information ahead of time it would have saved me a ton of money and time.  I paid for a regular office visit, x-rays, and a specialty doctor visit only to be told that I could treat this at home.  Not only that cost but I've spent so much money on shoes and inserts that simply didn't work!  That's the frustrating part.  A good supportive shoe is expensive but not nearly as expensive as trying many different types and brands over and over again.