Garage Sale Series: My Secrets to help you make some cash!!! Part one!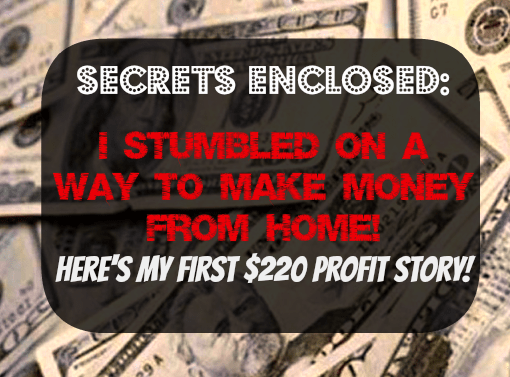 This is my $220 Profit story!
I was a new Mom and needing a bit of time to myself.  I didn't have much money because we choose as a family for me to stay home and not have a regular full time job.   I attended a few play dates to keep up socially but I really needed a little extra spending money.  It was a struggle to say the least.  I wanted a job but I didn't want to be away from my child.  Can you relate?
Here's the thing, I love garage sales!  It's my release to the stresses that come with everyday life.  I found a way to make some money doing what I love!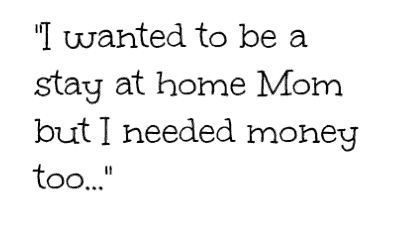 Here's my story:
My husband and I just moved to a small town because of a job change.  I had to quite my job and the new place didn't have any jobs available!  Money was tight, needless to say.  I had a six month old child at home and really needed to get out of the house to relieve some stress!
I headed off one morning to garage sales!  As this is my stress reliever!  I had $50 with me!  I can remember thinking I only wanted to purchase items I really needed and not blow it all on one sale.
I headed off to the very first garage sale at about 9am (I usually didn't go this late).  I came across some clothes that I could really use for my child and even found some toys!  I had just finished paying the lady and I noticed a part of something made by Little Tikes or Step2.  It looked like part of a swing set but I couldn't be sure, so I asked. This lady explained to me it was part of a swing set that was in the backyard that her husband didn't have time to take apart before the sale.  I knew I would want a swing set later (remember my child was only six months old).  I asked her if I could look at it and she said sure!  I could tell it was a big swing set with a fort under one part of the slide.  I was interested but I only had $35 left after purchasing the clothes and toys.  I asked her how much she wanted for it and she said $30!  I was so excited!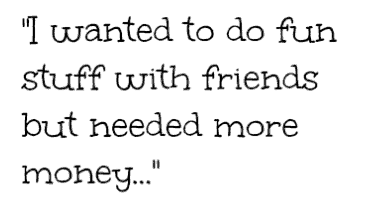 I got the swing set home.  Cleaned it up with bleach and pressure washed it and voila!  It looked brand new!!!  I brought my little six month old out side to see if!  I held onto her and put her halfway up the slide, still holding her and sliding down the slide.  It scared her to pieces!  She HATED it! I was devastated!  I spent my last $30 spending money on a swing set that my daughter was now scared of!  Just great!  It was my own fault.  If I wouldn't have scared her down that slide she probably would have like it as she got older but I was so excited to get her a swing set.  Geez… I was so upset that I had spent my last $30 on something that she didn't like!
I was talking to my bestie about my issue and she said why not place an ad in the paper to sell the swing set or even put an ad on Craigslist.  This was many years ago and Craigslist was just starting out.  I started researching how much this particular swing set cost new so that I could see how much I could sell it for.  I remember the lady who sold it told me that she thought her parents bought it for about $100 for her children but she wasn't sure.   I searched on Google.com for Little Tikes and Step2 Swing sets and found it was called the Naturally Playful Playhouse Climber & Swing Extension.  Exactly like this one found here on Amazon:
But back then the color of the particular Step2 playhouse was pink, aqua blue and white.  Remember these? This swing set retailed for about $600!!!  NO WAY!!!  I couldn't believe it!
Update:  Today there are tons of online groups on Facebook that are great for selling items online.  I would use Craigslist and Facebook to sell your items.  Just do a search under groups for your area and garage sales.  Example:  San Antonio Garage Sales
There is no way on my budget that I would have EVER paid $600 for a swing set of any kind! I though surely if it was going for $600 new that someone would be willing to pay about $250 for it.  I still didn't believe it but I opened a free account on Craigslist and started my ad!  I really wanted my $30 back!  lol…
Minutes later, after posting my newly cleaned Swingset for $250, I couldn't believe it!  I had more than 10 responses!!!  Someone wanted to send me Paypal cash immediately to hold the item for them!  They lived 2 hours away from me but would be on their way to get it if I would hold it for them!!!  NO WAY!!!  I was screaming and jumping up and down and ecstatic that I was getting my $30 back!  Heck, I was getting way more back than that!  I was going to MAKE a $220 PROFIT!!!  NO WAY!!!!  That was food, clothing, toys and entertainment money that I wasn't counting on!!!!  WAHOO!!!
I told my husband that I see deals like this all the time at garage sales but never in my wildest dreams did I think people would purchase these from Craigslist!!! I immediately started "Spring Cleaning" my house from the attic to the kids' bedrooms and was "getting rid" of stuff we no longer needed or used!  It was a great feeling and I had some money in the bank!
I hope you enjoyed my story!  I hope this encourages you to look through your own home to see what items you don't need and someone else is willing to purchase! Times are tough!  I just know there are some of you out there struggling like we all do sometimes!  Maybe you need to make some extra cash to be able to stay home with your children or maybe you just want to find some awesome treasures for your own home!  Whatever the case, I feel the need to tell you my Garage Sale Secrets!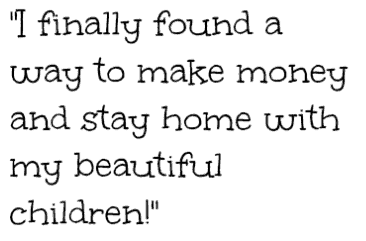 Garage Sale Tips:  My Garage Sale Secrets to Reselling Items for Cash!
I've decided to turn this into a Series because there's just so much information to gather and I want to share my weekly finds with those that are interested too!
Here are some rules I live by when I go to Garage sales to make some extra cash.
Purchasing Rules:
Bring a set amount of cash and only spent what you set your budget at!  Oh and No Big Bills!  Small bills only!  Very important rule!  Keep in mind it always takes money to make money.  If you take $20 you can hope to change the into $40+ and if you take $100, you can hope to turn that into $200.
N

e

ver purchase you wouldn't want in your own home. (This means if you buy baby stuff, make sure your child will use the items or if you purchase a chair, make sure it's a chair that you would like to see in your very own living room!) I find that if I stick to this rule I am never out any cash because if I don't sell it, it will look nice in my own house. Or think of it this way, I use the items myself for a while and then when I am sick of them or simply want a change, that's when I decide to sell it!
If you are buying strictly to resell the item, you have to ask yourself. Would the item sell for at least 2x the cost you are buying it for? If the answer is no, your risk factor is too high.
Go EARLY! Boy, I just cannot stress to you enough here, the early bird gets the worm!!! I cannot give you a magic time but I can tell you to go 1 hour before the sun goes up!!!! Depending on the time of year that could be between 6am and 7am!!! If you are leaving your house at 8am, you may as well forget it! The good stuff is already gone because I got it! lol… just kidding! But seriously, go EARLY!
If you plan to buy big items make sure you have a truck to be able to transport them home. There were many times I went in my own neighborhood with out a truck. Luckily, I live in a small town and either I would pay the owner a little extra to deliver it or I would ask a friend a favor! There were many times I would go further from home and have to pass a great deal just because I didn't have a truck.
Plan your route!  Research the local paper, craigslist or any other resource you have for garage sales in your area and plan your route.
Neighborhood sales:  Always go to those first!  I always start at the BACK of the neighborhood because everyone else has already started at the beginning!  You would be amazed at how many people don't think of this tip and the deals you will score!
Be NICE to everyone!  I see this over and over again where people are so rude!  Ok, so even if that person is asking more for it than what you can get it for in the store, who cares… move on.  Don't be rude.  You can catch more flies with honey than with vinegar!
Bring snacks or coffee!
Be prepared to have complete your route by 9am – 10am.  Anytime after that I consider the sales to be done! (this is why you don't wait around and ponder your decisions, be confident in your purchase with the above rules and move to the next item)
I have many friends that do Reselling for a living and make quite a good living doing so!  Most of them work only on Fridays and Saturdays and resell on Sundays!  Some of my friends specialize in certain products, while others buy anything of value!
If you are in need of a job, create one yourself with these Garage Sale Guru tips!   Warning:  It's addictive and fun!!! 😉
You are one step closer to know all in insider secrets to becoming a Garage Sale Guru or Queen of your own!!!  
==========>>>>>>>>>>>>>Stay tuned for another post, Part two of the Garage Sale Series, where you will learn what items are "hot" sellers, what items to completely stay away from and how exactly to sell these items!
I will also share what I found at Garage Sales this week too!  If you are as passionate about Garage Sales as I am and you have a story to tell, I would love to hear it and possible feature you in an upcoming post!  Email me at jennifer(at)isavea2z(dot)com
Here's a sneak peak for next weeks posts…  I found this double chaise lounge at a garage sale!  Can you guess how much I paid for it?! I had a furniture dealer come to my house and make me an offer.  Can you guess how much they offered?  Please comment below!  Stay tuned for answers next week!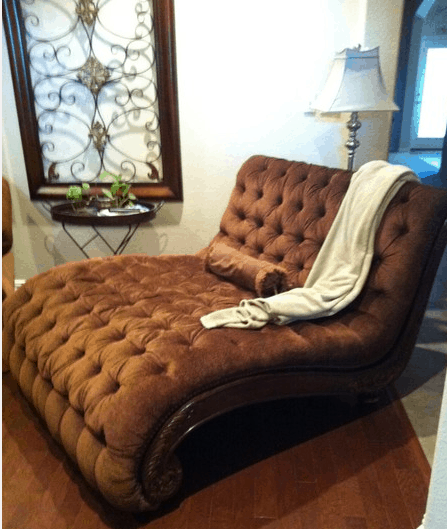 Happy Treasure Hunting iSavers!!!
UPDATE:   Head over here for Part 2!