Treasure Hunting for Profit (or as a hobby)!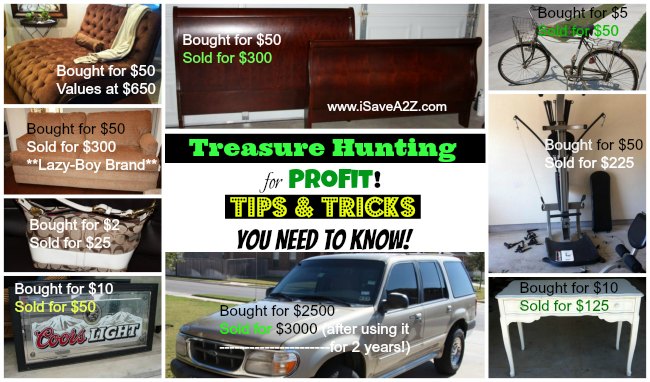 Treasure Hunting for Profit!
For those of you that know me personally, you KNOW that I am a garage sale junkie!  I'm always on the hunt for a good treasure.  Let's face it, I love to shop!  I am always amazed when I meet new people that are fascinated by my garage sale stories.  My friends want more of these stories so you can thank them for this post inspiration.
I've written a few posts in the past and called it my Garage Sale Series.  You've got to keep in mind when you read these that I was on a very strict budget and in between jobs.  I had to find a way to make some extra cash and boy did I!  I feel the need to "pay it forward" and give all my tips and tricks that I have learned to anyone who is willing to do the work to earn cash!
Start reading the Garage Sale Series here to become and expert yourself!  I've included my story on how I stumbled upon this art of treasure hunting for profit and then I give you all the information that I know about it.  I tell you what to buy and what not to buy.  Please feel free to share this with anyone who you feel can benefit from making a little extra cash on the weekends!
I've decided to create a collage of photos of some of my past profits!  Not all of them are as good as these but it will give you an idea of how much you can make.
Here's what I've bought and sold:
Queen Cherry Sleigh bed:  I bought this for $50 and turned it for $300!  It originally came with a bed but I never wanted to take the bed.  Used beds are something I don't want to deal with.  Eewww…
Old Antique bike:  This is a very old bike.  I live in Austin, Texas and these bikes are hot items in my area.  Everyone loves the antique basket too!  Bought it for $5 and sold it for $50!
BowFlex:  Man, doesn't everyone own one of these.  My husband insisted he needed one so I bought this one for only $50.  He used it for about 6 months then decided he wanted a gym membership.  Sold it for $225 (it came with all the manuals and extra attachments too)
White Vanity:  These vanities just happen to be another hot item in my area.  I purchased this cute little white vanity already repainted!  I did nothing to it.  I bought it for $10 and resold it for a whopping $125!  Funny thing is I had multiple people wanting to purchase this one!
1998 Ford Explorer: I call this one my lucky purchase.  I was in the market for a second vehicle but I only had a $2500 cash budget.  This is not much when you are looking for a used vehicle.  After a few months of looking and looking I finally found a gem!  I ended up selling this vehicle for $3000 after I used it for 2 full years!  Buying a used car is not an easy task though.  You really need to know what you are purchasing when it comes to vehicles or at least hire a mechanic to go with you.  I used to work in the used car industry.  I used to buy cars at auction for the dealership.  I know LOTS about buying used cars.  There are so many warning signs to look out for but if you are not knowledgeable I wouldn't even attempt it.  However, if you want to learn more about tips and tricks to know when purchasing a used vehicle you can read a post I wrote about it here.  It's really good information that you will find very useful!
Coors Light Mirror:  I bought this for only $10 and sold it for $50.  People love almost anything with beer logos.
Coach Purse:  I bought this one for $2 and sold it for $25.  You need to be careful here too.  There are so many fakes out there  and if you can't tell the difference then don't buy it.
Neutral colored beige Lazy-Boy Sofa:  I want to start off by telling you that I have a rule with almost everything I purchase.  If I don't sell it, it must be something good enough for me to keep and put in my house.  I always go for very neutral colors when purchasing furniture.  It's a safe option.  Not many people are going to want that bright colored orange or cobalt blue sofa so stay away from those if you are wanting to resell it for profit.  I usually buy sofas for about $50 if they are in great condition.  Most sofas resell for about $25o to $400.  I ended up selling this one for $300!
And last but not least, my favorite purchase ever is my Double Chaise Lounge:  I absolutely LOVE IT!  My husband,  he could care less.  I bought this beauty for a mere $50 and the guy delivered it to my house because I didn't have a way to transport it!  That was not a typo!  $50!  Check out a bigger photo of it here in the Garage Sale Series.  The photo is not that great but it's a plush dark brown velvety fabric with a carved dark wood design.  It's gorgeous!  I can't stand to part with it.  I had a furniture dealer come to my house to purchase a desk and he stopped dead in his tracks and insisted I sell this chaise to him for his showroom floor.  He offered me $650!  I refused.  I just can't!
I hope this post has some information you can use but even more so I hope it inspires you to make some extra money!
Stay tuned for a post next week about my latest Treasure hunting for profit find!  I will give you a hint.  It's a beautiful upright mahogany piano!  Stay tuned to see how much I paid for it and how much it values!!!  You are gonna flip!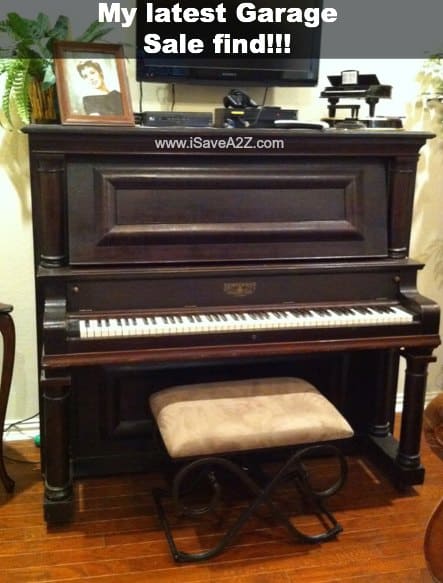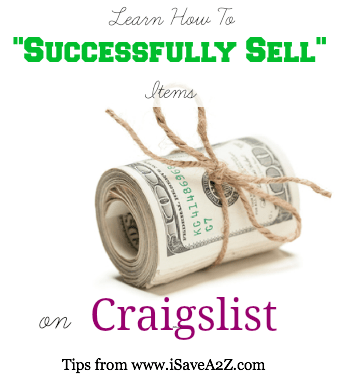 You may also be interested to read my latest post on How to Successfully Sell Items on Craigslist here. It's worth a read.