Homemade Night Cream for Dry Skin

Homemade Night Cream for Dry Skin
I use this Homemade Night Cream for Dry Skin recipe year round.  I call it my super lotion!  It smells amazing but most importantly it really helps my dry skin.  You can use this cream just like any regular lotion or apply it to your dry hands, feet, knees, and elbows before bed for super soft skin.  I use this lotion after I do our cracked heels remedy treatment I told you about in an earlier post.  This lotion gives that extra boost to make my skin super soft again.  I love it!  I love the smell of it too.  It puts me in a relaxing state of mind which makes for a super good nights sleep.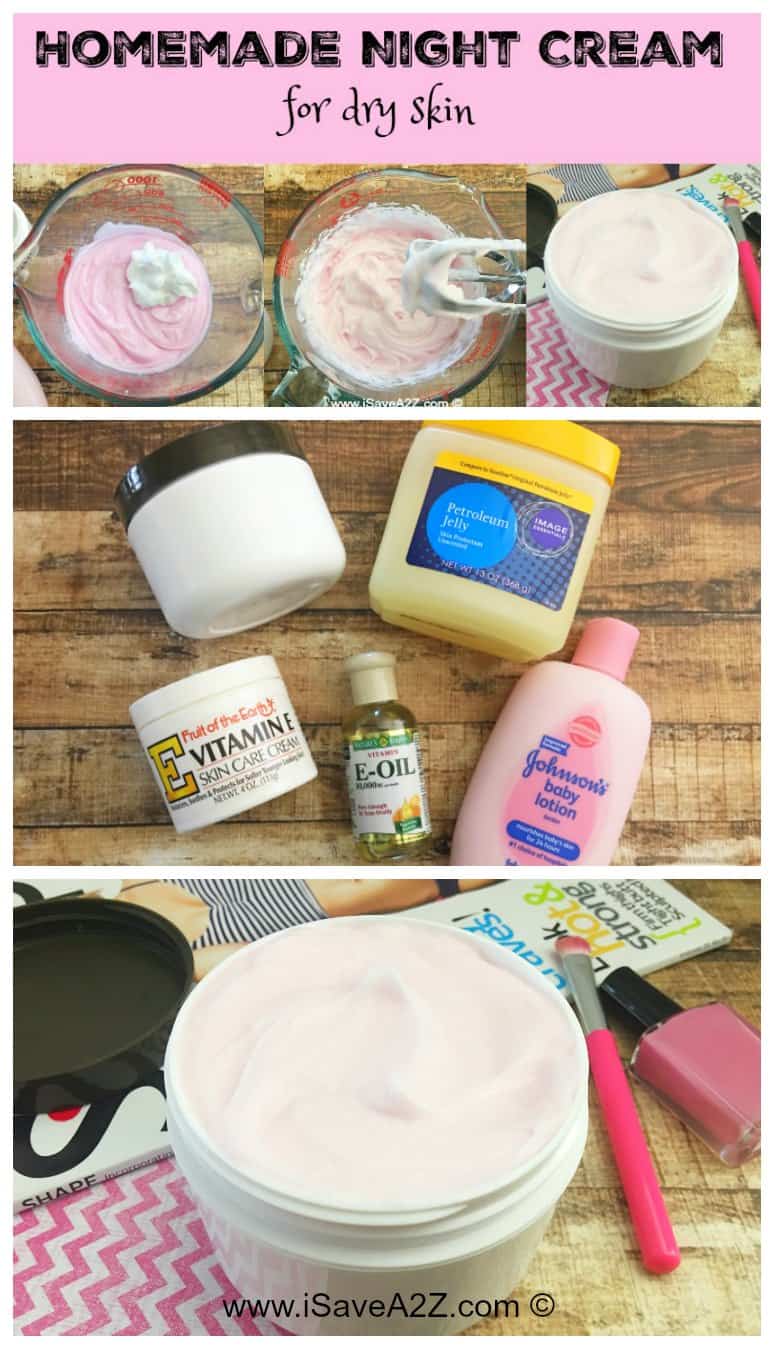 Here's what you need to make this Homemade Night Cream for Dry Skin:
Optional:   If you have extra dry skin add 1 tablespoon of Vegetable Glycerin to this recipe!    Glycerin is an outstanding moisturizer and skin cleanser.  It provides softening and lubricating benefits too.  I add it to all my sugar scrub and lotion recipes.
Directions to make this Homemade Night Cream for Dry Skin Recipe:
In a large mixing bowl, add your pink baby lotion, vitamin E cream, petroleum jelly, and vitamin E oil.

Using a hand or stand mixer, beat your ingredients until you have a whipped texture.  This took me about 3 minutes. 

Scoop into a clean 10oz container or a couple smaller containers.
I have pretty sensitive skin and I am still able to use all of these ingredients without any issues.
This night cream recipe also makes an awesome gift idea.  You can make a bigger batch and make to a few white plastic jars with dome lids (as seen here on Amazon).  Wrap it with a ribbon or add a customized label to it.  I use my Silhouette machine to create some cute labels.  Man, I remember making my very first Silhouette project a long time ago here.  Remember that?  I love that machine!

Homemade Sugar Scrub Recipe! Just like Mary Kay's Satin Hands!!!