Kids "Not So Scary" Halloween Project Idea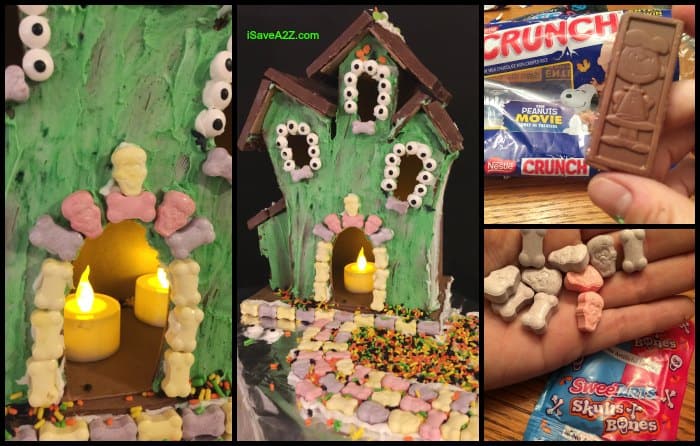 Kids "Not So Scary" Halloween Project Idea
I have a fun kids "not so scary" Halloween project idea that if fun for you and the kids!  I recently received an email from NESTLÉ® asking if I would be interested in writing up an article about their new Halloween candy. NESTLÉ® is one of my favorite brands so I was eager to come up with a project idea!  Besides did you know that Nestlé USA continues commitment of the removal of artificial flavors and colors from its chocolate by the end of 2015!  I love that.
I have two things that I absolutely love about this Halloween project idea.  The first thing is that I get to spend quality time with my children as we build it together.  The other thing I love is eating the candy as we do this project.  Make sure you buy enough if you are like me.  Those NESTLÉ® CRUNCH roof pieces will go fast!  YUM!

Here's what you need to build this not-so-scary Halloween house:
Cardboard house – I found this fun house at Walmart for just under $4.  You could get real creative and build your own out of cardboard too.
Cardboard box lid for the platform.
Icing – I used this Royal Icing Recipe because it hardens and sticks perfectly just like a glue would but it's edible.  Don't use regular frosting because the candies will slide right off your design.  You need something that is going to stick.  You can buy royal icing already made too.
Gel Food Colors – if you want different colors I highly suggest using the gel food coloring.  This type of coloring does not contain water and won't ruin your icing.
Bowl to mix the colors
Spoon to mix colors
Knife to apply the colors
NESTLÉ® CRUNCH® PEANUTS Molded Fun Size Bars- this is what I used for the roof.  Not only are they cute but they fit perfectly!
SweeTARTS Skulls & Bones- we used this to decorate the walkway and around the windows and door area.  I love that these are not dark colors too.
We also used a few Halloween colored sprinkles and googly eyes to help decorate our house.
Optional:  Electronic Tea Lights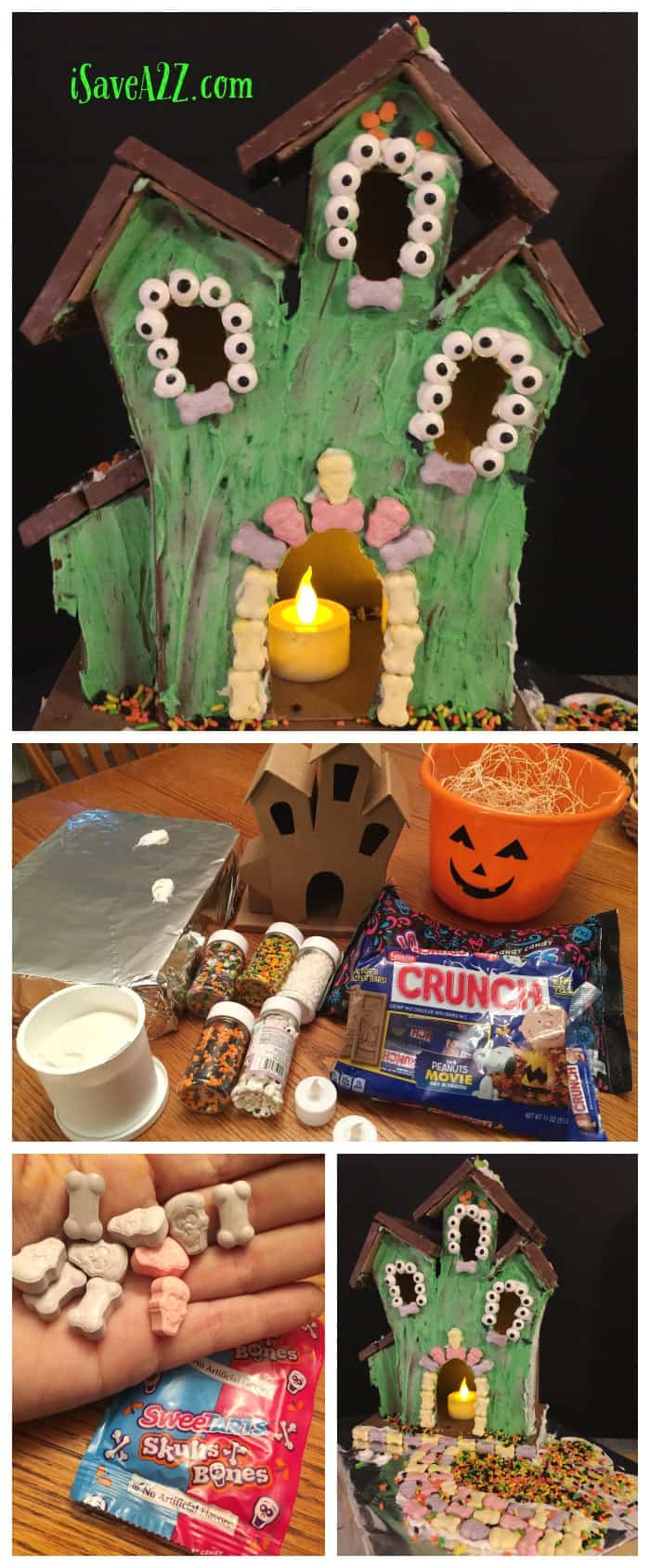 Directions to build this not-so-scary Halloween house:
First we applied the color we needed to our icing.
I used tin foil to cover the box lid for the base.  I also added royal icing as a glue at the bottom of the house so it will stick to the board and not slide off.  The photo above shows to dollops of icing on the platform before I applied the house.
We applied the green color to the outside of the house. We held off on the roof until last.
Now for the fun part, we started applying all of the candy in a creative manner to make this Halloween house our own.  We may have argued a bit over who is eating more candy than the other too.  Fun times!
Tip:  Be sure to use the icing as a glue.  It will dry fast and harden so be sure to cover it when it's not in use and apply the candy to the area quickly.  It will stick nicely so you won't have to hold it in place at all.  I love that about royal icing.
Finally, we added some electronic tea lights in the inside of our Halloween house to make sure it lights up.  This decoration will be perfect for our Halloween party and it sure was a lot of fun to make.
Nestlé's assorted value bags make candy buying for the whole neighborhood affordable. Starting with the 60-piece Boo Bag! (MSRP $9.99, 38oz) and going up to 450 pieces, Nestlé's value bags come in a variety of sizes and assortments of treats that will have the whole neighborhood shrieking for more.
Also new for Halloween, parents can choose Nestlé chocolate items in the Halloween aisle, available for the first time without artificial flavors or colors. Nestlé is pleased to offer classics like NESTLÉ® CRUNCH®, Butterfinger, Baby Ruth, Raisinets, Goobers, Sno Caps, Oh Henry and 100 GRAND—all labeled with the new No Artificial Flavors or Colors banner. This continues Nestlé USA's ongoing commitment to remove artificial flavors and colors from all Nestlé chocolate candy by the end of 2015.
"Candy isn't just a given at Halloween–it plays the starring role in everything from trick-or-treat bounty to spooky house gatherings," said Patricia Bowles, Nestlé USA Confections & Snacks. "This year, we're particularly thrilled to help families and friends celebrate the season with the classic PEANUTS® characters they love plus new exclusive and innovative treats for seasonal festivities."
What fun Halloween kids activities are you planning?