Middlebury Indiana KOA Review
We finally returned from out RV Travel vacation and I can't wait to tell you about all the places we traveled too!  I just had to write a Middlebury Indiana KOA review because the people who run this place are amazing!
I will start off by telling you that I didn't get a full 24 hours to enjoy this place but the little time I had left me wanting to return.  We started our RV Vacation tour by flying from Austin, Texas into Chicago for the first night as we stayed at the Hyatt Regency McCormick Place before we headed out.
We headed by bus from Chicago to Middlebury Indiana which took about 2 hours or more.  I was too busy having fun on the bus to pay too much attention to time.  Middlebury is the place where most of the RV's are manufactured and ready for pickup.  We were heading to pick up a brand new RV!  We picked up our FR3 25 ft by Forest River and headed to the campgrounds.
We arrived much later than expected and the staff had a hot dinner waiting for us.  It was already dark so doing the RV set up in the dark is no fun at all.  Especially when it's your first time.  Luckily, the staff at Middlebury went above and beyond and gave us a quick overview of everything we needed to know to for our first set up.  This was not part of their job and it was most definitely appreciated by many!
We ate dinner and headed to our RV's to set up.  Be sure to head over and read our RV Connection Tips & Tricks article too.  It's all that we learned while on this trip.
Our family called it an early night this first day.  Air travel and road travel in one day is a bit much.
I was able to wake up pretty early the next morning and grab the gorgeous views at this KOA site.  The campsite was spacious and very clean with lots of activities.  They even have a little store just in case you forget something.
They have cute little cabins for rent on the grounds in the front.  In the back, there is a river with paddle boats, miniature golf and manual go carts for kids and adults!  They even had some walking trails that lead off into the woods too!
It was important for us to head out early so I'm sad to say that I didn't get a chance to enjoy this KOA as I would have wanted too.  I am definitely wanting to go back and spend a few days to enjoy the grounds and the scenery.  It was quiet and peaceful!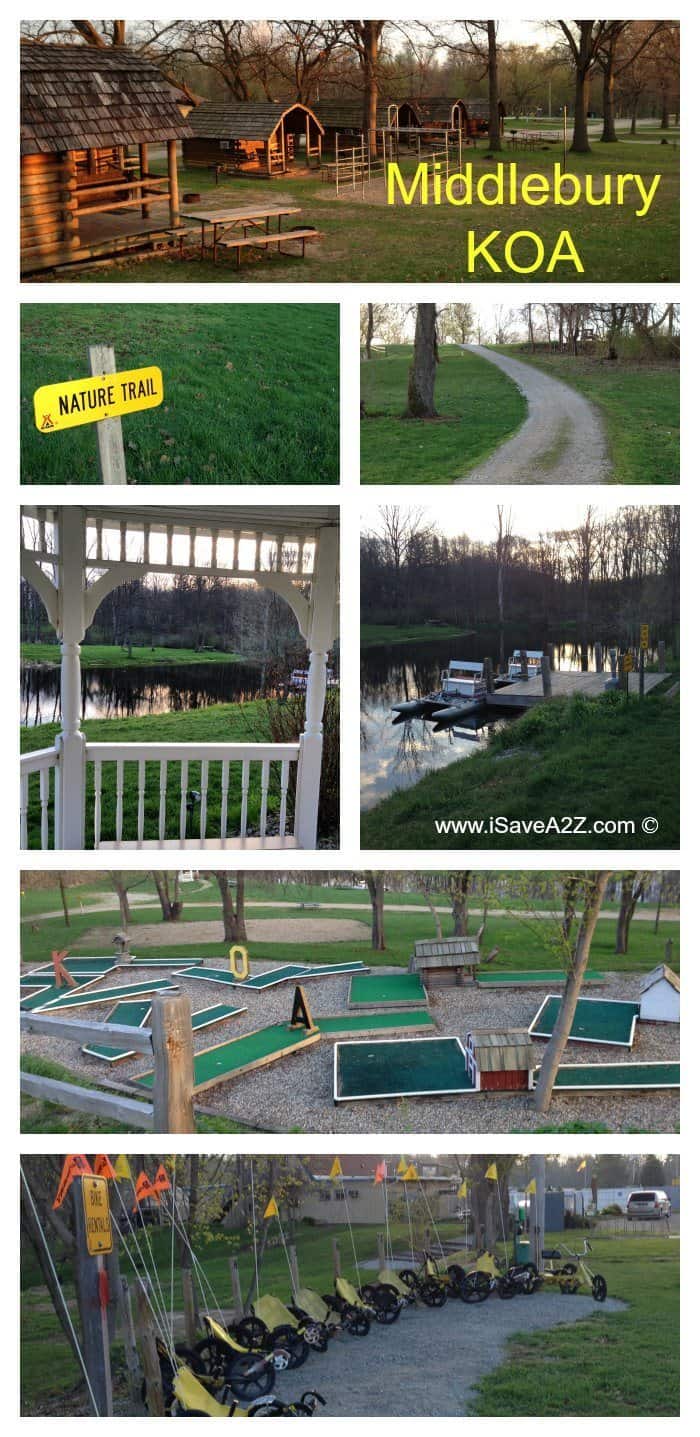 As we were leaving the small town of Middlebury, Indiana we were able to catch a small glimpse of Amish living!  Check out this photo I was able to snap as we passed them on the road!  I got a big kick outta this!  Pretty cool, right?!!!