Disclosure:  I was given a room credit in order to conduct my review.  No other form of compensation was received and all opinions are 100% my own.
Hyatt Regency McCormick Place Chicago
Boy, oh boy am I happy to tell you about my stay at the Hyatt Regency McCormick Place Chicago location!   On our first visit to Chicago my family and I had the pleasure of staying at the Hyatt Regency McCormick Place!  The Hotel is located on S. Dr. Martin Luther King Jr. Blvd near S. Lake Shore Dr. This beautiful 344' tall hotel is located close to, Soldier field, Art institute of Chicago, Willis Tower, John G Shedd Aquarium, Elder Planetarium, Mercy Hospital, and a Budget car rental.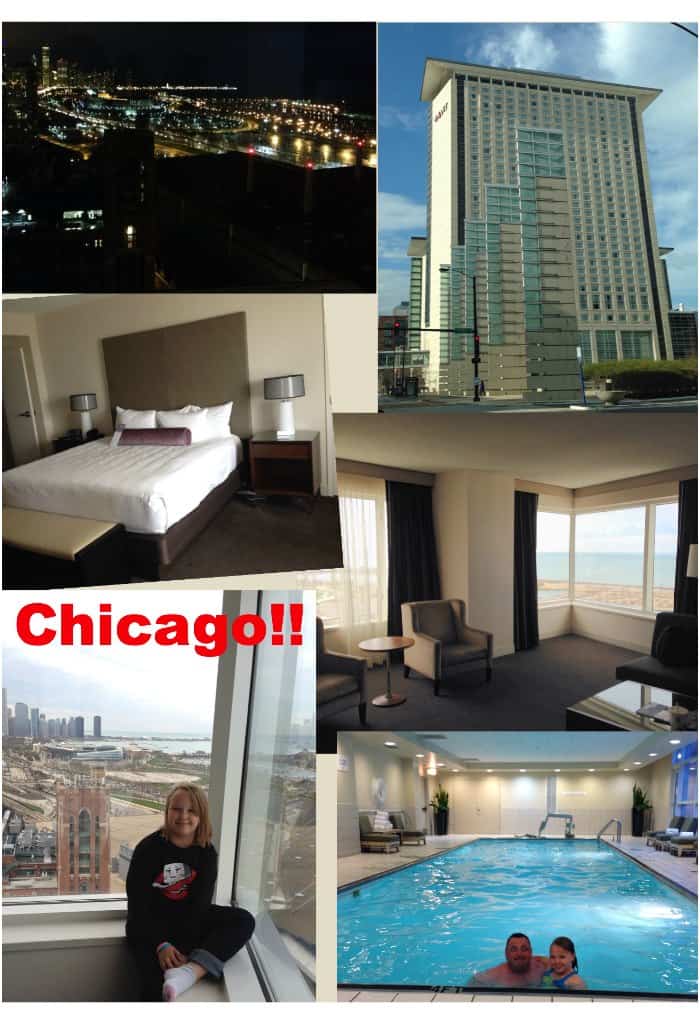 The Room:
Our room was a suite and was simply gorgeous. We had a great view of Lake Michigan through the many windows of this suite. The large king size bed was comfortable and our two children age 18 and 9 had plenty of space to sleep comfortably on the large couches and sofas. The room had all the amenities you would expect from a first class hotel such as refrigerator, in room safe and spacious restroom and closet. I was impressed how many usb power terminals this room had that kept all of our cell phones, iPads and cameras charging and left plenty of plugs available for our laptops. The suite had two 42" flat screen TV's with free cable, and also had HDMI ports to connect any multi media devices. I also liked that after hours a room key needed to be used to access the elevator to the room floors.
Hotel amenities:
This Hotel has many great amenities. If you are hungry you do not have to leave the Hotel for great meals. Forno is great for those that want a quick delicious meal. They have Panini sandwiches and pizzas. We ate at Shor Bar & Grill, which had a larger menu selection and elegant but comfortable dinning. I am a bit of a hamburger connoisseur. Being from Texas, I have had many a good burger. I honestly have to say they served me the best hamburger I have ever tasted. It had a fried pickle in it, which was unbelievable.  Everyone in our family really enjoyed their meal at the Shor.  They ended up serving us a few extra fried pickle slices because we raved about them!
That evening we took our 9-year-old daughter swimming at the indoor heated pool. The pool, and pool area were a good size, and there was access to an outdoor sun deck area. This hotel also has a large gymnasium, which had many cardio machines, weight machines, and also had a dead weight area, which is very rare in hotel gyms.
The hotel also had access to lakeside jogging and bike paths.
I was on this stay for vacation, but received an unexpected email from work that needed immediate attention. I had to print up a document from my email, get it notarized and fax it back as soon as possible. After encountering this issue I was delighted to find that the hotel has a FEDEX business office in the lobby. I was able to access a computer pull up my email and print the document. There was a charge for this service however, but there are employees standing by at the business office to provide help if needed. I assumed I was going to have to find a bank to get this document notarized. To my surprise the hotel had someone on had that was a notary, who provided this service at no charge, but I did give him a tip for his service.
Transportation and Parking:
There is no free shuttle from the airport to this hotel. The shuttle is $23.00 one-way and $42.00 round trip per person, from Midway airport. Vans leave the Hotel every 15-20 minutes, but you can make a reservation for this transportation. For convenience we chose to rent a mini van to accommodate our luggage and to use during our stay in Chicago to freely see the sights. This was less than $100 a day.
Like most places in downtown areas there is no free parking for the quests at this hotel. Parking is $34.00 a day for self – park. However the garage is secure and a security guard mans the access gate.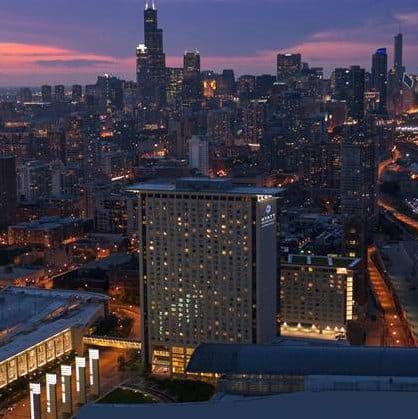 There are bus stops very close to the Hotel and the CTA Cermak/Chinatown redline train station close by.
After a great night sleep we drove a short distance to the Millennium Park in down town Chicago. The kids loved the giant silver Bean.  It's something you really need to see to experience.  It's a bit freaky when you enter the middle of the bean and look up!  It's definitely a must see place if you are in the area and it's free too!
Overall the experience at this hotel was great. The entire hotel staff were super friendly and helpful.  If we ever stay in Chicago again, we will be staying at this Hyatt Regency McCormick Place Chicago location in the same room with that amazing view.
If you are looking for a place to stay in Chicago check them out!  Here are a few deals you might be interested in too:
There are some good deals happening now too:
·         Stay & Play Package:  Great savings!  This package includes complimentary self-parking ($34/day value), premium WiFi ($15/value), and a $20 food and beverage credit valid in any of our restaurants (includes alcohol).  The value is $69, but typically this rate is only $20-30 more than our rate of the day.
·         Social Media Rate:  We love our social fans!  And people who find this rate online can save 20-60% on our rate of the day on select dates.  Availability varies, but if you get it, rates are sometimes as low at $60-70.