Cool Art Project for Kids! (through the eyes of an 8 yr old)

Cool Art Project for Kids (according to my 8 yr old daughter!)
Apparently my daughter Melanie feels she knows a thing or two about cool art projects for kids!  Being the A-type personality that she is, she insists that she knows what's cool and no one can disagree with her.
We do a lot of art projects in our home.  A LOT!  We have everything from Stain Glass kits, to Candle Making, to Anime drawings, all the way to face painting!  There's no such thing as too much art around here.  There's also no such thing as a plain white shirt or jacket either.
I recently purchased a white hoodie at a garage sale for $1.  When I got it home I washed it and asked my daughter if she wanted it.  She said yes immediately and her eyes lite up as I knew something was spinning in that head of hers!  She grabbed the jacket and ran to her room.  She came running back and asked it she could draw on her new hoodie with sharpie markers.  Hesitantly, I said yes but if she drew something on it, it would have to be something that she would still want to wear.  I mean it was a garage sale find for only $1…
Tip:  If you do actually want the drawings to stay on the fabric be sure to use the right sharpies as seen here: Stained by Sharpie Brush Tip Fabric Markers, 8 Colored Markers on Amazon
I saw the beginning stages of her masterpiece: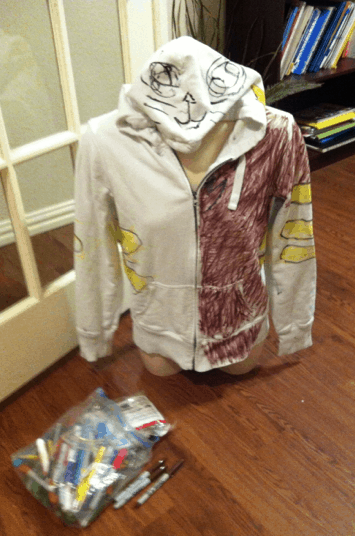 It's a kitty cat hoodie she says!  The brown marker is purposely done in lines to look like the fur.  I see it!  Do you?
The hood part is the cats face.  When she is wearing the hood she pulls down the hood part to cover her forehead to display this face.  How clever!
My first question as I saw this…  Are you going to wear that?  She looked at me with the most puzzled face and all most sheer disgust and said "yes, of course I am!"
Then she kindly asked me to go away so that she could finish her masterpiece.  Well "excuse me" I thought…  geez…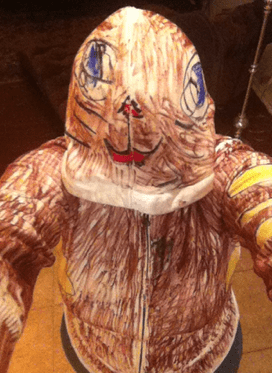 How cute is that?
Well, to my surprise she wore it to school!  I told her she had to wear it but I didn't expect her to wear it to school!   There are some things I am not willing to battle her on.  This was her masterpiece and she was going to wear it.
When I went back to pick her up from school I received all kinds of comments about her jacket.  Her teacher even pulled me aside to tell me how much she adored it.
She told me that multiple girlfriends were going to get out their sharpie markers and color their jackets too!  Oh geez,  please don't let me get calls from other parents.  Please.  I also had to convince her this was not stealing her idea but rather she should be proud people want to do the same thing.  (Heck, I thought I was going to have a conversation with her about people "making fun" of her but not about people stealing her ideas)
Well what do you think?  Do you think this is a cool art project for kids?  Leave a comment!
I hope this post as given you a bit of inspiration for you to grab a white hoodie, a pack of sharpies and let out your creativity go wild!
Tip:  Buy a few white hoodies and sharpie fabric markers and create your own unique gift idea for that crafty person you know!  This works perfect for teens!  My 17 year old LOVED this idea!
I may be a bit biased but just look at the cuteness I have to deal with on a daily bases!  I think I may have to agree with her on this one though.  This was a pretty cool art project for kids!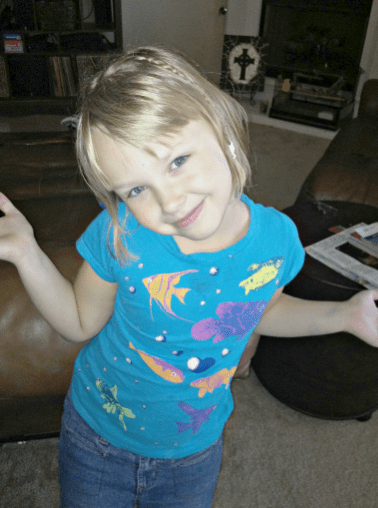 If you liked that project, here's another cool art project for kids and it keeps them entertained for a few hours at least!