Fire Prevention Checklist (Printable)
Fire Prevention Checklist (Printable)
Did you know that each year 3,000 Americans die from home fires?  When First Alert wanted to work with me on a campaign as part of the Mom It Forward Influencer Network, I immediately knew I wanted to be part of this!  It's close to my heart and it gives a very important message to keep your family safe.  Most of these accidents are preventable too.  I've created a fire prevention checklist to help keep your family safe as we enter the cooler months of the year.
The National Fire Protection Association (NFPA) recommends smoke alarms be installed and in working order throughout each level and every bedroom of your home.  It is the first line of defense for fire prevention.
Here's more important information you might not already know.  Alarms do not last forever.  Smoke alarms and new carbon monoxide alarms last for 10-years.
October is Fire Prevention month and it's an important reminder to do our preventative work around the house.  If you don't have a Fire Prevention Checklist for 2017, don't worry, I've got you covered.
One this I highly recommend doing is creating a family escape plan.  You should discuss 2 different ways out of your house for many different situations around your home.  A critical component of fire safety is having and practicing, an escape plan with your family. According to new research from First Alert, only 27 percent of families have included a meeting spot in their fire escape plans. When creating a plan with your family, make sure you can identify two ways out of each room – which can include windows and doors – and make sure everyone in the home understands the plan. This is something that older children can help create – it is fun to get the whole family involved!
Download this Fire Prevention Checklist Printable here: Fire Prevention Checklist Printable
FIRE SAFETY CHECKLIST
Test/Check all Fire Alarms (test alarm, check batteries and replaced expired units)
Test/Check all Carbon Monoxide Alarms (test alarm, check batteries and replaced expired units)
Test/Check all Fire Extinguishers
Plan a Family Escape Route and Action list (Day and Night procedures) and practice a 2-minute drill.
Clean Dryer Vents
Clean Furnace
Clean Fireplace/Chimney
Check to make sure all windows open and close correctly.
Check all wires/cords for damage (unplug units not in use)
Store extra batteries in a safe way/place.
Test and Clean Space Heaters as needed
Create an emergency contact list and display it in the main area
Make sure your house number is visible from the street to make it easy for first responders to find you in case of an emergency. (clean from greenery and don't display decorations over your house number)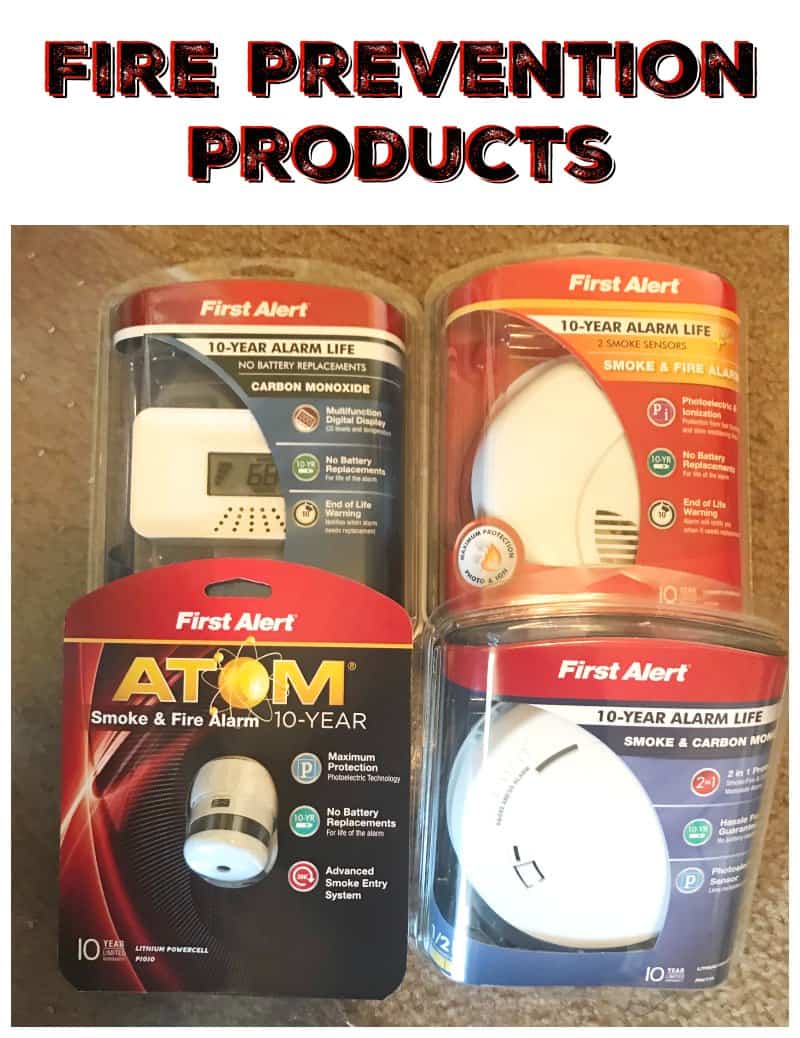 First Alert Products
First Alert has a number of products to keep your family safe.
The SA3210 is great overall protection because it has both types of smoke sensors recommended by the National Fire Protection Association (NFPA).

The P1010 is a nice addition to your home's safety, ideal for the bedroom.

The PRC710 provides both smoke and CO safety.

The CO710 is a nice table-top addition and can be easily added to any room.