Gooey S'Mores Bars Recipe
Warm & Gooey S'Mores Bars Recipe….
no campfire needed!
It doesn't matter if it's hot or cold outside, my family always loves s'mores as a treat. Since it's been over 100 degrees in Texas lately, it's not really campfire weather. With this Gooey S'Mores Bars Recipe I came across, there's no need for a campfire! It's a pretty easy recipe, only has 5 ingredients and the kids can join in.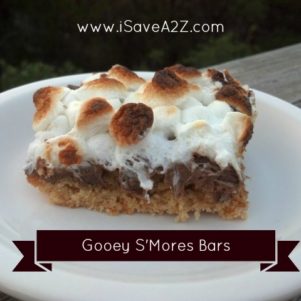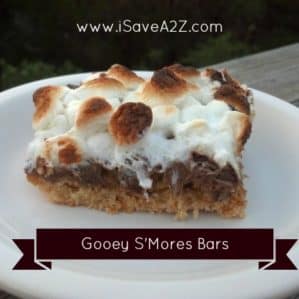 Gooey S'Mores Bars Recipe
Instructions
Heat oven to 375 degrees.

In a large bowl, stir together cookie mix and graham cracker crumbs. Then stir in melted butter to form a soft dough.

Press the dough into an ungreased 13x9 inch pan

Bake for 18 to 20 minutes or until crust is set.

Immediately sprinkle chocolate chips over the crust and let them stand for about 3 to 5 minutes or until the chocolate starts to melt. Spread the chocolate out evenly.

Set your oven to broil and sprinkle the marshmallows over the chocolate.

Place your pan close to the top and heat for 20 or 30 seconds until the marshmallows are toasted.

Cool for 10 minutes, cut into bars and serve warm.
Notes
When I was toasting the marshmallows, I rotated my pan to get them toasted evenly. To re-heat leftovers, microwave for about 15 or 20 seconds.
Nutrition facts are provided as a courtesy.
I let my little ones help sprinkle the chocolate chips and the marshmallows. They love to help any way they can in the kitchen. These Gooey S'Mores Bars were a hit! The crust is almost cake-like so we ate it with a fork, but feel free to be hands on with this dessert.
Do you love S'Mores and want more ways to enjoy them year round?
You can get a bag of S'Mores flavored coffee for only $13.99!!
Or how about this deliciously scented S'Mores candle!
I also found S'Mores Trail Mix that you can buy in bulk. I think that could be another recipe we may have to try!
Enjoy!