Small Appreciation Gift Ideas for your Local Police Department

Small Appreciation Gift Ideas for your Local Police Department
As the wife of a law enforcement officer I get asked all the time what are some appreciation gifts police officers like during the holidays. First, I think it's amazing that people show their support for our first responders. There are tons of people out there that really care and it melts my heart.  The news media loves to show you all the negative stories surrounding our law enforcement but I know people care.  They REALLY care!!!
I'm surrounded by lots of law enforcement so when I asked the question of what they would love to get as a gift during the holidays they immediately responded with "stay home and be safe!"  They really do want the best for you.  They are the most selfless people I know.  And…  when you stay home and be safe their job is a little easier too.  It calls for a peaceful and uneventful night.  Yeah,  that's not happening.
If you really want to do something for your police officers local to you I would highly suggest making some cute little care packages that include some useful items.  Now bare with me because you may not think these are as useful as those who work the streets.  So I will do my best to explain each one and why it's important.
Care goodie bags that include:
Cliff bars, Protein bars or Power Bars – most of the time officers working calls jump from one call to the next without a break in between to eat.  It's important to keep energy up and sometimes dinner is a simple protein bar.
Peanuts or Granola Bars – another really good snack idea for on the go.
Beef Jerky or Turkey Jerky – same reason as above.  It's a good snack idea that will get you through your shift.  They sell lots of beef jerky that are individually wrapped too.
Coffee Gift Cards – sometimes officers will get a free cup of coffee but not all the time.  They don't always have time to sit and drink a cup of coffee.  They may even go through the drive-thru just to grab some caffeine.  A $5 Dunking Donuts or Starbucks gift card would be well appreciated.
Mini Hand Sanitizers – some larger departments may issue these but not all do.  They deal with some pretty crapy situations and don't always have a sink to wash their hands.  Hand sanitizers are a must when on patrol.  A must!
Chapstick – Police Officers work in all kinds of weather conditions and often time love to have chapstick on hand to protect them from the sun and the cold, dry weather.
Hand Warmer packets – these come in handy when they are stuck working a collision or traffic during the cold winter months.  Very, very useful to police officers especially those that ride motorcycles.
Pens – Yes Pens!  You know how often they need a good pen?  Yes, often!!  They could never have too many pens.  (blue or black pens)
I've taken a photo of some of the best ideas for useful products you can give to your local police department: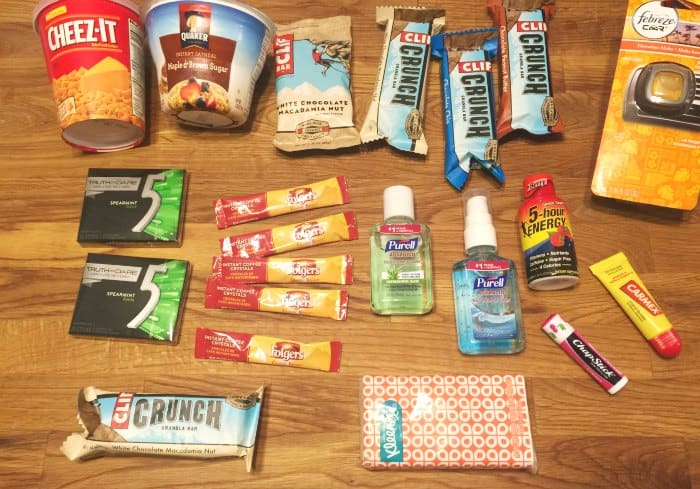 Here are some thoughts on baking for the police department.  Baking is a wonderful and thoughtful idea but not necessarily the best idea and here's why.  Police Officers generally try and watch what they eat and eating sweets is not the best when you need energy for a full shift.  I'm going to be honest here for a minute.  Unless you are a trusted individual and known by someone in the police department the food may not be trusted either.  I know, I know…  It's sad to think like this but it's the honest truth.  I mean think about it.  They deal with criminals and bad people most of the time.  The worry if someone is going to spit in your food is real y'all.  It happens!  The bad part is that the caring people who bring food to the departments are not the people that think this way usually but the fear is still there.  This is not how you and I think but it's the way they have to think.
Other ways to show support for your local Law Enforcement Agency
Give a simple "thank you" for doing what you do.  I do this often.  I offer a handshake and a thank you for what you do.   It's so simple, yet so powerful.  I love to show that I appreciate the job they do and the risks they take.  This goes for all first responders but I often do it to teachers and other professions too.
My favorite way to show support is a wear a pair of police leggings!  Nothing shows more pride and support by wearing anything with the thin blue line on it!  Here are a few pair of police leggings that I love:
I really like these leggings also:
You can purchase Police Support Gear at ThinBlueLineWarrior.com!  You will find tshirts, leggings, caps, mugs, tank tops, baby items and even tote bags too!
These make exceptional gifts for Police Wives too!