Halloween Zombie Costumes homemade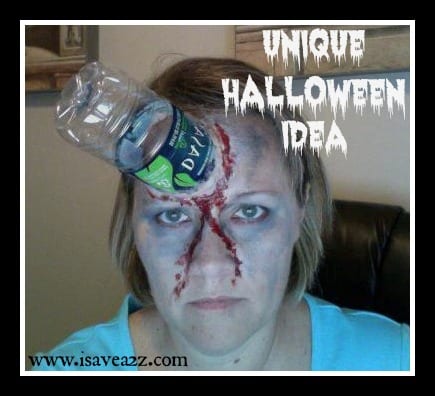 Halloween Zombie Costumes homemade: Dasani Zombie
There are plenty of Halloween Zombie Costumes homemade and easy to find but this one get's an A+ for being unique!  For those of you that follow my blog, you know that I do face painting as a hobby. Last Halloween I just couldn't think of anything creative. As I was standing in my kitchen I looked down at an empty Dasani water bottle and ding! ding! ding! I had an idea! Not only is Dasani my water of choice, but it also turned into my unique Halloween idea too!  I wanted the zombie look but with a twist!  I made it look like I ran and fell on a Dasani bottle!
I ended up getting a tons of freaked out kids and even some freaked out parents too! This was my first time using spirit gum and spirit gum remover and boy, that stuff is powerful!  In fact, don't laugh, but when I removed it, it took off part of my eye brow!  OUCH!!!!  Ok…  go ahead, laugh!  It is pretty funny!  My husband and kids still laugh about it!  And No,  I didn't take a photo of me missing part of an eyebrow.
Here's what I did.  I cut a Dasani bottle at an angle.  I added the fake flesh to the sharp edge of the cut bottle and then added the spirit gum adhesive and stuck it to my face.  I held it in place for about 3 to 5  minutes until it firmed up.  I added a bit more fake flesh and smoothed out the edges.  Next, I used Mehron Face paint to create the blood and zombie look.  Red, grey, white and black.
Items Needed:
Face Paint and a brush
Spirit Gum adhesive with remover
Check out the Walking Dead Zombie done by Kristan Serafino, Celebrity Hair Stylist of Serafinosays.com
I hope I have inspired some of you to get creative and think outside the box and yet, keep your eyebrows safe!  lol…
Be sure to check out some of my other Face Painting ideas here AND we also have Halloween Food Party Ideas, DIY Facepainting tutorials, Halloween decorations and so much more!
Enjoy