Apple Butter and Cheddar Puffs

Apple Butter and Cheddar Puffs
Check out our neat and amazing recipe for our delicious Apple Butter and Cheddar Puffs! If you've been looking for some great snack or dessert recipes, then you can look no further! If you happened to like this recipe, then you should be sure to check our our other great recipes! Such as our Coconut Cream Cheese Pound Cake or our Pumpkin Pie Cake!
If you happened to like any of the recipes I have listed here, then you should definitely try out this neat cookbook for everything sweet and wonderful! You will be sure to find the best dessert recipes with this!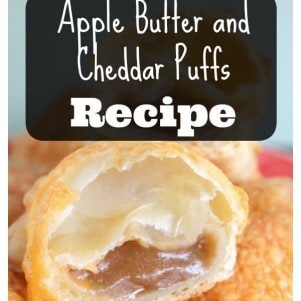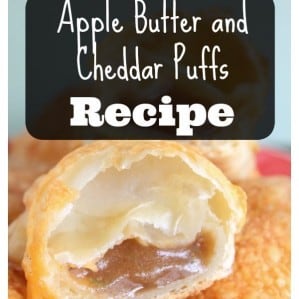 Apple Butter and Cheddar Puffs
Ingredients
2

large Apples

peeled, cored and cut into 1 inch pieces

¼

Cup

Apple Cider vinegar

½

Cup

+ 2 Tbsp. Sugar

½

teas. Cinnamon

1/8

teas. Cloves

1

Pkg. Frozen Puff Pastry

thawed (2 sheets)

2

Egg Whites

beaten

6

oz.

Sharp Cheddar Cheese

grated

1

Tbsp.

Fresh Thyme leaves

minced
Instructions
In a small sauce pan over medium high heat add the Apples, Cider Vinegar and 2 tablespoons of sugar.

Bring to a boil and reduce to a simmer. Stirring occasionally until the apples break down and are the

consistency of applesauce, 10-15 minutes.

Add the apples to a blender or food processor with the remaining Sugar, Cinnamon and Cloves. Blend

until smooth.

Return the mixture to the sauce pan over medium low to medium heat. Simmer stirring occasionally

until the mixture thickens, 5-10 minutes. Remove from heat and let cool.

Preheat oven to 400˚.

Roll out one pastry sheet to 9x12 inches and cut into thirds lengthwise and cross wise to make 9

rectangles.

Brush edges of rectangles with egg white.

Place a teaspoon of Apple butter and a sprinkle of Cheddar in the center of each rectangle.

Fold the corners together and seal the edges with a fork.

Brush the top of the pastry with Egg white and sprinkle with Cheddar.

Bake at 400˚ until puffed and golden, about 15-20 minutes.

Remove and let cool at least 10 minutes. Serve warm or store in an airtight container.
Nutrition facts are provided as a courtesy.