Cookies and Cream Popcorn Recipe!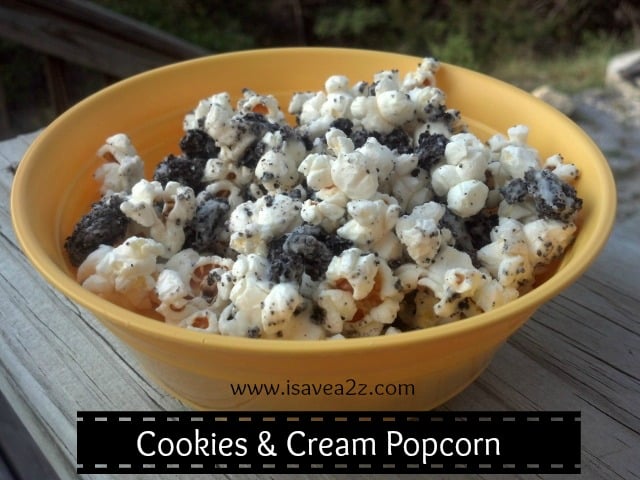 Cookies and Cream Popcorn!!
Quick, Easy and Delish…
Cookies and Cream Popcorn?? Oh yes, it is as good as it looks! My kids and I have been on a popcorn kick lately, so when I saw this recipe we HAD TO try it. It's only three ingredients, the kids can help make it and you'll be enjoying this delicious snack in no time!
I've been enjoying this cheap ebook I found on Amazon for just a little over $3: 30 Perfect Popcorn Recipes : How to Make Sweet & Savory Gourmet Popcorn at Home (The Green Gourmet)
I never knew making gourmet popcorn was this easy or delicious!!! It tastes much better than the prepackaged store brands of specialty popcorn!!! The kids think I'm a rockstar with these amazing recipes!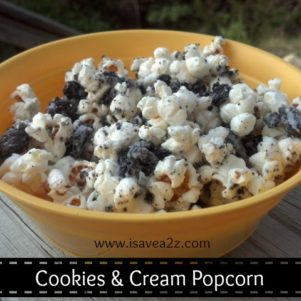 Cookies and Cream Popcorn Recipe
Instructions
Line a baking sheet with parchment or wax paper - we ended up needing 2

Remove unpopped kernels from popcorn

Put popcorn and chopped cookies in a large mixing bowl

Melt white chocolate according to directions on package

Pour melted chocolate over popcorn and cookies and mix well

Pour mixture onto baking sheet and spread into one layer

Let chocolate set and enjoy!!
Notes
This recipe can easily be adjusted to make as much or as little as you like.
Nutrition facts are provided as a courtesy.
This Cookies and Cream Popcorn turned out SO GOOD!! In fact, I think it should be called Shut Your Mouth, That's Good Popcorn! This could easily be considered a gourmet popcorn and would make a great gift if you put it into some cute packaging. Want to try some other popcorn flavors? Here are some ideas:
West Bend Popcorn Seasoning Variety Pack for only $4.98!
It includes nacho cheese, garden ranch, sour cream,
country butter, parmesan garlic and white cheddar flavors!

We are also going to try a sweet and salty popcorn soon, so keep an eye out for that recipe!
Enjoy!