Grilled Chicken with Onions and Clamshell Mushrooms #MushroomMakeover
This Low Carb Mushroom Omelet Muffins recipe and post was created as part of the #MushroomMakeover 30 day Weight Loss Challenge. I am a financially compensated blogger ambassador for the Mushroom Council. All opinions are 100% my own and based on my own experiences.
Grilled Chicken with Onions and Clamshell Mushrooms Recipe

I'm excited to report week 4 of my Mushroom Makeover! I've learned so much this week about emotions, mushrooms, recipes and flavors. This week I made a scrambled eggs with clamshell mushrooms, Mushroom Ramen Soup, Chicken Breast covered in a red sauce mixed with mushrooms and Grilled Chicken with onions and clamshell mushrooms! This week I fell in love with Clamshell mushrooms!  I will definitely be buying these more often. I always had this idea that most mushrooms tastes basically the same but that is so not true!  The clamshell mushroom is very different.  It has a shell fish, meaty flavor that is very flavorful!
I think my biggest take away from this weeks recipes is all the flavor from the different types of  mushrooms I add to the recipes I make.  I have really learned Mushrooms are lower fat than meat products but the bonus is the flavor it adds.  I also add less salt or other seasonings too.
I will be making more recipes with mushrooms just for the flavor! I had an ah-ha moment when I learned this. I can thank Mamavation and the Mushroom Council for that special moment!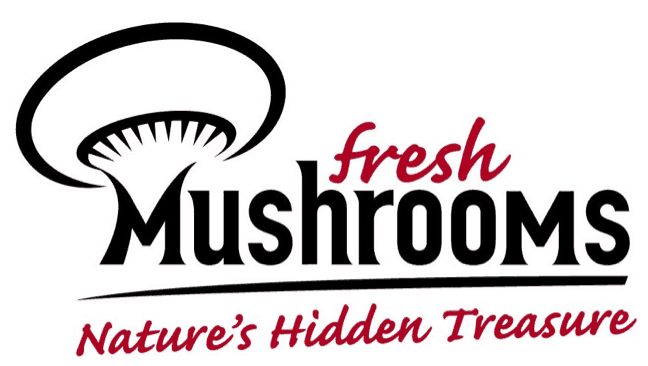 In case you missed it, you can start at the beginning of this challenge and read the Mushroom makeover 30 day weight loss week 1 post here.
This week I want to share my Grilled Chicken with Onions and Clamshell Mushrooms Recipe with you. It was hard to choose a favorite because I really enjoyed all of them this week, especially the scrambled eggs with clamshell mushrooms, onions and tomatoes.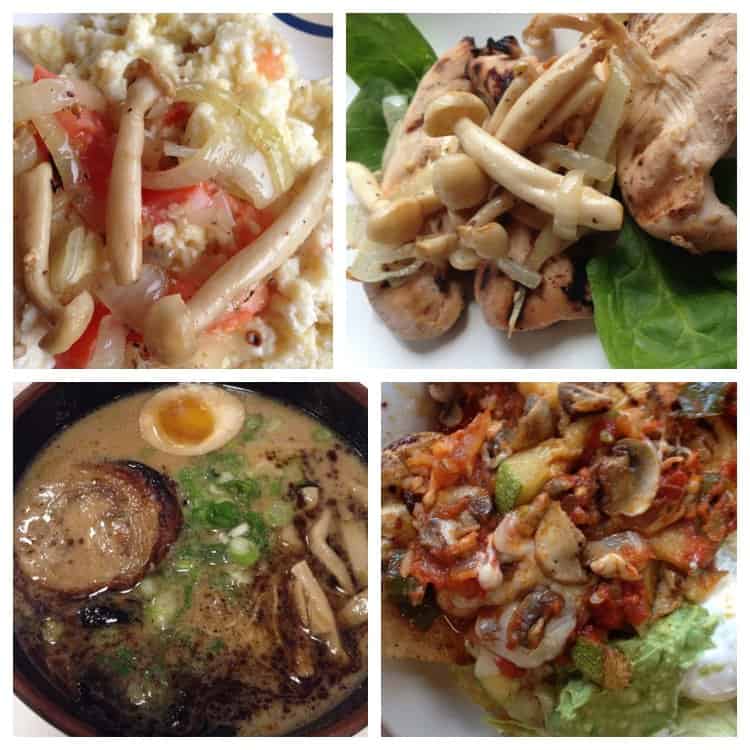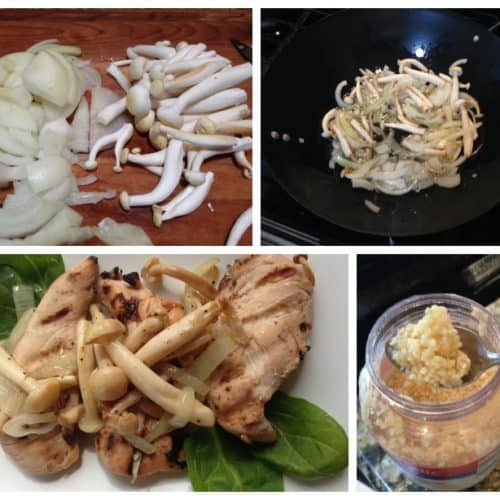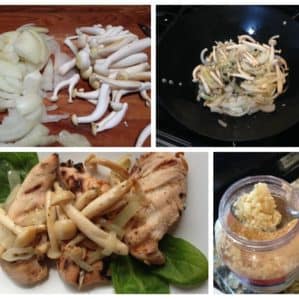 Grilled Chicken with Onions and Clamshell Mushrooms #MushroomMakeover
Grilled Chicken with sauteed onions and clamshell mushrooms
Ingredients
Chicken

breast or tenders

Clamshell mushrooms

we purchased these from our local Farmer's Market but you can find them at the grocery store too

Onion

Pepper - to taste
Instructions
We grilled our chicken tenders on the grill first.

Next we sauteed our clamshell mushrooms whole with onion in a pan of olive oil.

We added sea salt and pepper to taste.

Saute those just enough for the onions to be soft. Just before the onions are done I added about a teaspoon full of fresh garlic for extra flavor.

Pour the mix over the hot chicken from the grill and serve immediately.
Nutrition facts are provided as a courtesy.
I continued to learn a lot about emotions this week. I never would have thought the talk of emotions would come up in this weight loss challenge but it's a huge part of the process. Way bigger than I ever imagined.  I think there are more of us that do emotional eating and don't even realize it.  I learned that I can be an emotional eater too.
I've really taken all the distractions from my meal time routine and took time to taste the flavors and textures of the food I made.
I also learned that I get full quicker on this clean eating because it's not junk food.  The healthier the food the less I need of it.  Crazy how that works.   I still have to watch my water intake.  If I don't pay attention I will easily forget about water until I am dying of thirst.  That is not helpful when you are trying to eat healthy and maintain a healthy metabolism.  It's so important to keep hydrated. If you don't, you will see a change on the scale and not for the better. Corinne Dobbas (our monitoring Dietitian) has really helped with the focus of this challenge. I love how it's all coming together step by step.
The exercise routines are INTENSE! Mark's plan is amazing. I was really looking forward to my exercise routines this week which was a complete change from me hating them last week!  I still hate burpees though.  I'm not sure I will ever find a love for them. I hope too but I seriously doubt it. If you want to follow along, head over to the Mamvation Fitness plan found here.
I'm gonna end this week by saying that I am happy with all the energy I have! I'm also happy that my pants are fitting loser. I'm not big on checking my weight but I did for this challenge and I am down 6 pounds so far! It's really been life changing to have a plan for my food intake, an exercise routine to keep me going and keeping my thoughts in check as I continue on this positive journey. I feel incredibly good about the way this is going.  This is really something I can stick too!
Save the date for our Twitter Party!
Join the #MushroomMakeover Twitter Party 4/8 to make healthy filling meals w/ @MushroomChannel http://bit.ly/1oVwYNw