Keto Friendly Quick Dinner Idea: Ribeye Steak, Riced Cauliflower & Asparagus
Keto Friendly Quick Dinner Idea:  Ribeye Steak, Riced Cauliflower & Asparagus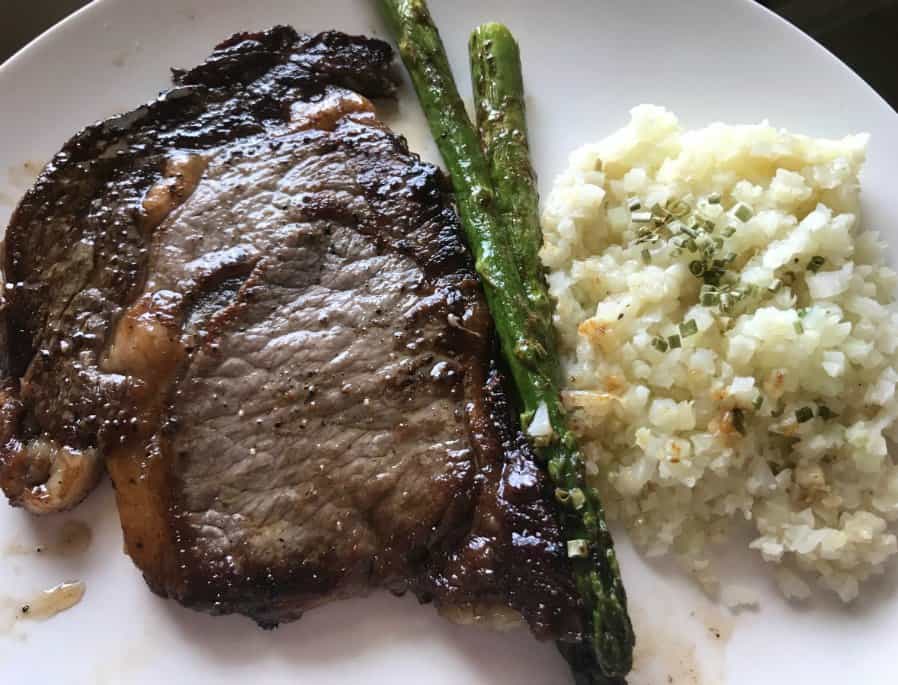 Sometimes it's hard to get dinner on the table in a timely manner so I just had to show you my Keto Friendly Quick Dinner Idea!  It's a Ribeye Steak served up with riced Cauliflower and a side of asparagus.
At first, this meal sounds time-consuming, right?  This dinner is on the table in a little over 10 minutes!  I'm not even kidding!  I am the queen of quick dinner ideas!  I've had to adjust a bit when I started my Ketogenic journey.  This dinner may just be my all time favorite.  It's kinda funny because I would rather make this meal at home, rather than go to a steak house.
There are a few tricks to making this meal quick.   It's all about having a plan.  You could stop by the grocery store on the way home and have this meal served in no time at all.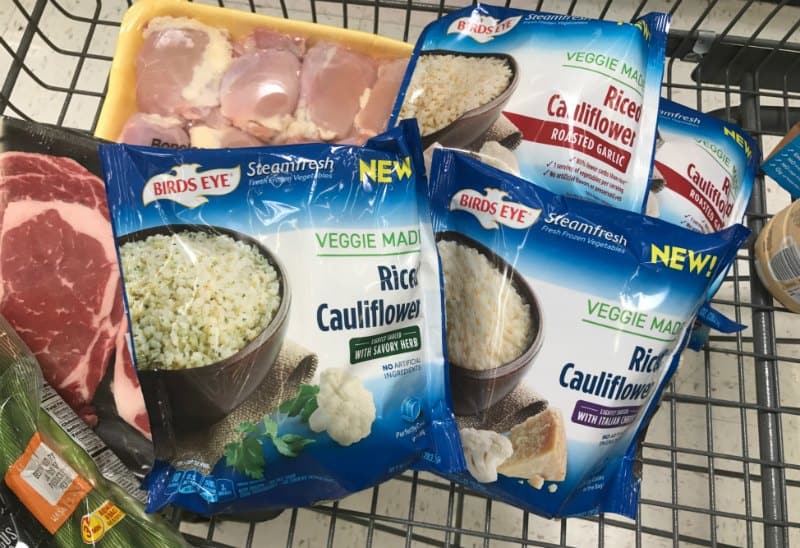 Keto Friendly Quick Dinner Idea Ingredients
Ribeye Steak – I purchased a nice thin cut of Ribeye
Birds Eye Veggie Made™ Riced Cauliflower (found in the freezer section of the store and it's in a microwave safe bag)
Fresh Asparagus (packaged in a microwave safe bag)
Salt, Pepper, and Butter
Tip:  When you see the Birds Eye Riced Cauliflower in the freezer section, be sure to stock up!  This is a very popular product among the Keto dieters and when it's stocked it tends to go fast!  You can see in my cart that I purchased 4 bags my last trip.  And…  frozen options are always better for me veggies because there's no waste by leaving it in the refrigerator too long.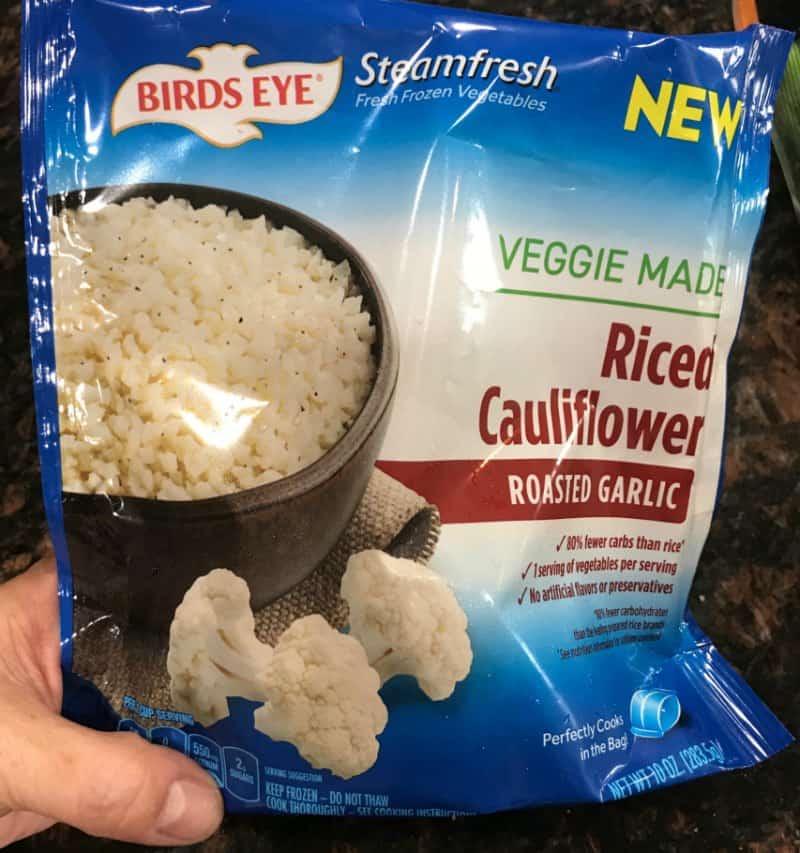 Birds Eye's new Veggie Made™ products are available in the following varieties:
Birds Eye Veggie Made™ Mashed: Original Cauliflower, Sour Cream & Chives Cauliflower, Roasted Garlic Cauliflower, and Sweet Potatoes & Carrots with Brown Sugar
Birds Eye Steamfresh Veggie Made™ Riced Cauliflower: Original, Roasted Garlic, Savory Herb, and Italian Cheese
Birds Eye Steamfresh Veggie Made™ Pasta: Original Zucchini Lentil Pasta, Spinach Lentil Pasta with Alfredo Sauce, Zucchini Lentil Pasta with Cheddar Sauce and Zucchini Lentil Pasta with Marinara Sauce
Keto Friendly Quick Dinner Idea Instructions for Preparation
I started to season both sides of the steaks with salt and pepper.
I turned on the gas stove top on medium heat and used my cast iron skillet.  I swear the best tasting steaks are cooked in a cast iron skillet in butter!
I allowed the skillet to heat up completely before adding anything to the pan.
I added a tablespoon of butter to the hot skillet and cooked my ribeye steak for about 3 minutes on each side.  The thickness of the steak and how you like it cooked will depend on how long you cook it on each side.  The trick for me is to not touch the steak for the time it cooks.  I set my Alexa timer by giving her a verbal command to set the timer for 3 minutes and she tells me when the time is up.  Gosh, I love Amazon Echo while cooking in the kitchen.  I usually have my favorite music playing and my hands full or messy so verbal commands are awesome!
After I start the steak cooking on the stove top, I put the Birds Eye Riced Cauliflower in the microwave for 4 1/2 minutes on high.
By this time, I need to flip my steak to the other side because the first 3 minutes have passed.
After the Birds Eye Riced Cauliflower has cooked, I add the bag of asparagus.  If you are cooking for one, you can add a few pieces of asparagus to the frying pan when cooking your steak.  The butter at the bottom of the steak pan gives it a really good flavor!
Finally, after only about 6 or 7 minutes, your steak, riced cauliflower, and asparagus are done and ready to eat!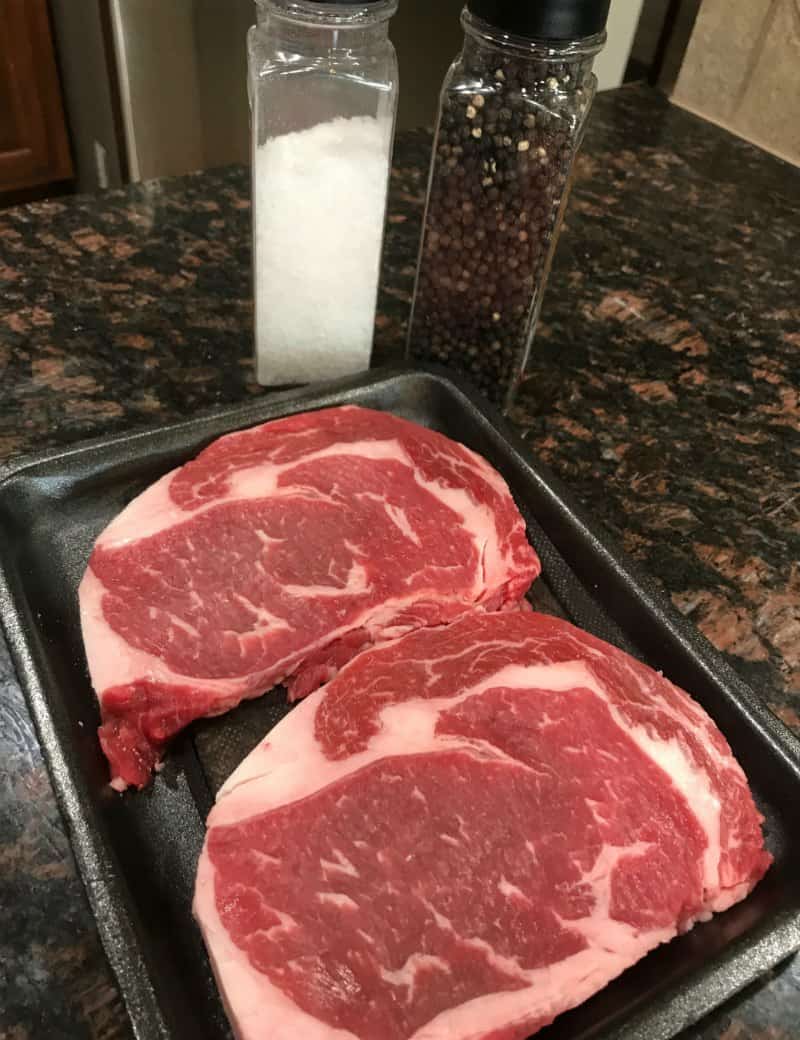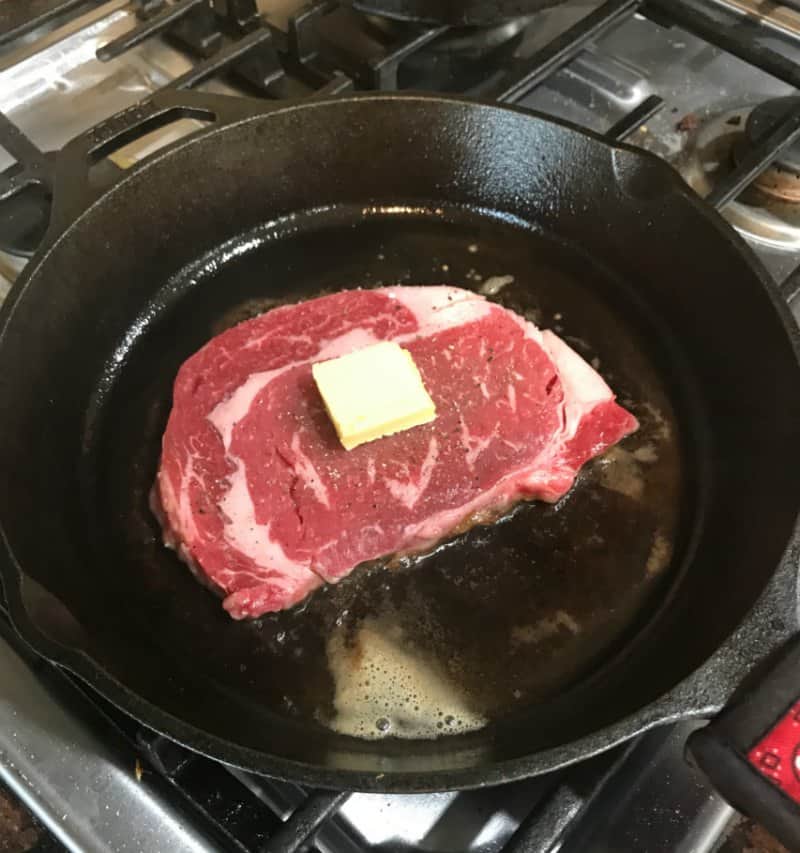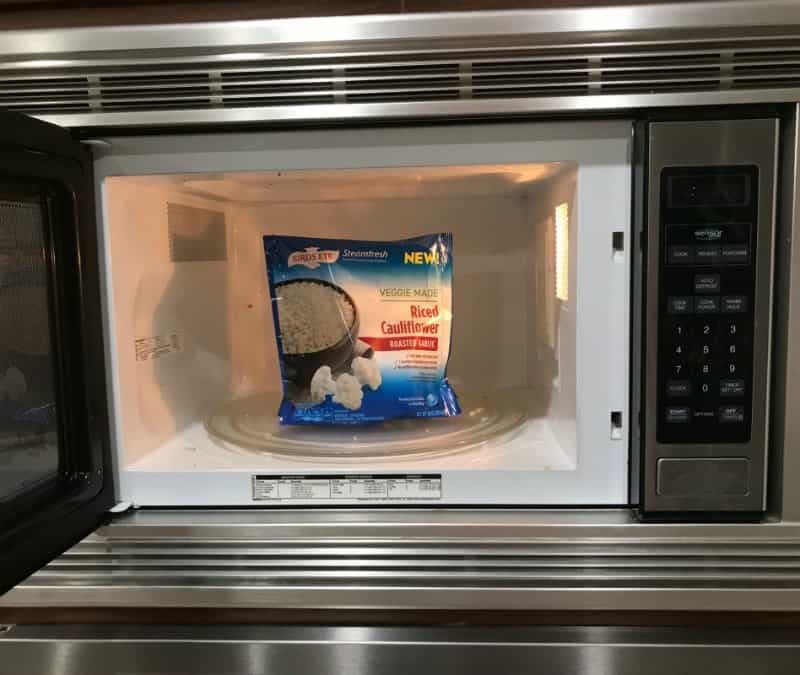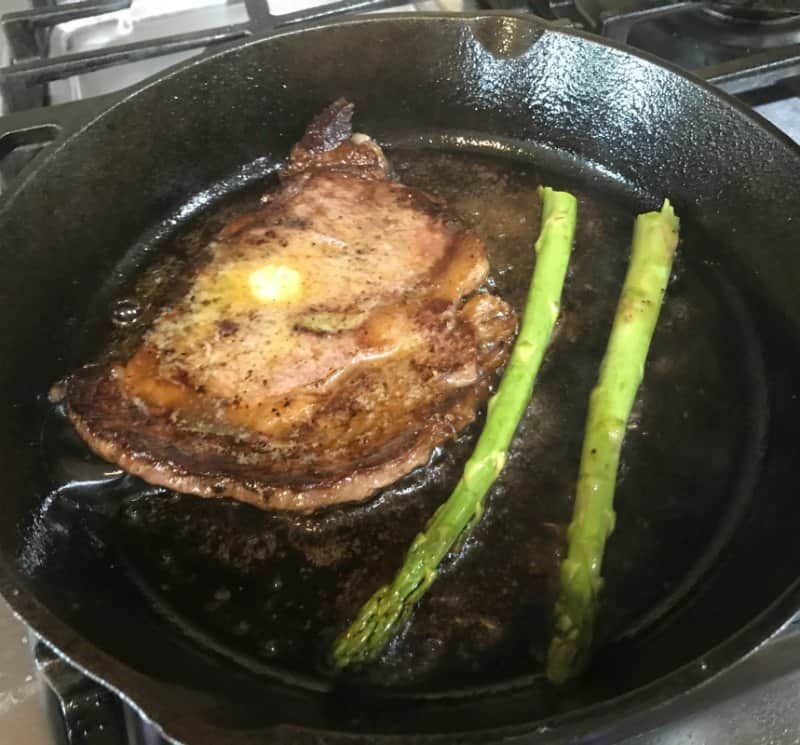 Feel free to pin it on Pinterest for later too:

How about that for a fast dinner idea!  I should say "How is that for a fast high-quality dinner idea" instead huh?!  If I am cooking dinner for my family of four, it will take me another six minutes because I cook two steaks at a time.  Or, I will have two cast iron skillets cooking them at the same time.
What are you having for dinner?