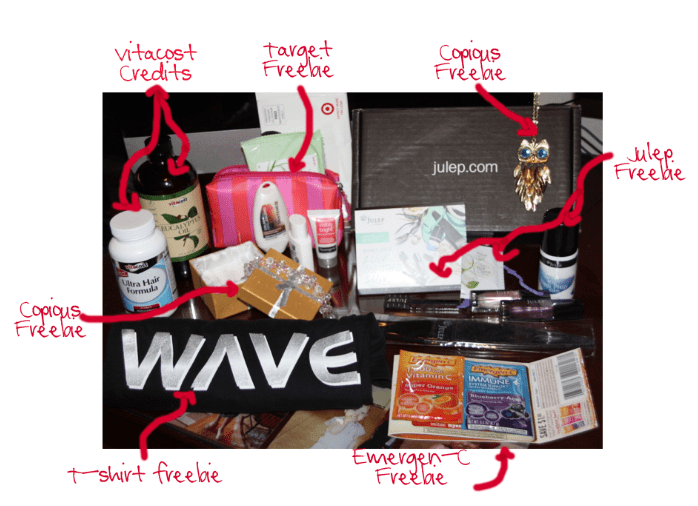 I just have to show you what a typical "mail" day is for me!  I sign up for so many freebies in the mail and if you follow me, I know you do too!
Note:  I always remember my mail carrier on Christmas (for this reason!)
Here's a list of the free stuff I received today!
Copious free credits:  1 Absolutely BEAUTIFUL Crystal Bracelet.  I swear this photo doesn't do it justice at all!  (See my post here on how to get free stuff with Copious here)  Here's a close up photo (and I even tried to capture the pink crystals by grabbing a pink rose from my front yard, in the photo but I am not a photographer… lol):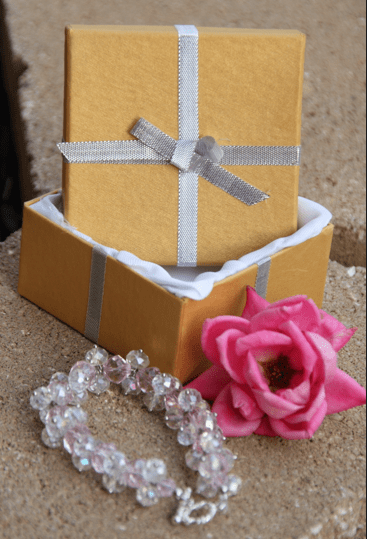 VitaCost Free $10 Credit got my Eucalyptus Oil and Vitamins!  Woot!  You can still get the $10 credit here too!
Target Beauty Bag Freebie:  Sorry, this one is expired but stay tuned because I ALWAYS give you freebies I find!
The Beautiful Owl Costume Jewelry Necklace:  My daughter signed up for Copious and that is her freebie!!  (hmm… I may have to borrow that!) 😉
Julep Maven Kit ($40 Value) Ok, this one wasn't exactly free but close enough!  I paid ONE PENNY for it!  lol!  Seriously!!!  You can get this too!  Read more about Julep HERE
Emergen-C Freebie:  I received two different samples and a high value $1 off coupon!  Sorry this one expired but don't worry, I will tell you when it comes back!  They give these out about once every two months!
T-shirt freebie:  Ok, you guys and gals are gonna think I am nuts (and maybe I am) but I honestly cannot remember where or when I signed up for this one!  :-/
OH and there's another FREEBIE that is STILL LIVE!  FREE WINE!!!  I didn't get mine yet but I want you to know about it NOW!  Read more here!
Now for those of you that are loyal readers, I bet your mailbox is exactly like mine!  lol…  but for those of you that are just joining us, you may want to subscribe so you don't miss any freebies in the future!  Once you subscribe, you will get one email with all of that days freebies and more!  Sign up below!
Don't Miss another Hot Deal or Freebie! Subscribe NOW!