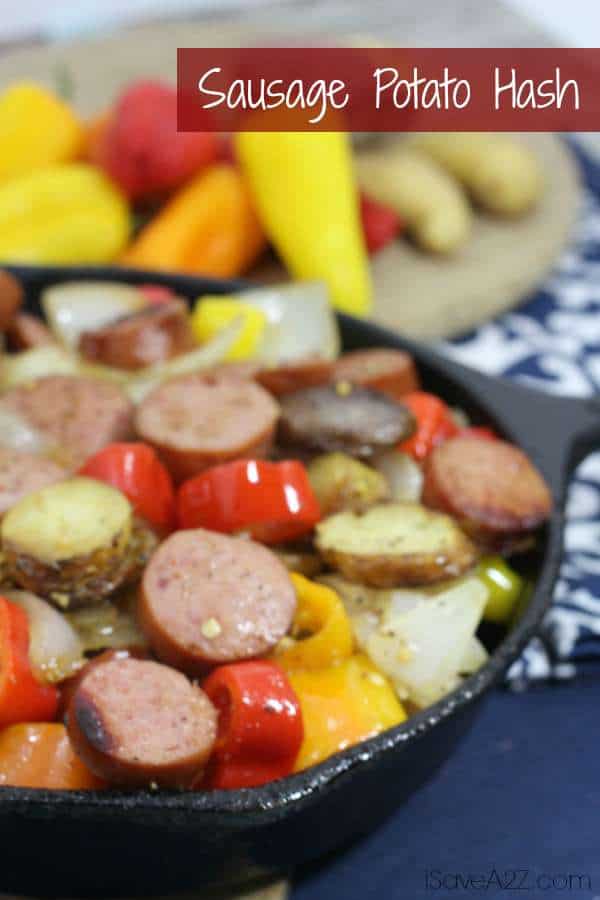 Sausage Potato Hash
Are you looking for a super simple recipe that the whole family will enjoy?  We love making this recipe in our cast iron skillet too.  It makes the potatoes nice and crisp.  It also caramelizes the vegetables to bring out the most flavor in this dish.  The potatoes will take the longest to cook so this is why you begin to fry them first.  I always add salt and pepper when frying the potatoes too.
The sausage I add tends to be precooked link sausage and just needs heating up and browned on the edges.  There are all different flavors too.  I love adding a bit of jalapeno flavored in here but the kids prefer I use the sausage with cheese.  The garlic flavored sausage is one we all agree on.  This recipe may differ a bit depending on the sausage you plan to use.
I also switch between white onions and yellow onions in this dish depending what I have on hand.  Both will work with it.
I've started using my cast iron skillet more and more lately because I have a new found love to cast iron cooking.  I recently purchase this deal on Amazon for a Cast Iron Skillet set.  (What a bargain!)  I think I was frustrated with cast iron before because the pans were so darn hard to clean.  I will give you a tip that I did not know until recently.  After you fry in the cast iron skillet, you can either scrap the stuff of the bottom of the pan or you can add a bit of water and heat it back up to soften the bottom.  Once it's been softened with water it will scrap right off with very little effort what so ever.  That has been a life changing tip for me.
One more tip about cast iron is to make sure you season it real good after every use.  My daughter helps do the dishes around here and she knows to rub some Crisco all over the top and bottom of that pan when she's done cleaning it.  I love that!
I think those two tips helped me find a new love for my cast iron pans.  If you have tips, please leave them below.  I'm still learning myself and I will always appreciate some good cast iron cooking advice.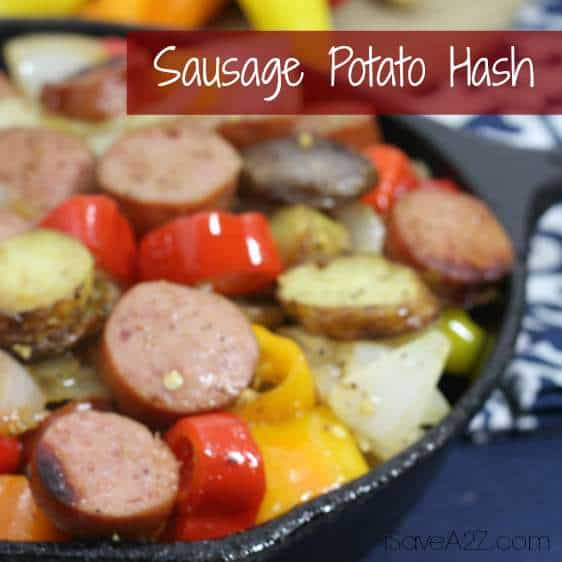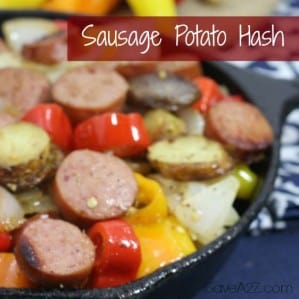 Sausage Potato Hash
Ingredients
1

TBSP

olive oil

10

purple

yellow, & white fingerling potatoes, sliced

Red

yellow, & orange peppers sliced

white onion

chopped

Smoked sausage

sliced

Pinch

of salt & pepper
Instructions
-Prep cast iron skillet with olive oil.

-Cook potatoes first for 8-10 minutes on medium-high heat.

-Add the sliced sausage continually to cook until browned.

-Add onions and peppers, pinch of salt & pepper cooking until the combination has reached the desired level of being done. Al dente (stiff) or well done.
Nutrition facts are provided as a courtesy.