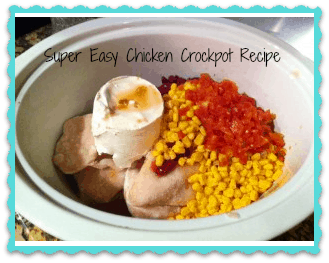 Easy Chicken Crockpot Recipes for Dinner
This is one of the Best Chicken Crockpot Recipes and the easiest!  The best part, you don't have to pre-cook the chicken!  Oh and it's Super Delicious!  I have this recipe marked as my quick and easy chicken recipes as most chicken recipes are not this quick!  If you love your crockpot as much as I do you need to see our easy BBQ Ribs Crockpot method and check out our Top 50 Easy Crockpot recipes here too!  I promise you will enjoy them!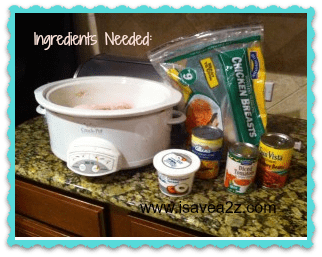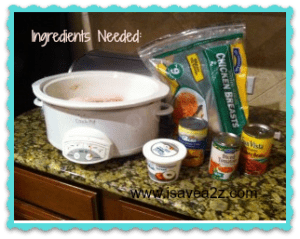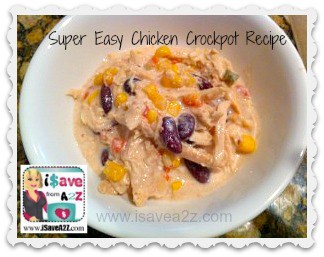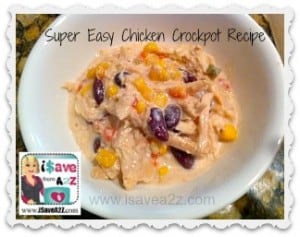 Voila!  Yummy dinner!  The chicken comes out so tender it actually just falls apart!
Tip #1:  You can add this Chicken to a taco or pour it over rice.  You can even eat it as is with a little cheese over the top!  This works for the picky people too!
Lowfat Tip:  If you are interested in a lowfat version and yet Easy Chicken Crockpot recipe I highly suggest you add the chicken (frozen) with a little bit of water and apple cider vinegar  (I use the Bragg Apple Cider Vinegar Brand found here on Amazon) with fresh vegetables and spices. The apple cider vinegar is mainly used to breakdown the meats for maximum moisture and tenderness.  This is a little trick that is used when people bbq meats in competitions too!  It works well for the most moist meat you will ever taste!  I tried this one day when I was trying to cook lowfat and I will always add about 1/4 cup of apple cider vinegar to any meat I put in the slow cooker!
What are you having for dinner tonight?  Find other quick and easy chicken recipes here.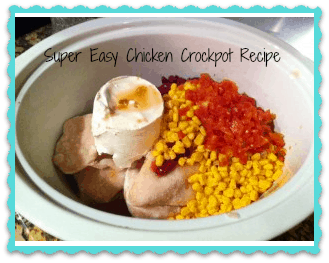 Super Easy Chicken Crockpot Recipe!! YUMMY!
Super Easy and Fast Chicken Crockpot Recipe
Ingredients
Frozen Chicken Breasts

about 5

1

Can of Corn

1 8

oz

block of Cream Cheese

1

can of beans

kidney, garbanzo, pinto or any kind you like

Seasoning: You can just add salt and pepper or your favorite seasoning. I ended up using Season-All.
Instructions
Spray the inside of the crockpot with cooking oil.

Add all the ingredients above. You can even add the chicken frozen (that's what I do).

Drain the beans.

Slow cook for about 4 to 5 hours on high or until the chicken is done.