Chicken and Cauliflower Casserole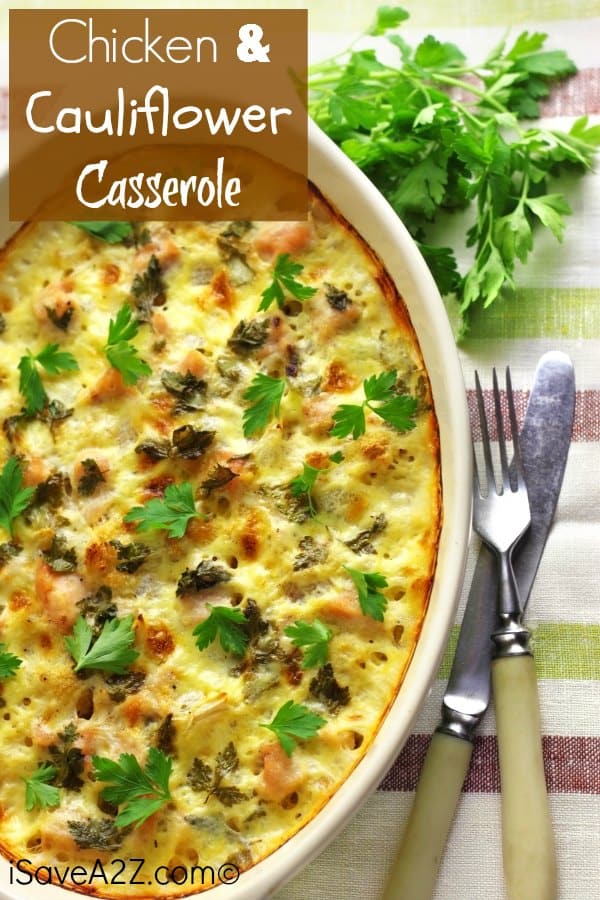 I only have one word to describe this Chicken and Cauliflower Casserole…YUMMY!! I'm not normally a huge cauliflower fan, but this was right down delicious. If you have picky eaters, this casserole is a great choice. Although it does have green onions in it (and I may leave those out all together next time) and cauliflower, the chicken, cheese and bacon bits make it cheesy and good.
Chicken and Cauliflower Casserole
Ingredients
3

boneless

skinless chicken breasts, cooked and cubed

2

small heads of cauliflower

1

cup

of shredded cheddar cheese

1

cup

of shredded Monterey Jack cheese

2

bundles of green onions

sliced

3

ounces

of crumbled bacon pieces

1

clove

of garlic

minced

salt to taste

pepper to taste

cooking spray
Instructions
Preheat oven to 350 degrees and spray a 9x13 baking dish with cooking spray.

Remove the stem from the cauliflower, separate and steam until tender.

While cauliflower is steaming, combine the cheddar and Monterey Jack cheese in a large bowl. Take about 1/4 of these cheese out and set it to the side.

Add the cubed chicken, green onions, crumbled bacon and garlic to the cheese mixture and stir to combine.

Add the cauliflower to the mixture, season with salt and pepper to taste and mix again.

Pour the mixture into the 9x13 baking dish and top with the rest of the cheese.

Cover dish with foil and bake for 25 minutes.

Remove the foil and bake for an additional 5 minutes.

Let cool slightly before serving.
Notes
You can also use frozen cauliflower in those stem bags. One 10oz package equals about 1 small head of fresh cauliflower.
I have to tell you that I don't care for green onions very much, so I don't put in near what this recipe calls for. But that is just my personal taste. This Chicken and Cauliflower Casserole turned out really good. I was kind of nervous because I haven't had a lot of experience with cauliflower, but you would never know it from this casserole.
Be sure to check out all of our amazing recipes HERE!
If you don't want or need to make such big dishes all the time, then you should take a look at the Complete Cookbook For Two! It has over 650 (yes, I said 650) recipes that are perfectly scaled down for two. You can get the Kindle version for just $16.47!
Enjoy!