Easy Meal Planning for Busy Moms #PMedia, #ad #eMealstotherescue
"This post is part of a social shopper marketing insight campaign with Pollinate Media Group™ and eMeals all my opinions are my own. #pmedia #eMealstotheresuce http://cmp.ly/3/8vNxcO."
Easy Meal Planning for Busy Moms
Meal planning seems to be my most time consuming daily effort and I just found a way to make it way easier for all busy Moms! Introducing eMeals!!! I feel like I just had an ah-ha moment when I learned just how easy eMeals is! This isn't just a regular meal planning service either. This is a mean planning service with busy Moms in mind! You can choose the meal plan you want and eMeals will also include a grocery shopping list!
How would you like to be given a list of your favorite food types with a meal plan for the whole week. Just think of the time it would save you! Planning is the hardest part. Picking up the groceries is no biggy but deciding what to buy is. How many times have you planned out a meal only to be halfway done with your recipe to realize you forgot something from the store. Oh man, I can so relate to this. I've been using eMeals for a few months now and I've come to rely on it. I get a weekly email with a pdf download of my meal choice. It even includes my shopping list. All I have to do is go through my cupboard or pantry to make sure I don't already have some of those ingredients. It's a fail proof plan and I like it!
Now I get to spend more time with my family and still have a wholesome, healthy home cooked meal!

I finally feel as though I quit working harder and started working smarter! Honest to goodness truth! Girl Scouts promise (as I hold my three fingers high)!
How eMeals works
Getting dinner planned and on the table has never been easier! eMeals has an easy 4-step plan that saves you time and money!
1. Pick your Plan – with 13 plans to choose from, there's a truly a plan for every family! Each plan can be customized to fit your eating style, family size, and favorite grocery store! Meal plans include:
classic
clean eating
gluten free
low carb
low fat
mediterranean
natural + organic
paleo
portion control
simple gourmet
slow cooker classic
slow cooker clean eating
vegetarian
2. Get Great Recipes – Each week your meal plan will arrive in your inbox, complete with seven simple, creative, and family friendly dinner recipes. Each meal plan includes an entrée and side dishes.
3. Shop and Save – In addition to the meal plan, you'll receive a detailed grocery list organized by section and coordinated with weekly sales at selected stores.
4. Relax and Enjoy – eMeals takes care of the meal planning, preparing a grocery list and budgeting, while you take all the credit for making a healthy, home-cooked meal that your whole family will love.
I want to give you a glimpse at just how easy this is. I printed my weekly recipe (remember they send me recipes based on my preferences when I signed up). I printed off the recipes and the shopping list.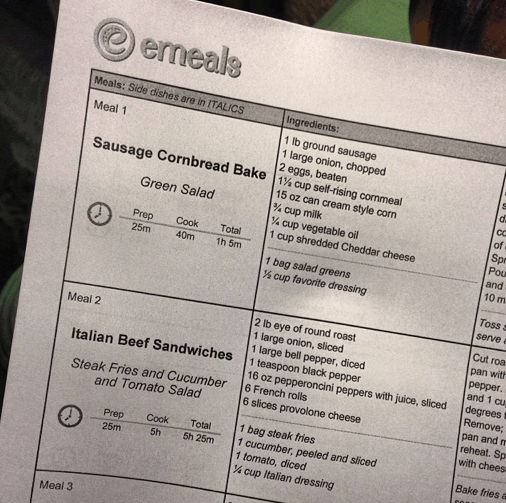 I headed to the store for my weekly visit to purchase my items. Then I started baking.
I opted to make the Sausage Cornbread bake but I omitted the sausage. That's the beauty of this. You can do what you want with the recipes. My daughter prefers to have her meats segregated from her cornbread and I was easy to honor her requests. Anyone else have a child who does this?
Look at how easy this is. We combined the ingredients. Sprayed a baking pan with cooking spray and baked it. Easy right?!
Here's a printable version of the Sausage Cornbread Bake Recipe by eMeals: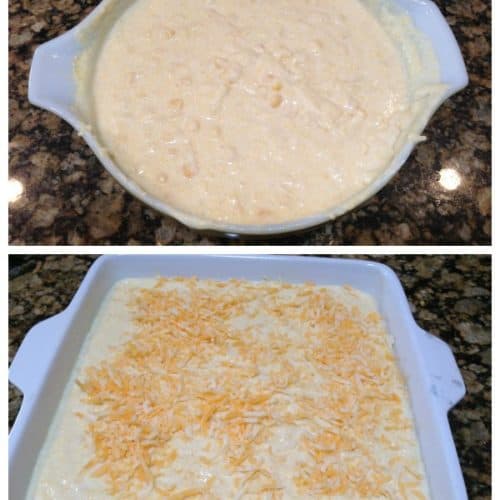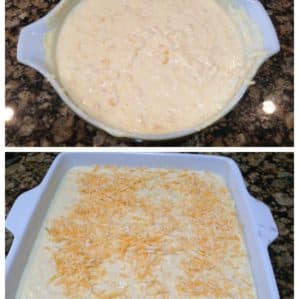 Easy Sausage Cornbread Bake Recipe
Easy Sausage Cornbread Bake Recipe that is totally worth trying!
Ingredients
1

lb

ground sausage

1

large onion

chopped

2

eggs

beaten

1 1/2

cup

self-rising cornmeal

we love Jiffy

15

oz

can of cream style corn

3/4

cup

milk

1/4

cup

vegetable oil

1

cup

shredded cheddar cheese

Optional: Served with a side salad and dressing
Instructions
Heat oven to 425 degrees. Grease a 2 quart baking dish and set aside.

In a skillet, cook the sausage and onions until the sausage is browned; drain well.

In a mixing bowl, combine eggs, cornmeal, corn, milk and oil. Mix it well.

Pour half of the cornbread mixture into a prepared dish.

Sprinkle with sausage mixture and cheese.

Bake 30 to 40 minutes. Let stand for 10 minutes before serving.

Optional: I choose to leave out the sausage and substitute it for 1 cup of sour cream and I mixed it in.
Nutrition facts are provided as a courtesy.
Usually we have very little or no left overs for this meal. Everyone goes back for seconds. Yeah, it's that good! I like it with sausage or without too!
Here's an example of what the shopping list looks like. I choose to shop at Walmart under the Classic meal plan (we switch between this meal plan and the clean eating plan). It gives me the price and the amount of ingredients I need and it saves me money!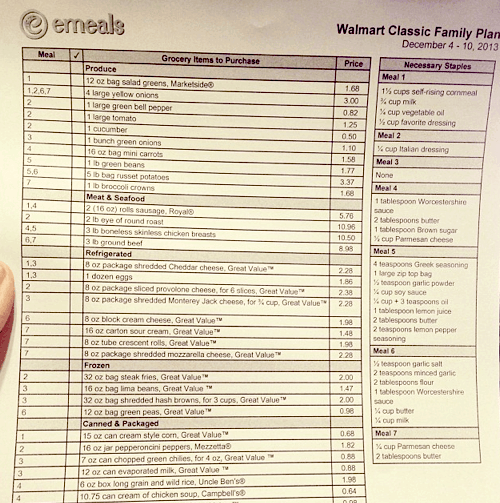 Exclusive eMeals Special Offer for You:
Right now you can score 35% off a 1 year eMeals Meal Planning subscription when you use Promo Code: RESCUE at checkout. Offer expires December 15, 2013.
It's really easy to sign up to eMeals: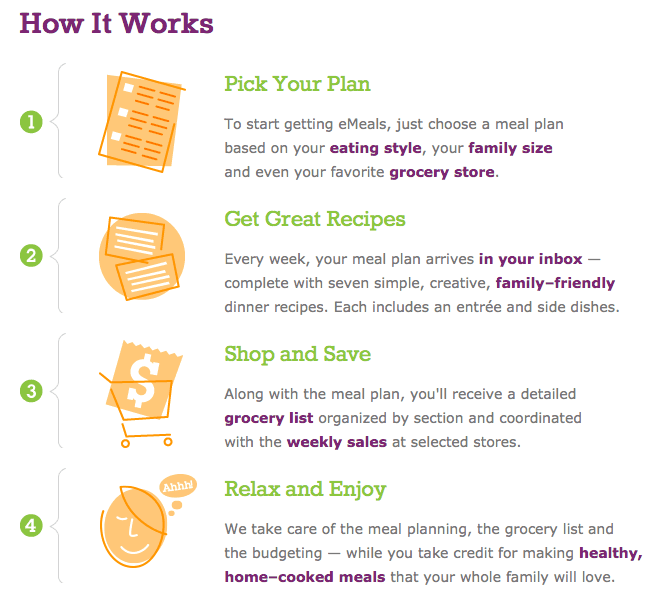 You have many meal plans to choose from on eMeals: