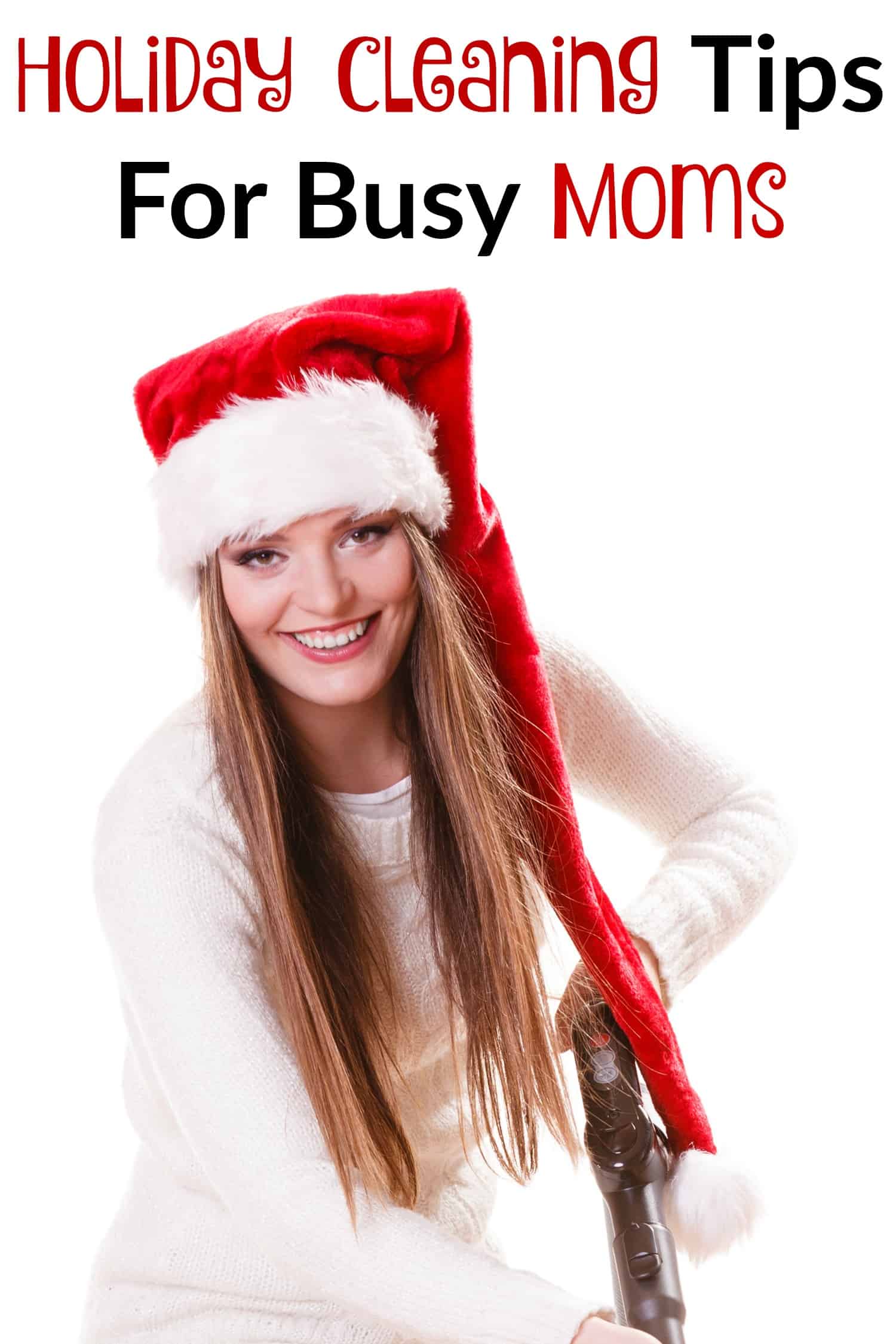 These holiday cleaning tips for busy moms will help you to keep your home top notch during your favorite time of year. Between shopping trips, family from out of town, holiday parties and wrapping presents cleaning can often be shoved to the bottom of the list. These holiday cleaning tips will help you to stay on top of everything while not sacrificing the fun of the season.
Holiday Cleaning Tips For Busy Moms
Get the family involved. The best cleaning tips for busy moms no matter what time of year involve getting your kids involved. Create a family chore chart and start assigning daily tasks. A chore chart is handy year round, but especially during holiday breaks when your children have more free time to help you with things like vacuuming, cleaning up clutter, or even preparing meals.
Use the right tools for the job. One of the best holiday cleaning tips for busy moms is to use the right cleaner for the job. Some people swear by using all natural homemade cleaning agents. Others prefer a simple all purpose cleaner they can use throughout their home. Still others have specific cleaners for mirrors, floors, walls and surface counters. Whatever your preference may be, use the right tools for the job in your home.
Use essential oil diffusers as air fresheners. I cannot say enough about how an essential oil diffuser is an amazing air freshener for the holidays. You can create a few simple holiday scented oil blends and plug your diffuser in each room to give your home a warm holiday smell. For the fresh clean scent lavender and lemon is a favorite. For a warm baked goods scent you can add a mix of orange, cinnamon, clove and ginger oils. For a winter fresh scent a bit of tea tree oil, cedarwood and wintergreen are perfect.
Clean one room per day. It is easy to get overwhelmed during the holidays with everything that needs to be done. Instead of tackling a ton of cleaning at once, use one of our best holiday cleaning tips and clean one room per day. Set aside a schedule of cleaning a room a day to get things in order for your holiday dinner, neighborhood party or just to maintain while your schedule is busy.
Focus on heavy traffic zones the most. If you are wanting to simply maintain your home during the busy holiday season, it's time to focus on the most used rooms in the house. The kids bedrooms may not be a main focus, but keeping the kitchen, bathrooms and living areas in shape are. One of the best holiday cleaning tips for busy moms is to focus on your heavy traffic zones the most. This will keep the most important items tidy and clean without taking too much time away from your already busy schedule.
These holiday cleaning tips for busy moms will make sure you are able to enjoy your time with friends and family while also maintaining a clean home. Sometimes we have to let go of our goals of having a spotless home, but we can still maintain some order and cleanliness on a limited time schedule.