Costco Keto Printable Shopping List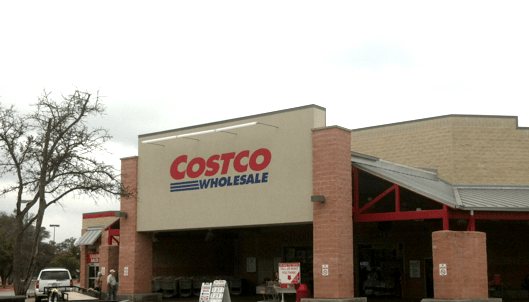 Shopping at Costco when doing the Ketogenic Diet can be a little overwhelming in the very beginning.  The store is huge and there are so many labels to read!  If you are just getting started, I want to help with this Keto Costco Shopping list!  I wished I had this when I started.  It takes the guesswork out of different types of the different food options you have.  
This article explains how the diet works, why the diet works and what you need to get started!  It can be a bit overwhelming in the beginning but if you can understand the how, what, and why, then you will be set up for success!
I also have this
Keto Recipes page
set up as an easy reference for recipe ideas too!  Be sure to bookmark it!
Here's what this printable looks like: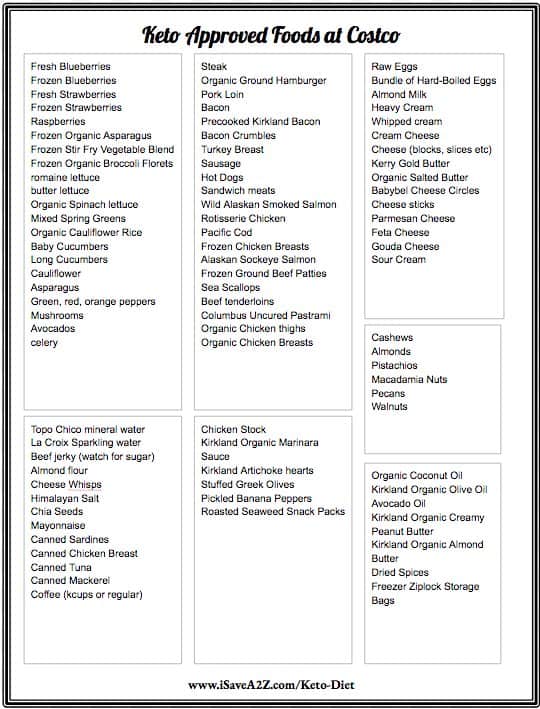 Costco Keto Printable Shopping List Sectioned Out:
Fresh Blueberries

Frozen Blueberries

Fresh Strawberries

Frozen Strawberries

Raspberries

Frozen Organic Asparagus

Frozen Stir Fry Vegetable Blend

Frozen Organic Broccoli Florets

romaine lettuce

butter lettuce

Organic Spinach lettuce

Mixed Spring Greens

Organic Cauliflower Rice

Baby Cucumbers

Long Cucumbers

Cauliflower

Asparagus

Green, red, orange peppers

Mushrooms

Avocados

celery

Steak

Organic Ground Hamburger

Pork Loin

Bacon

Precooked Kirkland Bacon

Bacon Crumbles

Turkey Breast

Sausage

Hot Dogs

Sandwich meats

Wild Alaskan Smoked Salmon

Rotisserie Chicken

Pacific Cod

Frozen Chicken Breasts

Alaskan Sockeye Salmon

Frozen Ground Beef Patties

Sea Scallops

Beef tenderloins

Columbus Uncured Pastrami

Organic Chicken thighs

Organic Chicken Breasts

Raw Eggs

Bundle of Hard-Boiled Eggs

Almond Milk

Heavy Cream

Whipped cream

Cream Cheese

Cheese (blocks, slices etc)

Kerry Gold Butter

Organic Salted Butter

Babybel Cheese Circles

Cheese sticks

Parmesan Cheese

Feta Cheese

Gouda Cheese

Sour Cream

Cashews

Almonds

Pistachios

Macadamia Nuts

Pecans

Walnuts

Topo Chico mineral water

La Croix Sparkling water

Beef jerky (watch for sugar)

Almond flour

Cheese Whisps

Himalayan Salt

Chia Seeds

Mayonnaise

Canned Sardines

Canned Chicken Breast

Canned Tuna

Canned Mackerel

Coffee (K-cups or regular)

Chicken Stock

Kirkland Organic Marinara Sauce

Kirkland Artichoke hearts

Stuffed Greek Olives

Pickled Banana Peppers

Roasted Seaweed Snack Packs

Organic Coconut Oil

Kirkland Organic Olive Oil

Avocado Oil

Kirkland Organic Creamy Peanut Butter

Kirkland Organic Almond Butter

Dried Spices

Freezer Ziplock Storage Bags
Did you know if you
order from InstaCart
and have your groceries delivered, they don't even ask you for your membership?  I'm pretty sure the person picking up your order has to have the membership.  I don't often get groceries delivered but it's handy sometimes!
Here's some interesting information about Costco to know if you like looking for bargains!  There is a special way to read the Costco labels to know if you are getting the best price on stuff you buy!  Read this article for the full details: 
How to Spot a Bargain at Costco