Creamy Vegetable Gratin Recipe
Creamy Vegetable Gratin Recipe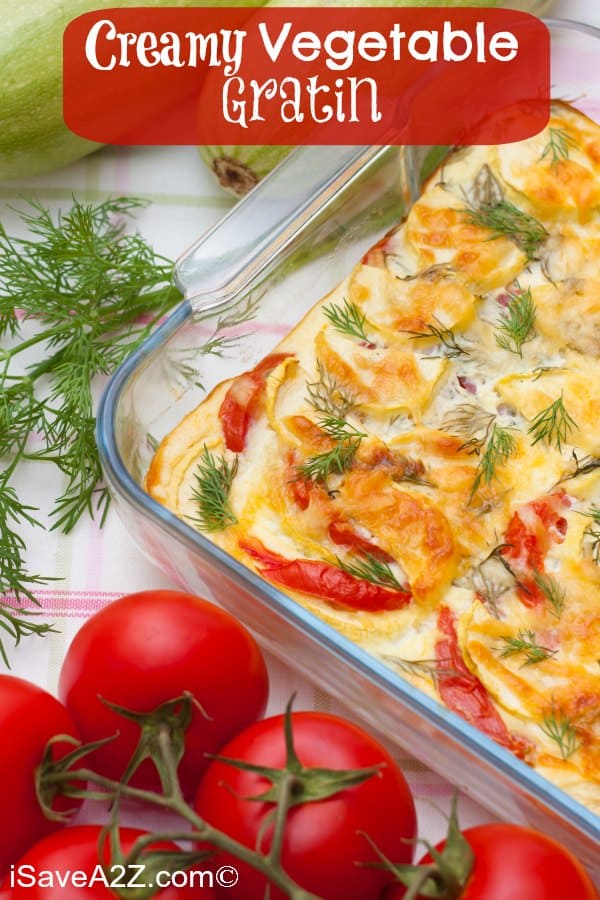 If you're like me, you can have a hard time getting your kiddos to eat vegetables. I am sympathetic to not liking every little thing because I am also a picky eater. I at least try to get my kids (and myself) to try new things and branch out a little bit. This Creamy Vegetable Gratin is yummy and cheesy. It's almost like fooling yourself into eating vegetables. It makes a great side dish for any day of the week and can be put together pretty quickly.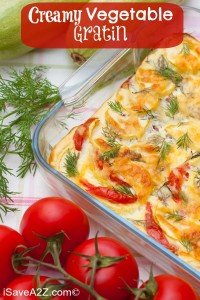 Creamy Vegetable Gratin Recipe
Ingredients
1/2

cup

of Panko bread crumbs

divided

1/4

cup

of grated Parmesan cheese

1

tablespoon

of butter

melted

1

zucchini

sliced

1

yellow squash

sliced

1

tub

10oz Philadelphia Italian Herb Cooking Cream

1

cup

of shredded mozzarella cheese

you could also use three cheese blend, a Mexican blend, or Italian blend

2

plum tomatoes

sliced
Instructions
Preheat oven to 375 and spray an 8x8 baking dish with cooking spray.

Sprinkle 1/4 cup of the bread crumbs onto the bottom of the baking dish.

In a small bowl, mix together the melted butter, 1/4 cup of Panko bread crumbs and Parmesan cheese and set to the side.

In another bowl, toss the zucchini and squash together. Then lay half of the mixture on top of the bread crumbs in the baking dish.

Then layer with half of the cooking cream and half of the mozzarella.

Repeat, to make a second layer, starting with zucchini and squash.

Top with sliced tomatoes and the Parmesan mixture.

Bake for 20 to 25 minutes, until dish is heated through and top is golden brown.

Let it sit for 5 minutes before serving.
Notes
I did not add the second half of the bread crumbs to the butter and Parmesan, just to try it out. But I prefer it with the crunchy topping.
Nutrition facts are provided as a courtesy.
Although my husband loved the Creamy Vegetable Gratin, my kids are still not too sure about it. Be sure to check out all of our other amazing recipes HERE!
You may also want to look at the Italian Vegetable Cookbook! It has more than 200 recipes that can help incorporate more veggies into your every day cooking. You can get the Kindle version for just $16.50
Enjoy!