DIY Kitchen Faucet Upgrade
Disclosure:  I received product in order to conduct my review.  All the drooling over my new faucet is all my own opinion!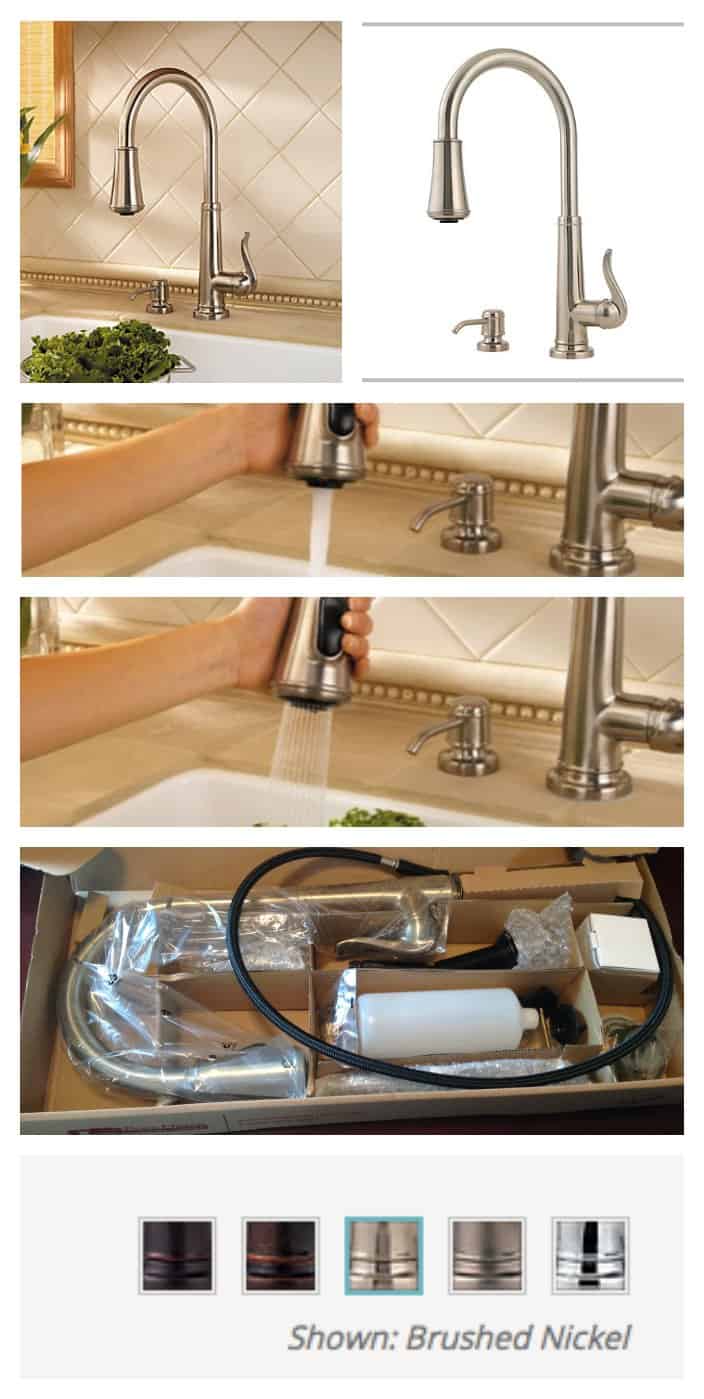 DIY Kitchen Faucet Upgrade
I've only lived in my current house for about 3 years but I found myself in need of a DIY Kitchen Faucet Upgrade!  I shouldn't say need but rather want.  The old faucet worked just fine.  I got a chance to review the Pfister Ashfield  Pull Down Faucet and I LOVE IT!
The kitchen faucet is one of my most used daily tools in my kitchen.  I want the best!  I'm not even sure what brand I had in there because I'm certain is was a builders grade or off brand.
The faucet is more than just a look with the right shade of color for your kitchen.  It can make your life a whole lot easier when you have a product that looks great but more importantly, functions the way you need it too.
I'm in love with Pfister products!  Pfister is known for being the leader in the industry and I have complete trust in their high quality products.  Pfister products are not known for being cheap by any means but they are known to last.  How many products now a days can you still say this about?  Remember back in the day when cars were actually built to last?  This is exactly what I'm talking about.
Let me show you my new kitchen faucet!  Isn't is a beauty?!!!   It was a DIY project that only took a couple hours to complete.  My husband was very impressed with the instructions too.  They were easy to read and understand which is another thing that's hard to find.
Here's what I like the most about my new Kitchen Faucet upgrade!
1.  It has a tall spout.  This means the faucet sits high enough for you to fit a huge pot under the sink with no trouble at all.  My last faucet stuck out too far making it nearly impossible to fill those large pots with water.
2.  It  a pull down faucet.  My last faucet I had to pull towards me and then over and around the top to get it in the right position.  It wasted lots of space with that design.
3.  One handle!  I'm always cooking and baking in my kitchen.  More times than not, I seem to be holding a hot pan that needs draining in the sink.  I love being able to have one hand on the pot and one to turn on the handle.
4.  I love the look, quality and design of my new faucet which is typical of Pfister products.
I've seen this product priced anywhere between $200 and up to almost $600 but I found a really good deal on this one here:
Pfister Ashfield 1-Handle 1, 2, 3 or 4-Hole Pull-Down Kitchen Faucet w/Soap Dispenser in Brushed Nickel
I'm wondering,  is your kitchen faucet as important to you as my kitchen faucet is to me?