Homemade Blueberry Frosting Recipe
Homemade Blueberry Frosting Recipe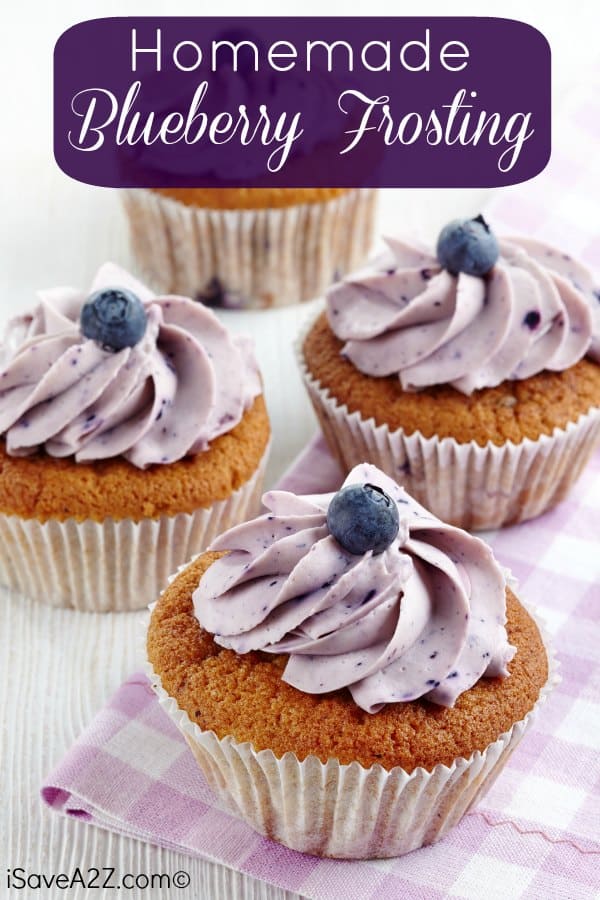 Apparently we are going through a blueberry phase around here. What can we say? It's one of our favorite fruits and it's so versatile! We use blueberries to top off our really popular No Bake Watermelon Cake and last week we shared these delicious Blueberry Cobbler Cookies! Well, we are at again and can't wait for you to try this Homemade Blueberry Frosting Recipe! This soft and fluffy frosting is made with only 4 ingredients and is the perfect topping for cupcakes!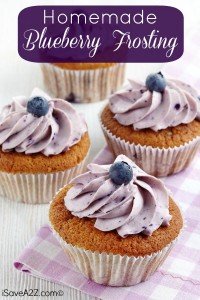 Homemade Blueberry Frosting Recipe
Ingredients
1

cup

of heavy whipping cream

4

oz

of full fat cream cheese

1/2

cup

of fresh blueberries

washed

6

tablespoons

of raw honey
Instructions
Add the blueberries and honey to a small saucepan and place on medium heat. Bring to a boil, then reduce to a simmer for 6 to 8 minutes. Stir frequently.

Pour sauce into a small bowl and refrigerate until completely chilled.

In a separate bowl, whip the whipping cream until stiff peaks form, then refrigerate for about 15 minutes. If you have a metal bowl that you can chill slightly before hand, that works great for this part.

In a medium bowl, whip the cream cheese until smooth. Then add the whipped cream to the cream cheese and continue to whip until completely combined and stiff.

When blueberry mixture is chilled, put it in a blender and blend until smooth.

Add the blended blueberry mixture to the cream mixture and whisk until fully combined.

Refrigerate for at least 15 minutes before spreading on cupcakes or other baked treats.
Notes
The prep time includes all of the cooling and refrigerator time. I would not use frozen blueberries because they will make the frosting watery.
Nutrition facts are provided as a courtesy.
This Homemade Blueberry Frosting is light and fluffy. If you prefer a stiffer frosting or wanted to use it in something like a layer cake, then you can use powdered sugar instead of the honey. Also, if you find the amount of honey used doesn't make it sweet enough for your taste buds, add small amounts of powdered sugar to your liking. One more tip** Make sure cakes or cupcakes are completely cooled before frosting!
Also check out the Dollop Book of Frosting! You can get the Kindle version for just $9.99!
Enjoy!