Nutrisystem Journey Week 3 #NSNation #Nutrisystem
I am super happy to report that I have lost .9 pounds this week so a total of 2.6 pounds since being on the Nutrisystem!
I find the program getting easier and easier each week!
In the 3 short weeks I have been on Nutrisystem it is helped me learn portion control!
I am now finally realizing that I don't need to eat a HUGE meal to feel full.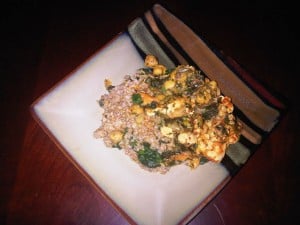 This was my dinner last night and it was delicious! I haven't tried a lunch or dinner yet that isn't bursting with flavor!
All of the diets I have tried in the past have either been very bland or it was just food I couldn't stand eating.
Nutrisystem is anything but that! Every meal is seasoned to perfection and I look forward to eating it!
Exercising has gone well this week! Over the summers I am never on a set schedule to exercise because of the kiddos but I have been finding activities to include them in that is great exercise for all of us! Skating, biking, swimming, etc…
I will be back next week with another update!
  Tip:  Here's the Couch 2 5k App in iTunes for only $2.99!  Great way to start off exercising in combination with Nutrisystem!
Want to lose weight and get healthy on Nutrisystem? Join today by calling 1-888-853-4689 or by visiting http://www.nutrisystem.com/nsblog 
Enjoy!
(I am receiving 4 months of food from Nutrisystem's Women's Silver Select Program in order to facilitate my reviews.  No other compensation is being provided and all opinions are my own.)