DIY Fox Tail Tutorial
Check out this easy DIY Fox Tail Tutorial that will take you through all of the steps into making your very own fox tail! The materials are anything but expensive, and anyone should be able to make this on their own!  I make it in a way that it is super duper soft to touch.  Not all are made this way but I have a special trick that I share below.   Be sure to check out our DIY Wolf Tail Tutorial too.  It's been a popular craft since the beginning.  The process is basically the same but you can see a slightly different technique and different colors.  Oh how I love the different color combinations you can make!
Here's how to make our DIY Fox Tail:
First, here are the materials that you will need.
Now before you start, you want to figure out about how long you want your tail to be when it's finished. Take that measurement, and measure out about 12 pieces of yarn of that size. The color of this yarn should be the color you want for the tip of the tail. NOTE: If you want your tail to come out thicker, then double the pieces of yarn you use here.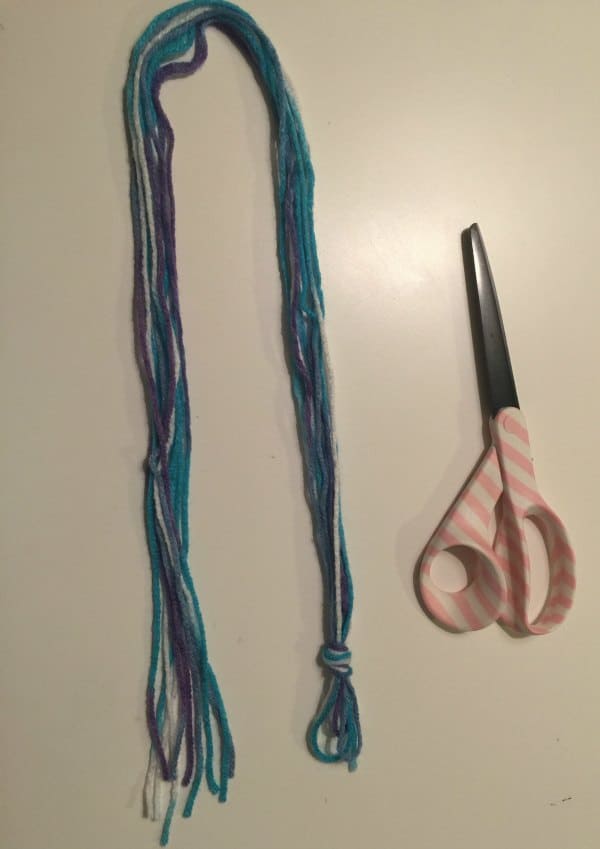 With these pieces of yarn, you are going to want to take one end, and tie them all together in a knot. Once the knot is tight, take three sections of these pieces and braid them all the way down. Knot them at the other end as well. This will serve as the base for your tail.
At the bottom of your tail, where you made your second knot, there should be some yarn hanging out of the knot. DON'T CUT IT! Instead, take your pet brush, and start brushing it out. Brush it as if you were brushing hair that is really knotted together. Once it seems as if each fiber of the yarn is untangled, take your hair straightener and straighten the yarn fibers. This should keep it from being so frizzy, but now it will look really gross and compressed. Take your pet brush to it a couple more times, and it should be perfect.
Pro Tip:  This pet brush works amazing!  If you don't have a good pet brush it will take you a lot longer to create this effect.  It would be worth it to get a good brush, especially if you plan on making a few.
Now from here on out, we are going to be working from the bottom up. Go back to your yarn, and cut out about 10 pieces at about 8in in length. Then another piece at about 5 inches, or long enough to tie around the base of the tail. Take the 10 pieces of yarn and place them equally together. Find the center of these pieces, and take the 5in piece of yarn, and make a knot around your bundle of 8in pieces. Make sure the knot is as tight as it can be. Now, just like you did the tip of your tail, take the ends of the 8in pieces of yarn that had been tied together, and brush them out. Make sure you hold on tightly to where you made your knot! The closer parts to the knot don't really need to be brushed out as well as the bottom, since this part will be hidden, so make sure you can hold on to each of these pieces near the knot to keep them from slipping out. Use the same brushing and straightening process that you did for the tip of your tail base.
NOTE: There will be tons of fluff leftovers! When you start brushing, a lot of fluff will be left on your brush. That's okay! Make sure you have a trashcan near you, because you will drown in the fluff otherwise!
Once you're finished brushing it, take the ends of the 5in piece that you had used to tie the yarn pieces together, and tie it around your yarn base at the bottom. Continue this process of making these fur pieces and attaching them to the tail base one at a time, from bottom to top. Make sure to alternate sides as well, that way the furry yarn will cover the braided tail base completely.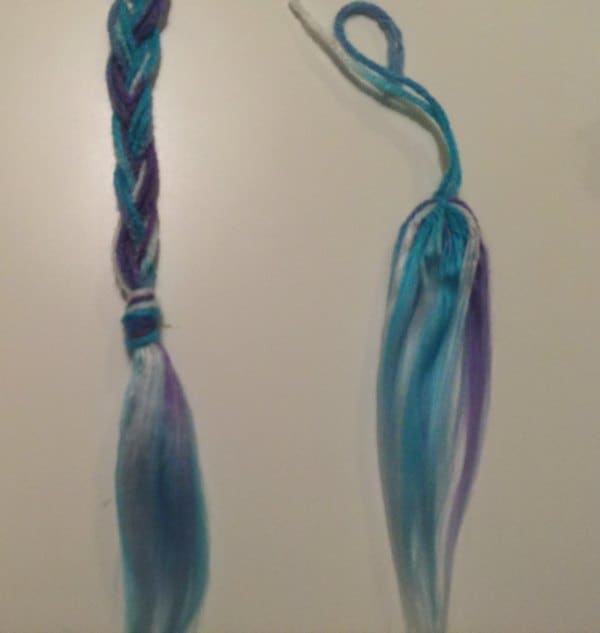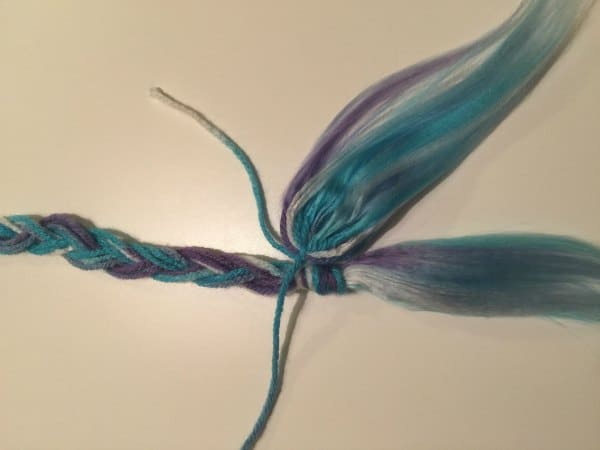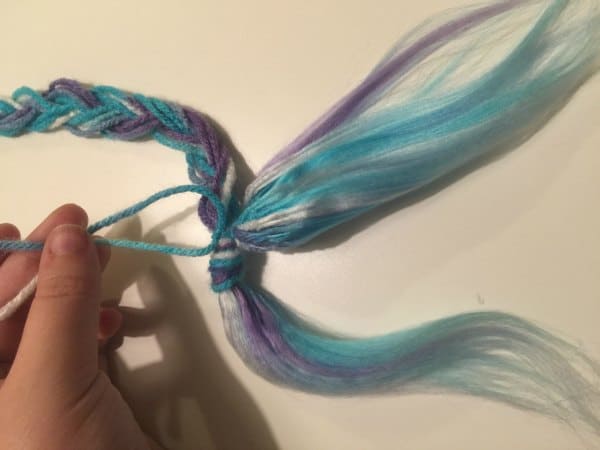 Once you have furred to the top, you're almost done! There are plenty of different ways to attach your yarn tail, but I like using these Key Chain Holders. All you have to do is either slip this through the top knot, or near the top of your braid, and tada! You are finished! You have successfully made your very own tail made completely out of yarn!
Overall, this craft is extremely simple! However, it can be quite time consuming, so make sure you have the time to finish! Feel free to get creative as well! No need to stick to just one color!
Here also, is our Costume Wolf Tail Tutorial!