Easy Pumpkin Cheesecake Bars Recipe with Graham Cracker Crust
Pumpkin cheesecake bars with a graham cracker crust are the perfect dessert for the season. This is one of my favorite pumpkin desserts that are so easy to whip up. Slice and serve these cheesecake bars.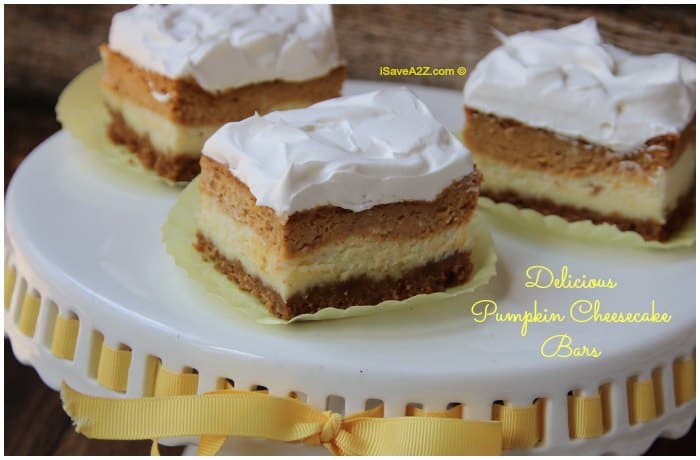 Pumpkin Cheesecake Bars
In the month of October, I am either baking up something with pumpkins or something with apples. I absolutely love this time of year. We just made these Easy Pumpkin Cheesecake Bars Recipe with Graham Cracker Crust! They didn't last long at all. Everyone loved them. These hold up well in the refrigerator for a few days too so if you are in need of a good recipe to take to a party, this recipe would be it!
I have a very old Pyrex 9×13 pan with low sides that works perfectly for this recipe that I love to use. I'm not sure how old it is because I bought it at a garage sale a few years back. It's white with orange sides. One of my favorite baking pans.
This is a fantastic canned pumpkin recipe to consider making when you are wanting a delicious dessert for your family, friends, or holiday event.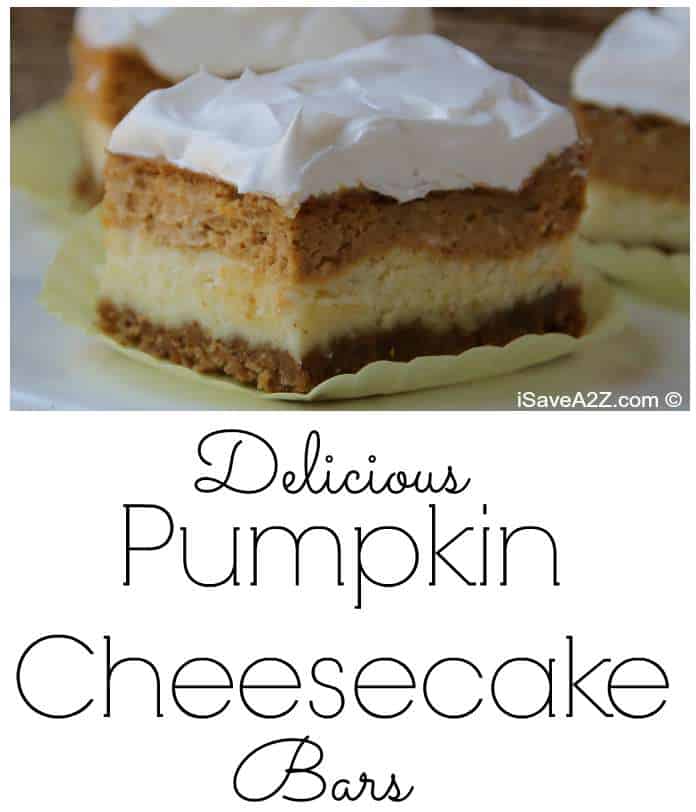 I used a real whipped cream for the top layer. I would not use the cream that is in a can because it will just melt down to nothing and look horrible after an hour or two. Stick with the real stuff.
Pumpkin Cheesecake Bars with Graham Cracker Crust
Pumpkin cheesecake bars are made with a graham cracker crust. I tend to like my crust to be nice and thick. Feel free to double up the crust recipe if you like it this way too. We served this up with some cute little muffin tin liners by spreading them out flat. It was a nice little touch to the spread on the table.
Tip: Use parchment paper as a liner before baking it so that you can easily remove the bars without fail.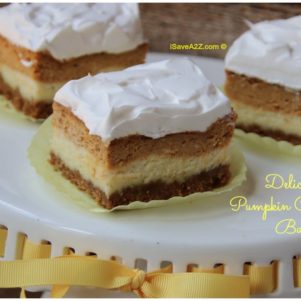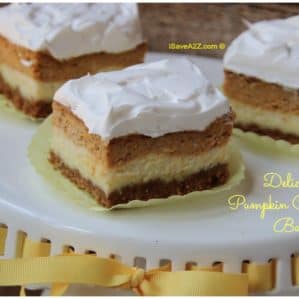 Easy Pumpkin Cheesecake Bars Recipe with Graham Cracker Crust
Instructions
Preheat oven to 325 degrees. Spray a 9" square baking pan with cooking spray, then line it with parchment paper and set aside.

Prepare the Crust: Start by crushing the graham crackers until the are fine.

In a small bowl, combine cracker crumbs and sugar; add butter and stir until moistened. Press mixture into the prepared baking pan. Bake for 7 to 10 minutes or until set. Move to a wire rack to cool completely.

Now work on the filling: In a large bowl, beat cream cheese, sour cream, sugar, flour and vanilla until smooth in texture. Add the lightly beaten egg, and

beat on low until just combined.

Now Pour 3⁄4 cup batter into a small bowl. Add pumpkin, brown sugar and cinnamon, stirring until well blended.

Next pour the plain batter over cooled crust. Now add the next layer of pumpkin batter over the plain batter.

Finally bake it at 325 degrees for 20 to 25 minutes or until center is almost set. Cool on wire rack for 1 hour. Cover and refrigerate at least 2 hours to overnight before serving it.
Nutrition facts are provided as a courtesy.