Honest intelliBED Review
I have had my intelliBED for about 4 months now and I am ready to give you an honest intelliBED review.  Being a blogger I get to work with some amazing companies and then there are some companies that I would never mention.  You never really know what experience you are going to get until you actually try a product.  When intelliBED reached out to me to work with them I warned that I would give an honest review in the best interest of the consumer.  I tend to be a bit tough on bed reviews because I have never been happy with a bed before.  Ever.  You won't see any other bed reviews on the website because they aren't good enough.  Now when I say I've tried them all I really have.  I've tried air, futon, hybrid, gel, spring, latex, memory foam and even the good old fashioned water mattress.  I've really tried them all.
You see, I suffer from acid reflux but I also suffer from aches and pains when I sleep and no matter what mattress I sleep on I always have hip pain and shoulder pain.  More hip pain usually though.  Most of the time I sleep with three different pillows just to elevate my sleep position (per doctors orders for the acid reflux).  My husband also suffers from lower back pain that I am sure is caused by his job.  He has been seeing a Chiropractor for a long time now.  If he doesn't get his adjustments he is a mess.  Sometimes just m0ving or turning in a certain position will cause his back to go into spasms.  Lower back pain is the worst.  The back pain is not the only thing either.  When you have a mattress that doesn't support your alignment not only will you have aches and pains but you won't get good deep sleep either.
We decided to order the intelliBED 30 Deluxe split king mattress with an adjustable base.  It kinda felt a bit weird to order a mattress online but they have a money back guarantee which helped in the process.  The adjustable base was super important to me because of my acid reflux but it also came in handy for my husband when he had knee surgery.  He doesn't use the adjustable base as much as I do but he is still glad ordered it.
Delivery of our intelliBED
Delivery of our intelliBED could not have gone any smoother that it did.  It was on time and set up with no issues at all.  The delivery company even began to show me how the remotes work.  I wanna say it only took them 20 minutes to get everything going.  They even moved our other bed out to my storage building.  They even took all the boxes and plastic as they left.  One thing that stuck out to me was our new intelliBED mattress didn't have the typical symptoms of off-gas exposure like my other mattress did.  I can remember opening all the windows for a very long time trying to air out our other mattress.
Our First Night on the intelliBED
The first night sleeping on the intelliBED was extremely different than any other bed I've tried.  Before trying the intelliBED we had a extremely thick name brand pillow top mattress that we had only had for 8 months.  It was really expensive so I had a hard time switching.  I put this mattress our storage because I wasn't certain I was ready for a permanent change yet.  I felt that bed was still practically brand new.  It was soft, comfy and the type of bed that you would just sink into.  It was a king bed and it doesn't fit in my daughters room either.  I was nervous to say the least.  I quickly noticed our beds had a little "bounce" to them.  When you sat down on it you really noticed.  This bed outer layer is extremely soft.  When I put my hand down on the mattress my hand did not sink into it like my pillow top.  It press down a little bit but not much.  I covered it with the protective cover before I sleeping on it that night.
After sleeping on it one full night we were extremely impressed with how rested we both felt.  I slept with my bed elevated only slightly and I didn't move not once.  That rarely happens that I don't move during my sleep at night.  My husbands back still hurt but we were told our bodies need to adjust to this new mattress.  The mattress was firmer than I am used to.  I really didn't think I would like a firmer bed but I can tell my body really needed more support.  It turns out that sinking into that memory foam bed was exactly what was causing me (and my husband) problems.  There is one thing I noticed that we did not like.  The mattresses kept sliding and leaving a big gap in the middle of the Cal Split King bed.  I called the company and was told they had brackets that could easily be installed on the base to hold the beds in place.  The brackets came about a week later and I installed them myself in about 10 minutes.  Problem solved.
Types of intelliBED's:
intelliBED 20 – A 10" mattress that features an inner spring support system, a layer of furniture-grade soy foam, an organic cotton top panel, and intelli-gel cushioning. Available in twin through California king sizes.
intelliBED 30 Deluxe – A 12" mattress featuring individually wrapped springs that can help alleviate partner movement, in addition to "a few extra inches of cushioning for more comfort."
Pillows – Features a soft, supportive foam core and an adjustable air chamber that allows you to customize the contour by about 2". Comes in high and low-profile side sleeper, as well as back sleeper models.
Accessories – Box springs, mattress protectors, adjustable bases, and more.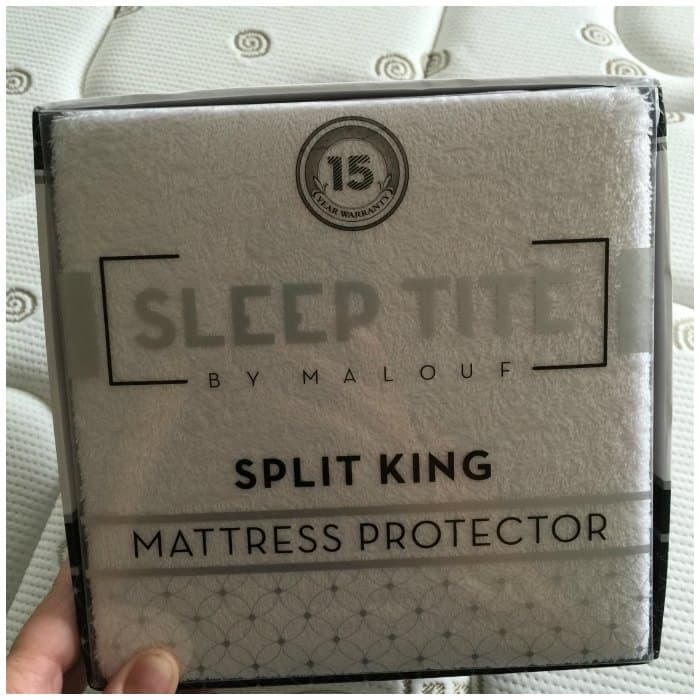 60 Day Trial Warranty
A mattress protector must be purchased for a valid warranty and for the 60-day trial.
intelliGel Technology
Because our intelli-GEL cushioning layer has the unique ability to "sense" a pressure point and relax under it ( allowing the protruding body part to sink in and redistribute the pressure) it also anchors the body into the gel using your body weight and gravity to hold you gently in place. This allows our high-quality adjustable base to comfortably moves you through a series of positions that, when completed, results in a decompressed spine, hip, neck or shoulder thereby reducing painful pressure and preparing your body for a restful night of deep-healing sleep.
Final Thoughts on my intelliBED Experience
I was extremely skeptical about trying a new bed or even purchasing one online.  Buying a bed is a big expense and one that requires a testing period.  I am very grateful that intelliBED offers a 60 day trial period for this exact reason.  I can tell after the first week whether or not the bed is right for me.  The one reason I was sold on an intelliBED is because they designed and manufactured the first ever Gel medical-grade sleep surface.  It has no harsh chemicals and it's supports me for a better nights sleep allowing me to feel more energized and that is huge for me.  This bed has completely changed the way I sleep.  It will be very hard for me to go on vacation knowing I won't have my bed with me.
I have some exciting news!  I have worked with intelliBED to offer up an exclusive 10% discount for our readers with this Promo Code: ISAVEA2Z!