Easy Sesame Chicken Recipe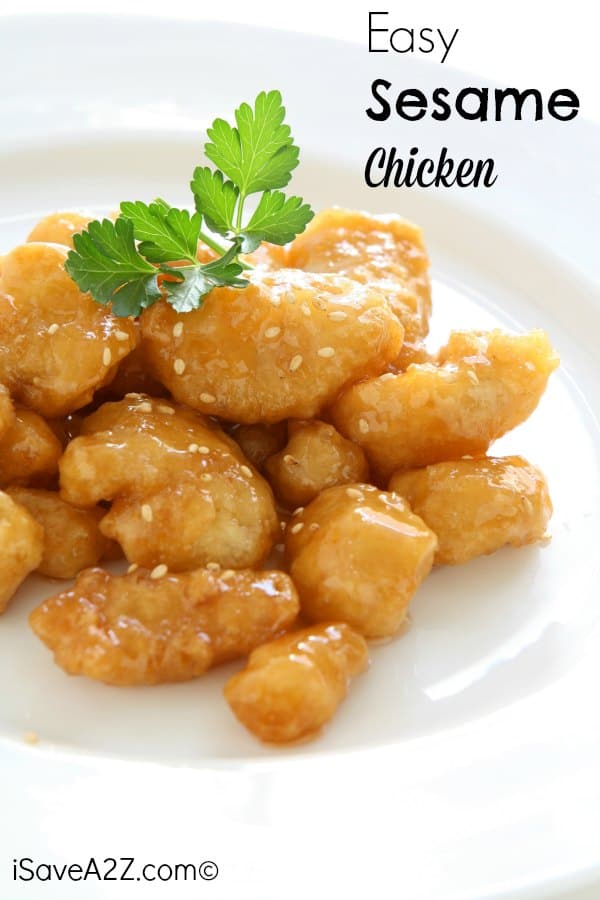 You know that we love an easy recipe here at iSaveA2Z. So this Easy Sesame Chicken Recipe is right up our alley! Since we have been trying to make healthier food choices, we have been eating a lot of dishes with lean meat. In other words….A LOT of chicken. But I hate feeling like we are having the same thing all the time. I know this may be shocking to some people, but my kids have never actually even had sesame chicken before! I thought this would be the perfect time to try it out.
Easy Sesame Chicken Recipe
Ingredients
1

large egg

2

tablespoons

of cornstarch

1

pinch

of salt

1

pinch

of pepper

1

pound

of boneless

skinless chicken, cut into 1 inch cubes

2

tablespoons

of vegetable oil

For the sauce:

2

tablespoons

of soy sauce

1

tablespoon

of water

1/2

tablespoon

of toasted sesame oil

1 1/2

tablespoons

of brown sugar

1 1/2

tablespoons

of rice vinegar

1

inch

of fresh ginger

grated

1

clove

of garlic

minced

2

tablespoons

of sesame seeds

1

tablespoon

of cornstarch
Instructions
In a large bowl, whisk the egg, 2 tablespoons of cornstarch, salt and pepper.

Add in the chicken and toss until well coated.

Put 2 tablespoons of vegetable oil in a large skillet and place on medium-high heat.

Once oil is hot, add the chicken and all of the egg mixture.

Stirring occasionally, cook until chicken is cooked through and golden brown (about 7-10 minutes). Drain off any excess oil.

While the chicken is cooking, prepare the sauce.

In a small bowl, stir the soy sauce, water, sesame oil, brown sugar, rice vinegar, ginger, garlic, sesame seeds and cornstarch until well mixed.

Once chicken is done, and while the heat is still on, pour the sauce over the chicken and toss to coat well. The sauce should begin to thicken.

Once sauce reaches the desired consistency, turn off the heat.

Serve chicken with white or brown rice.
Our whole family enjoyed this Easy Sesame Chicken Recipe! I think it has something to do with sesame seeds. My kids are in love with those! Be sure to check out all of our other delicious recipes HERE!
Check this out! Here is a 101 Quick and Easy Chicken Recipes Cookbook for just $2.99 for the Kindle version!
Enjoy!