Fun Cornstarch Science Experiment for Kids!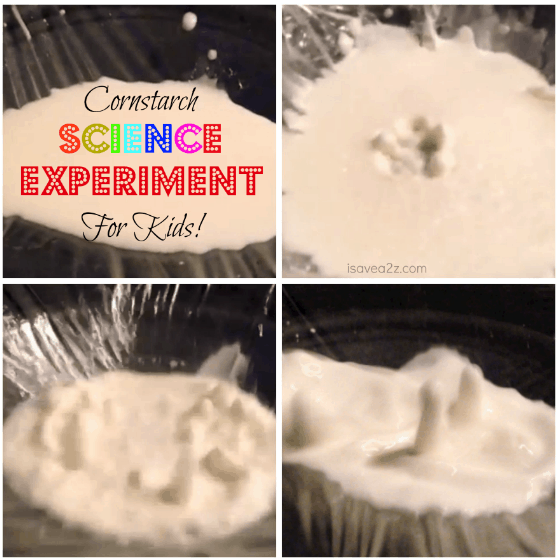 Fun Cornstarch Science Experiment for Kids!
How about a super cool and fun cornstarch science experiment for kids to do over the summer!  Are you a Big Bang Theory fan?  Did you see the episode where the gang creates this fun cornstarch water experiment?  Ever since we saw that episode my kids have been bugging me to try it.  We can be a bit nerdy that way around here.  It's loads of fun though!
Basically when you mix water and cornstarch you get what's called a non-Newtonian fluid.  A non-Newtonian fluid is a fluid whose flow properties differ in any way from those of Newtonian fluids. Most commonly the viscosity (measure of a fluid's ability to resist gradual deformation by shear or tensile stresses) of non-Newtonian fluids is dependent on shear rate or shear rate history.
We've been learning lots about non-Newtonian fluid.  The best way that I can explain it to the younger ones is by showing them an example with honey.  Honey is thick and slow normally but when you heat it up it's fast and watery.  Perfect example for them to understand.
Items needed for this Cornstarch Science Experiment for kids:
SpeakerPlastic wrap to protect your speakercornstarchwater
strawfood coloring (optional but I plan to do this next time)music or a sine wave of 120 hz
We started off using a 1 to 1 ratio of cornstarch to water to create the first part of the video.  It was a bit watery and didn't crawl as much as we wanted it to but it was still fun to watch.  I think we played with this experiment for nearly 2 hours straight!  The kids wanted to watch it move with all their favorite songs.   Talk about a perfect summer time activity to keep these kiddos from being bored!
The second part of the video we created a much thicker consistency of cornstarch and water. Actually we added just enough water to dissolve the cornstarch. We also used a Sine aveform at 120 hz.  You can go a google search for a waveform generator online to make your own.  When we used the Sine waveform at 120hz it created a very slow moving monster like effect.  We ended up using a straw to make the forms crawl up some.  Oh this kids LOVED it! (You will see this towards the end of the YouTube Video linked above.
Next science experiment for kids is going to be homemade flubber!  Stay tuned!