Gluten Free Mini Spinach Quiches
Gluten Free Mini Spinach Quiches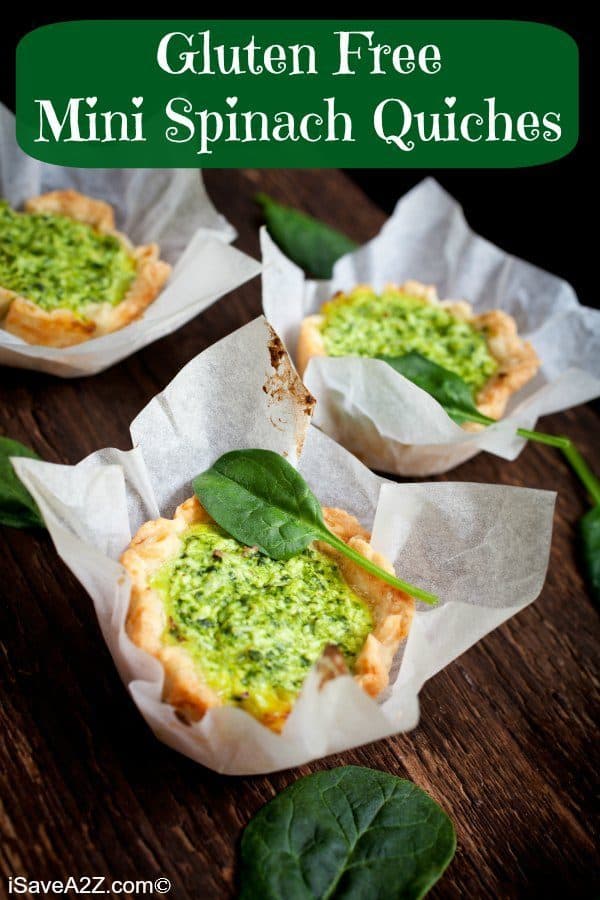 Is it just me or does everyone love little finger foods? I can't explain it, but they just make me happy. It's summer and finger foods also make things easier. Less dishes to clean up, hopefully less of a mess the kids can make and they are perfect to take to a party! One of our favorites are these Gluten Free Mini Spinach Quiches. They are quick, easy, delicious and best of all GLUTEN FREE!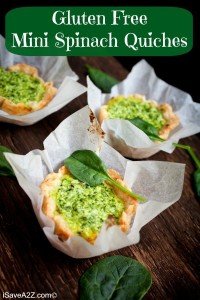 Gluten Free Mini Spinach Quiches
Ingredients
1/2

container of Gluten Free refrigerated pie and pastry dough

2

eggs

1/2

cup

of half and half

1/3

cup

of grated Parmesan cheese

1/2

teaspoon

of garlic salt

1/4

teaspoon

of pepper

1

box

9oz of frozen, chopped spinach. Thawed and excess liquid squeezed and drained.

3

tablespoons

of green onions

chopped (optional)
Instructions
Preheat oven to 425 degrees Fahrenheit. Set a 24 compartment, un-greased mini muffin pan to the side.

If dough is a little crumbled, knead together until soft. Press about 1 rounded teaspoon of dough into the bottom and up the sides of each mini muffin cup. Dough can go slightly over the top of the cup.

In a medium bowl, whisk eggs then stir in the half and half, cheese, garlic salt and pepper until well combined.

Make sure spinach is well drained then stir in spinach and green onions (if using).

Spoon about 1 tablespoon of spinach mixture into crust-lined muffin cups.

Bake for 16 to 18 minutes or until golden brown. Cool slightly before serving.
Notes
Store extras in the refrigerator and covered.
Nutrition facts are provided as a courtesy.
These Gluten Free Mini Spinach Quiches can be served warm or cool, but we prefer ours warm! This recipe can easily be doubled to use all of the pastry dough and will make 48 mini quiches! Be sure to cool them for about 5 minutes before carefully removing them from the mini muffin tin. This will give the crust a little more time to firm up.
Be sure to check out all of our amazing recipes HERE!
Looking for more quiche recipes? Check out this Quick and Easy Healthy Quiche Cookbook! You can get the Kindle version for just $0.99!
Enjoy!